November 2017 Edition
Welcome to the 2017-18 Cohort's November edition of the Fulbright ETA Monthly Highlights. November marked the end of the semester for our ETAs, Co-teachers, and their students. Many classes celebrated with parties, review games, and oleh-oleh prizes. A common theme that emerged this month, was the tradition of gratitude and Thanksgiving. ETAs reflected on their experience thus far and shared their gratitude with both their schools and communities. Read on to hear about why the ETAs have so much to be thankful for this year!
Many thanks to all of the ETAs for their wonderful stories and photos.
Be sure to get next month's newsletter!
AMINEF American Program and Communications Teams
We'd love to get your feedback.
Please share with us your favorite stories: which stories struck you as interesting, which teaching method is most fun or you'd like to apply, or which activity you'd like to hear more. Email us at: socmedia@aminef.or.id and we'll post your feedback in the next newsletter and you may win a special thank-you gift from us. 
---
Way back in September, ETA Ian Morse's school not only knew his birthday was coming in November but was also clearly planning something. As soon as Ian discovered karawo – the Sulawesi brand of the colorful batik shirts from Java – he asked where to get one. Every teacher wore them at least one day a week,.. Read More..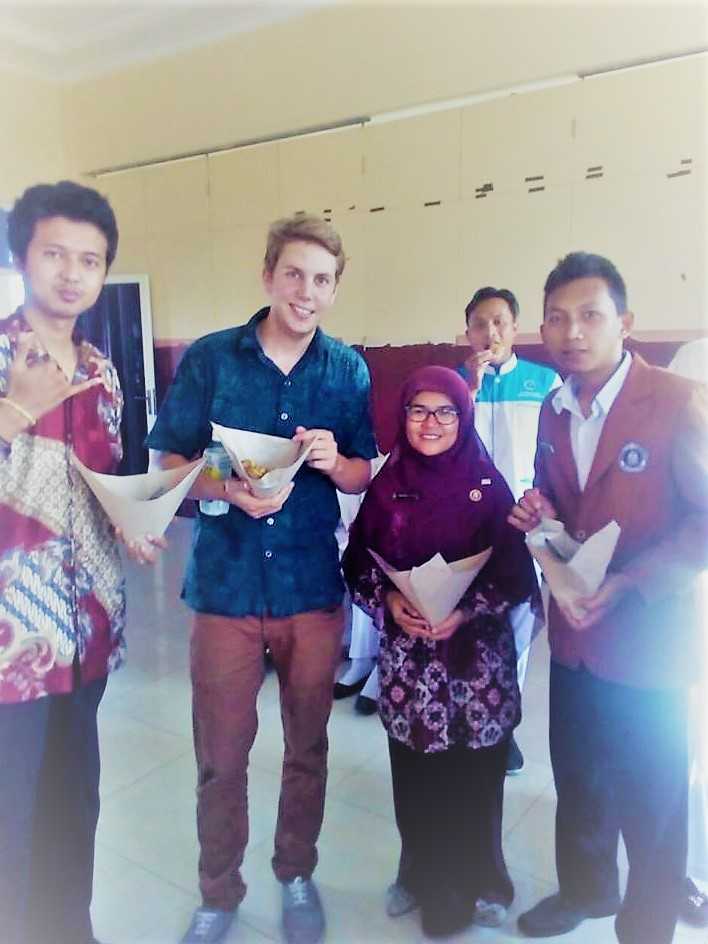 Giving Thanks and Teacher Interviews
In November, ETA Greg Sutton continued his Teaching Assistantship in full swing, running weekly Teacher's Class (daily English practice and lessons for non-English teachers), English Club (for students interested in practicing English), and ETA Corner Area (for high English proficiency students), as well as lesson planning on Fridays. For the week of Thanksgiving, Greg incorporated.. Read More..
ETA Kate Morrow got on a bus with fellow teachers and they were off to accompany the tourism students to Belinyu, a city on the northern part of Bangka Island. As soon as the four buses unloaded, everyone brought out the large containers of rice that they brought with them, sat in circles with groups.. Read More..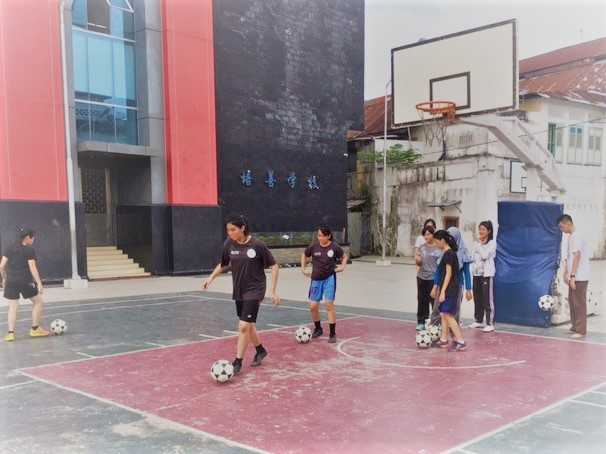 Last month, ETA Sheldon Ruby learned in an English Club meeting that girls at his school were not permitted to join the school soccer team, which inspired him to create a soccer team just for the girls at his school. After hearing teachers and students regularly use the phrase, "Be a boy, answer the question,".. Read More..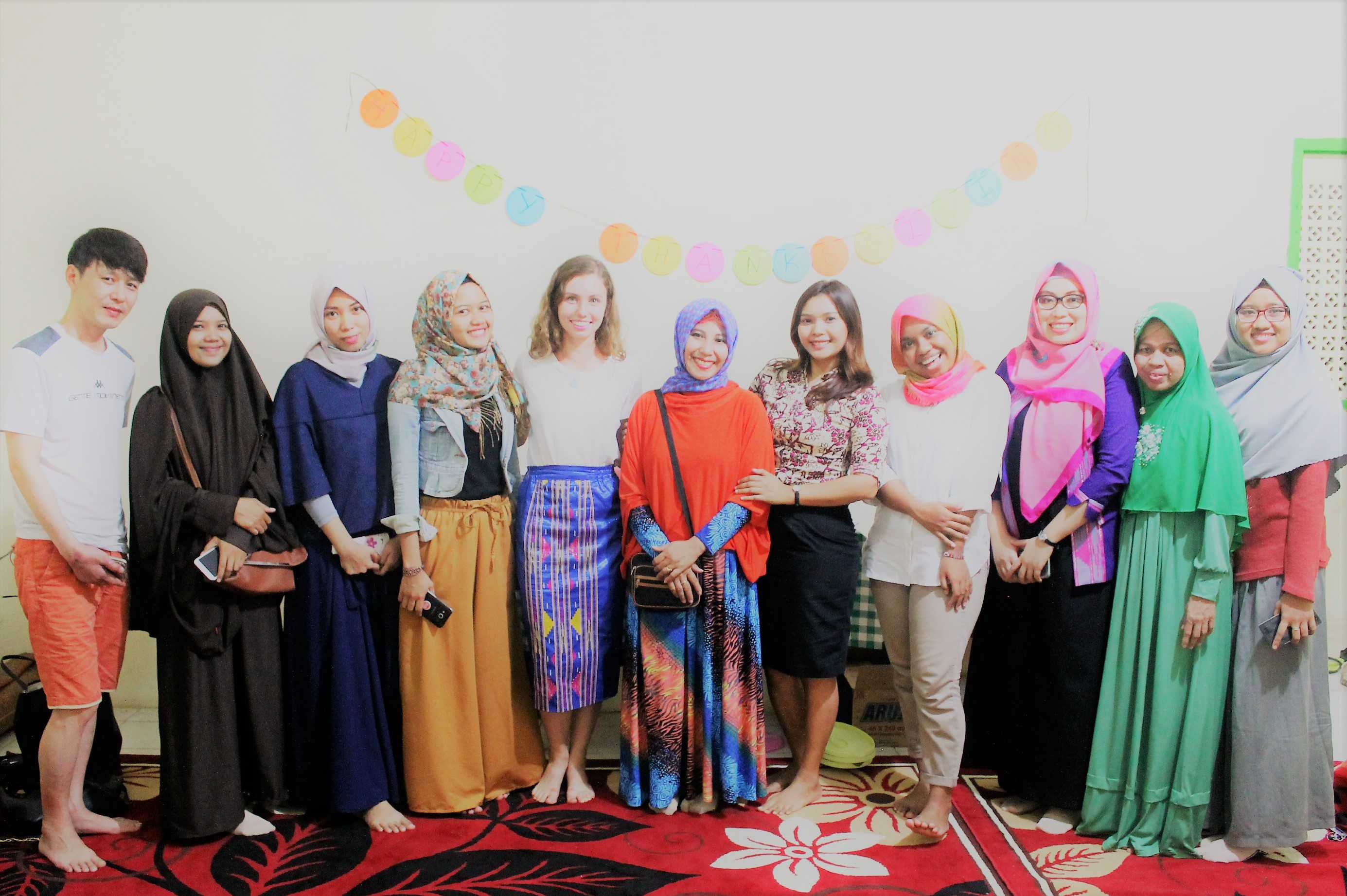 This month, ETA Meghan Cullinan celebrated one of her favorite holidays, Thanksgiving, in Kendari! Throughout the month she organized activities surrounding the culture of Thanksgiving and one of her own personal values, gratitude. Meghan introduced Thanksgiving to her community by explaining the history of the holiday, tracing back to Christopher Columbus and the Native Americans,.. Read More..
Drama Performance for Hari Guru
In Indonesia, November holds national Hari Guru, or National Teacher's Day. ETA Nitika Johri got to play a role in her school's celebration of Hari Guru. As a tradition, the teachers of SMAN 1 Salatiga performed a play, Ande-Ande Lumut. The story is a traditional Javanese story that parallels the story of Cinderella, complete with the.. Read More..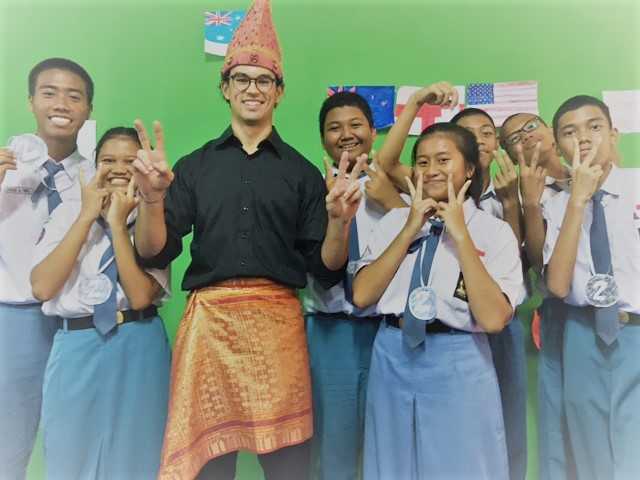 Hunting for Gold in Central Java
During the final week of classes at SMKN 7 Semarang, ETA Sam Chen held the first annual SMKN7 English Olympics in his Grade X classes. Splitting the students into six teams, Sam assigned each group an English-speaking country (England, Ireland, Australia, New Zealand, Canada and the U.S.), and gave students time to create their own.. Read More..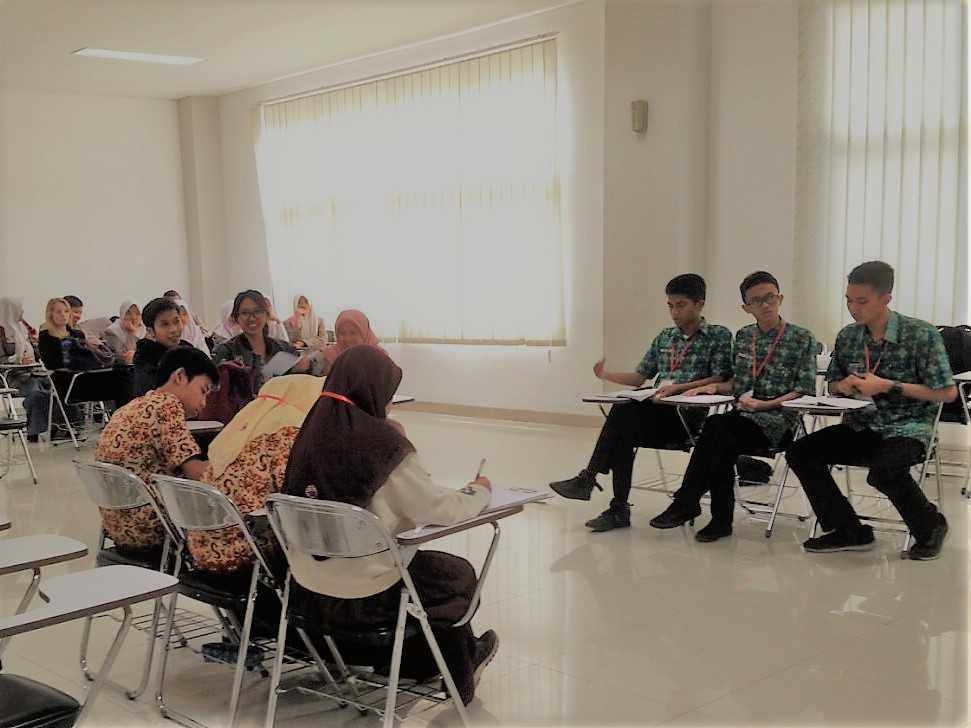 On November 11th, students at SMKN 4 Malang participated in the first English Debate Competition of the school year, held at the University of Brawijaya in Malang, East Java. The SMKN 4 Malang English Debate Club brought three teams, each team consisting of three students to compete to be the best English debaters in the.. Read More..
This month, ETA Kelly Richard went on a field trip to Jogjakarta with the tourism students at her school! They left early on a Thursday morning and took a 10-hour bus ride before reaching their final destination. During the ride, students practiced giving "bus tours" of different locations in Java. Kelly enjoyed facilitating and giving constructive.. Read More..