In the United States of America, Hispanic Heritage Month is celebrated from September 15 to October 15. The month celebrates the contribution of American citizens with Hispanic heritage. This year, ETAs used the month to highlight the diversity of the United States.
To introduce the concept of bilingual Americans to students, ETA Joseph Janik Miller (SMAN 1 Padangsidimpuan) chose to compare the multilingual nature of students that speak and study up to five languages to Hispanic Americans that speak English in addition to Spanish and often, an indigenous language as well. While ETA Said Haji (SMAN 7 Banjarmasin) led a PowerPoint presentation about the diversity in America and highlight the contributions of the Hispanic community. And ETA Jillian Castoro (SMAN 2 Bukkitinggi) presented on the meaning and history of the heritage month.
ETA Emilie Tomas (SMA Unggul Del) incorporated authentic text and materials about Hispanic-Americans into her lesson on reported speech for eleventh graders. Students learned how Hispanic Heritage Month is celebrated in the States; the difference between Hispanic, Latinx, and Spanish; and studied singer Camila Cabello, astronaut Ellen Ochoa, and neurosurgeon Dr. Alfredo Quinones-Hinojosa.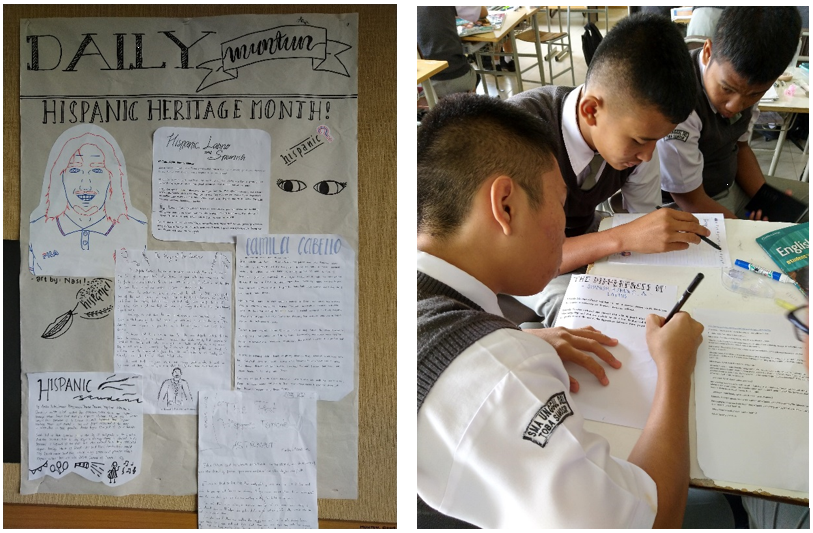 Another ETA, Natasha Anis (SMAN 10 Samarinda) presented Hispanic Heritage Month in a lesson by having students underline passive voice in a text. Students played a fun game of Spanish Bingo and learned simple phrases like "Cómo estás?" and "Te amo"!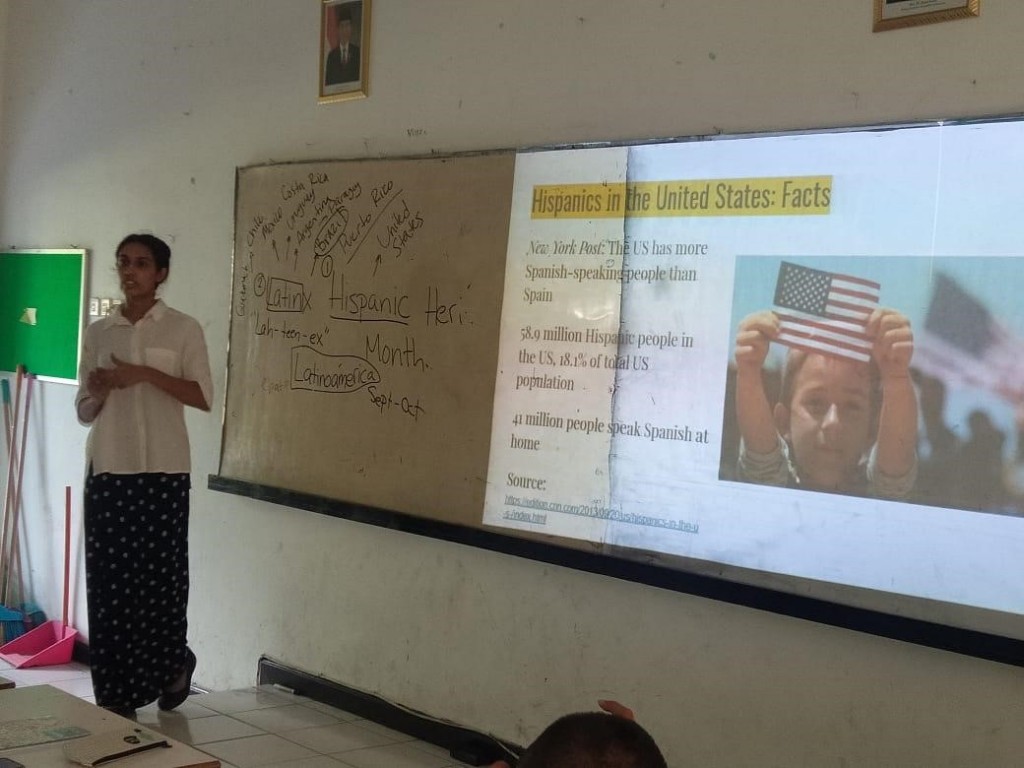 Some ETAs used music to bring up the discussion of Hispanic Heritage Month. ETA Janika Berridge (SMAN 2 Sangatta Utara) introduced students to Luis Enrique's song "Yo No Se Mañana" and ETA Shannon Pinzón (SMA UM Malang) led her students in singing "Vivir Mi Vida" by Marc Anthony. This allowed students to have a discussion about the meaning of the songs and how it relates to their own lives.
ETA Lucy Srour highlighted the contributions of Hispanic Americans like politician Alexandria Ocasio-Cortez and Supreme Court Justice Sonia Sotomayor. She also used music to solidify student's understanding by presenting the song "Immigrants, we get the job done" from the Hamilton remix mixtape and highlighted playwright Lin Manuel Miranda.
Other ETAs incorporated more passively tied in Hispanic culture into extracurriculars. For example, while designing and preparing an English classroom, ETA Maria Isa Nieves (SMKN 7 Surakarta) played "Despacito" and other Spanish language songs while decorating the room.  While some ETAs allowed students to have first-hand experience with Hispanic culture. In this case, ETA Tessa Sonthemeier's (SMAN 2 Demak) students tried salsa for the first time! And other ETAs incorporated very active games focused on Hispanic culture and language. ETA Daniel Knoll (SMAN 2 Payakumbuh) led students in an intense game of "Hot Cabbage Toss".
ETA Nathan Kumar (SMA 1 NU Gresik) introduced Hispanic Heritage through many forms. His students learned about traditional Hispanic foods and the ingredients used to make them.  He utilized whiteboards allowing students to highlight famous Indonesians after learning about famous Latin Americans. Lastly, students also played a fun round of Hot Potato with an inflatable globe to highlight Latin American countries.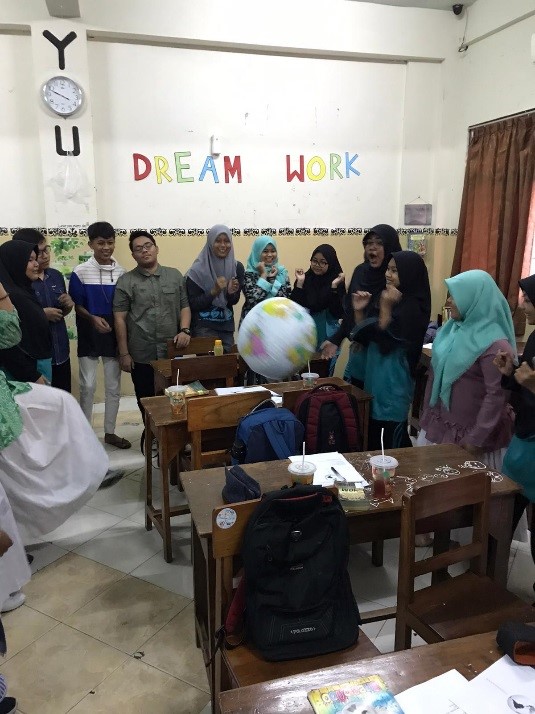 As citizen cultural ambassadors, ETAs enjoy sharing the diversity of the United States. At the same time, they make connections to the Indonesian host culture as exemplified through these examples.
Last Updated: Nov 21, 2019 @ 6:12 pm