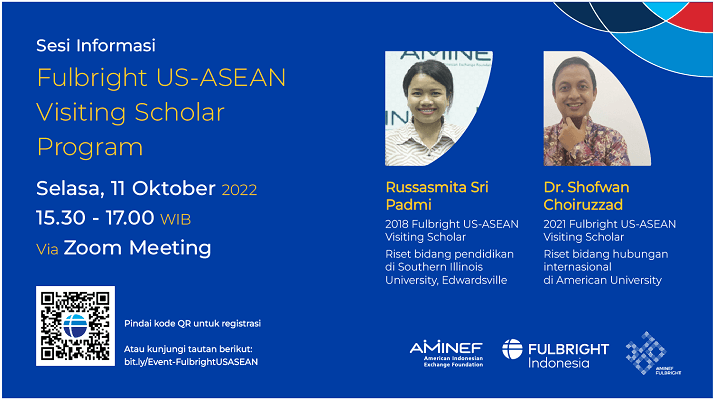 Dapatkan tips melamar dan berbagi pengalaman melakukan riset didukung program Fulbright US-ASEAN Visiting Scholar pada tanggal 11 Oktober, 2022 pukul 15.30 – 17.00 WIB.
Bergabunglan dengan Fulbrighter Indonesia, yaitu: Russasmita Sri Padmi asal Southeast Asian Ministers of Education Organization for Quality Improvement of Teachers and Education Personnel in Mathematics (SEAQiM), dan Dr. Shofwan Choiruzzad asal Universitas Indonesia. Mereka akan membagikan pengalaman selama 4 bulan di AS menjalankan riset pada isu-isu prioritas AS-ASEAN termasuk hubungan AS-ASEAN.
Acara yang dibuka untuk umum ini akan diadakan via Zoom Meeting dan gratis.
Pindai kode QR di dalam grafis untuk pendaftaran peserta. Atau Anda bisa kunjungi tautan ini.
Sampai jumpa!