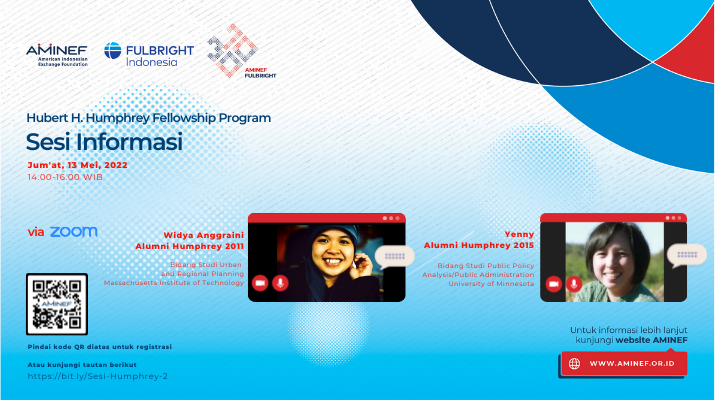 Halo para profesional Indonesia – Mari bergabung pada hari Jumat, 13 Mei, 2022 pukul 14.00 – 16.00 WIB bersama AMINEF dan dua alumni program Humphrey asal Tulungagung dan Jakarta yang akan membagikan pengalaman mereka mengasah keterampilan profesional di universitas di AS selama dua semester didukung oleh program beasiswa Hubert H. Humphrey Fellowship.
Profil alumni:
• Widya Anggraini menempuh program di bidang studi urban and regional planning di Massachusetts Institute of Technology
• Yenny di bidang studi public policy analysis/public administration di University of Minnesota
Mereka juga akan membagikan tips menulis esai di aplikasi program Humphrey, sehingga Anda dapat mempersiapkan aplikasi Anda sebaik mungkin.
Acara yang dibuka untuk umum ini akan kami adakan via Zoom Meeting dan gratis.
Pindai QR code di dalam grafis untuk pendaftaran peserta. Atau Anda bisa kunjungi tautan: https://bit.ly/Sesi-Humphrey-2
Sampai jumpa!
***
Program Humphrey adalah sebuah program yang bertujuan untuk mengasah kemampuan, kepemimpinan serta profesionalisme dengan mengikuti berbagai aktivitas di universitas dan institusi di Amerika Serikat. Kunjungi laman program Humphrey untuk informasi lengkap mengenai program Humphrey dan mendaftar secara daring.
Tenggat waktu pendaftaran: 1 Juni, 2022.
AMINEF menyelenggarakan serangkaian acara daring untuk mempromosikan program Hubert H. Humphrey Fellowship Program kepada professional Indonesia. Pantau informasi dan jadwal acara selanjutnya di laman dan kanal media sosial AMINEF.