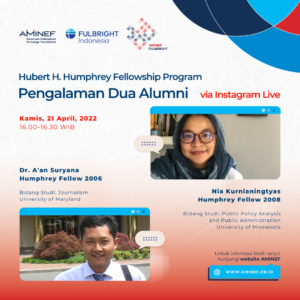 Bagaimana cara meningkatkan karir di AS didukung program beasiswa Hubert H. Humphrey Fellowship Program?
Dengarkan di Instagram Live pada hari Kamis, 21 April, 2022 pukul 16.00 WIB pengalaman dua orang alumni program Humphrey asal Banten dan Jawa Tengah dalam menjalani kegiatan peningkatan profesionalisme selama 2 semester di AS.
Profil alumni:
– Nia Kurnianingtyas menjalani program di bidang studi public policy analysis dan public administration di University of Minnesota
– Dr. A'an Suryana di University of Maryland di bidang journalism
AMINEF menyelenggarakan serangkaian acara daring untuk mempromosikan program Hubert H. Humphrey Fellowship Program kepada professional Indonesia. Pantau informasi dan jadwal acara selanjutnya di laman dan kanal media sosial AMINEF.
***
Program Humphrey adalah sebuah program yang bertujuan untuk mengasah kemampuan, kepemimpinan serta profesionalisme dengan mengikuti berbagai aktivitas di universitas dan institusi di Amerika Serikat. Untuk informasi lengkap mengenai program Humphrey dan mendaftar secara daring, kunjungi: https://bit.ly/Info-Humphrey
Tenggat waktu pendaftaran: 1 Juni, 2022.