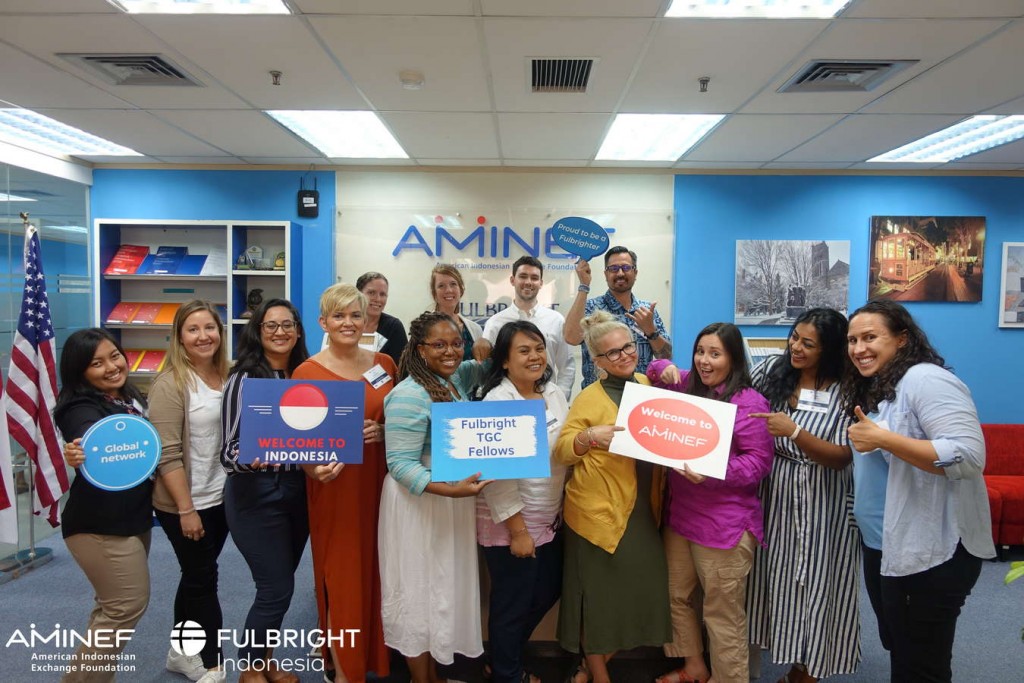 AMINEF was delighted to welcome 12 US Fulbright Teacher Global Classroom (Fulbright TGC) fellows in July 2019. Fulbright TGC Fellows are teachers and school principals who are undertaking a two-week exchange program in Indonesia. One week will be spent on in-country orientation, visit relevant institutions, and info sessions. While another will be spent at six high schools across Indonesia where they will interact with Indonesian teachers and observe classroom activities. They will visit high schools in six cities such as Padang, Ambon, Semarang, and will connect with fellow Fulbrighter from Indonesia who are alumni of Fulbright Distinguished Awards in Teaching Program for International Teachers (Fulbright DAI). Lasting connections indeed.
During the visit to AMINEF office, Fulbright TGC Fellows learned about various Fulbright programs available to them and Fulbright opportunities for their Indonesian counterparts who are interested to study or do research in the US. There was also a session with two Fulbright ETA alumni who shared their 10 months of teaching experience at high schools in Indonesia. Besides sharing the classroom experiences, the Fulbright ETA alumni also shared the cultural aspects that are different, among other how teacher-student relationship in Indonesia compared to the one in the US, Salim (handshake) culture between students to their teachers to show respect and appreciation. The documentation of the visit can be found on AMINEF Flickr Account.
We hope the visit to AMINEF will bring insights and help to prepare the Fulbright TGC Fellows at their school sites in Indonesia. All the best for their activities.
Last Updated: Aug 16, 2019 @ 3:17 pm