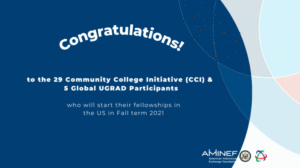 Congratulations to all 29 CCI and 5 Global UGRAD Programs Participants who will begin their study in the U.S. in Fall term 2021.
This year's awardees hail from 17 provinces of Indonesia, and they will undertake their programs at 16 community colleges and universities across the U.S.
On June 2 and 3, 2021, AMINEF held an online pre-departure orientation (PDO) to prepare the grantees for their study and life in the U.S.
The opening session began with AMINEF Executive Director Bapak Alan Feinstein, who read his remarks, and one from Ibu Rachel Cooke, Acting Deputy Chief of Mission from U.S. Embassy Jakarta. Joining from the U.S., were LaRita Campbell, Senior Program Officer, Office of Global Educational Programs, Bureau of Educational and Cultural Affairs, U.S. Department of State, Leeza Fernand, Associate Director for International Education and Sponsored Programs, Community College Consortium (CCC), Northern Virginia Community College and Susan Yang, Program Officer, World Learning.
P.T. Freeport Indonesia, which funds eight CCI Participants from Papua and West Papua provinces, was represented by Scott Hanna, Director, Strategic Support Services.
The two-day event provided grantees with practical information, insights, and valuable tips from CCI and Global UGRAD alumni, American Fulbright alumni to Indonesia, and representatives from AMINEF partners who run the programs in the U.S., such as NOVA and World Learning.
AMINEF is deeply grateful to all keynote speakers, facilitators, and moderators for their participation.
Congratulations, and best wishes to all CCI and Global UGRAD Participants!
Meet the CCI Participants – where they are from, what they will study, and which college in the US.
Check out where the 2020 Global UGRADERs will study in the US.
Last Updated: Jun 14, 2021 @ 8:18 pm