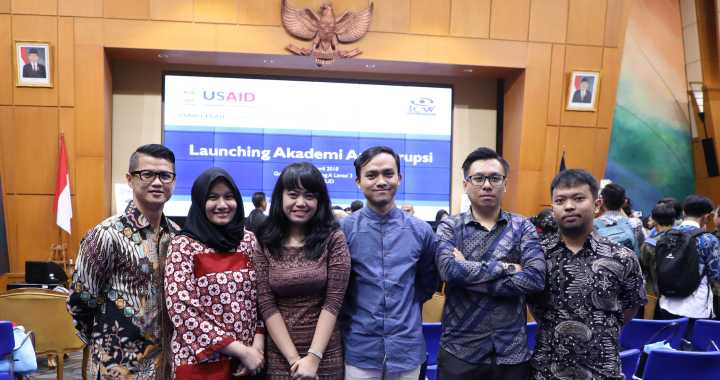 After studying engineering at College of DuPage in 2014-15, Indonesian CCI alumna Priskilla Ikrar Samanta has made a difference in her home community by working with nonprofit organizations and international agencies to educate the public in Indonesia about how to combat corruption.
In 2017, the nonprofit Indonesia Corruption Watch (ICW) hired Priskilla's company, Digima Asia, to develop an e-learning program about corruption. ICW was already well known for its monitoring and education efforts, and the new platform would allow the organization to reach farther and make use of rising digital fluency in Indonesia.
As a new project custodian coordinator at Digima Asia, the anti-corruption e-learning program became the first project Priskilla was tasked with managing. She led a team of instructional designers, motion and visual designers, and technology specialists to create Akademi Antikorupsi (Anti-corruption Academy), which launched last month. The platform features six courses, including an introduction to anti-corruption for teens, an introduction for adults, a class on corruption sociology, and more. The platform can be used by high school students, college students, anti-corruption activists, and anyone interested in fighting corruption.
Leading the project meant that Priskilla was responsible for keeping tasks on schedule, ensuring that team members worked together smoothly, acting as a liaison with ICW and USAID (which funded the project), and, ultimately, delivering a high quality product. With 6 to 8 modules per course and hundreds of videos in Akademi Antikorupsi, the amount of materials and a tight timeline proved challenging. Priskilla said that her experiences making friends with and learning from people all over the world during the CCI Program helped her manage the pressure.
"In handling a project, people management is very important. How we communicate, how we interact, how we set the same expectations towards what we going to achieve at the end of the project, all of these soft skills are very important," she said. "Every project should be working both ways, and finding the right tempo or the right way on how to treat each and every client with their different working cultures and even different way of interactions from each one of their team is critical."
Priskilla also said her increased English fluency from spending a year in the United States bolstered her confidence to use English "in each and every opportunity I have, especially during this project where all reporting must be written in English."
In February 2018, Priskilla was promoted to the role of account executive and business liaison at Digima Asia as a result of her successful leadership on multiple projects, including Akademi Antikorupsi. Priskilla said that the ICW project is the one of which she's most proud: "This is my small part as a citizen, as an organization, in helping my country and its people to combat corruption through education and technology."
This article originally appeared in blogs.nvcc.udi on February 13, 2019.
Here is CCI Program alumni directory
Read here for detailed information on the CCI Program
Last Updated: Feb 14, 2019 @ 3:26 pm