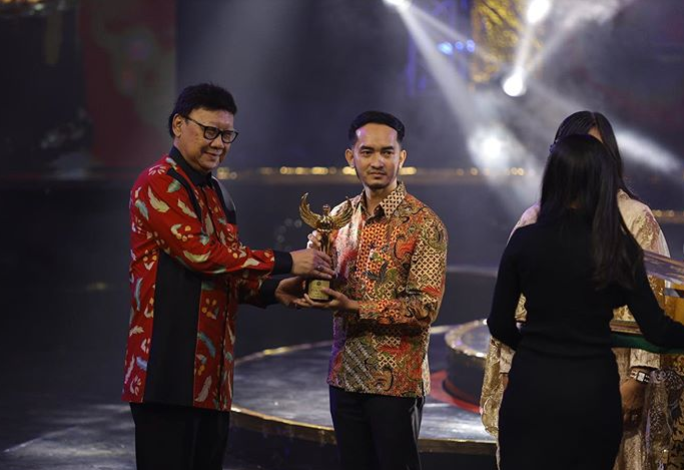 Kementerian Pendayagunaan Aparatur Negara dan Reformasi Birokrasi (PANRB) menggelar Malam Anugerah ASN 2019, Senin (02/12) di TVRI, Jakarta. Pada kesempatan tersebut, terpilih tiga PNS Inspiratif 2019, tiga PPT Pratama Teladan, serta tiga The Future Leader. Penghargaan diberikan oleh Menteri PANRB Tjahjo Kumolo, Menteri Kesehatan Terawan Agus Putranto, Sekretaris Jenderal Kementerian Keuangan Hadiyanto, dan Deputi Bidang SDM Aparatur Setiawan Wangsaatmaja.
Nominasi dibacakan oleh sejumlah figur publik seperti Olga Lydia, Dira Sugandi, Lucky Oktavian, dan Donna Agnesia. Turut hadir dalam acara tersebut Mantan Menteri PANRB Azwar Abu Bakar, Direktur Operasional Taspen Ermanza, Sekretaris Kementerian PANRB Dwi Wahyu Atmaji, Deputi bidang reformasi Birokrasi, Akuntabilitas Aparatur dan Pengawasan M. Yusuf Ateh, Deputi bidang Kelembagaan dan Tata Laksana Rini Widyantini, Deputi bidang Pelayanan Publik Diah Natalisa, Direktur Utama TVRI Helmy Yahya, pejabat di lingkungan Kementerian PANRB dan KASN, serta para tamu undangan.
TIGA TERBAIK PNS INSPIRATIF
1. Jaya Setiawan Gulo (Kementerian Keuangan)
2. Nani Yulia (Kepolisian Resort Brebes)
3. Virna Dwi Oktariana (Kementerian Kesehatan)
TIGA TERBAIK PPT PRATAMA TELADAN
1. Dwi Teguh (Kementerian Keuangan)
2. Iwan Dakota (Kementerian Kesehatan)
3. Iwan Suprijanto (Kementerian PUPR)
TIGA TERBAIK THE FUTURE LEADER
1. Aryo Pamoragung (Kementerian Kominfo)
2. Aldiwan Haira Putra (Pemerintah Daerah Kabupaten Empat Lawang)
3. Susilo Ratnawati (Pemerintah Daerah Provinsi D.I Yogyakarta)
The Most Innovative Institution:
1. Kementerian Kesehatan
2. Badan Pengawasan Keuangan dan Pembangunan (BPKP)
3. Badan Pengawas Obat dan Makanan (BPOM)
The Most Collaborative Institution:
Pusat Teknologi Informasi dan Komunikasi Pendidikan dan Kebudayaan Kemendikbud
ASN Favorit Pilihan Netizen:
Didik Ismu (Kelurahan Tombang Permai)
Dia yang Dikenang:
Sutopo Purwo Nugroho
Gulo was awarded the CCI Program in 2015 to study Business Management And Administration at Edmonds Community College. 
Photo credit: Jaya Setiawan Gulo's Instagram account
Last Updated: Dec 17, 2019 @ 6:33 pm