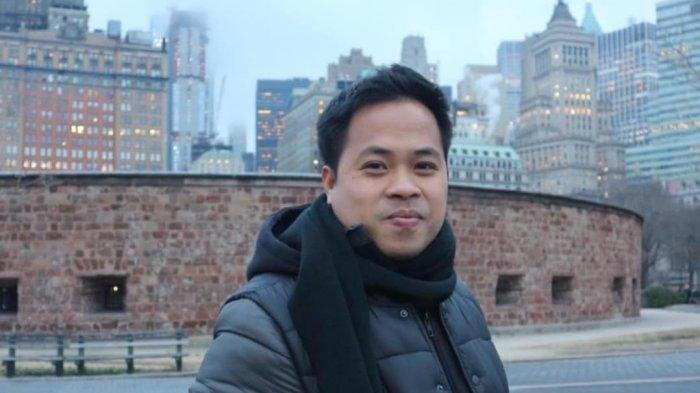 TRIBUN-TIMUR.COM, MAKASSAR – Andi Muhammad Fitrah (30), patut berbangga, pemuda Makassar ini menjadi satu dari 10 orang Indonesia yang mendapat beasiswa dari Pemerintah Amerika Serikat.
Fitrah saat ini sedang berada di Washington DC, Amerika Serikat, mengikuti program beasiswa bernama Fulbright Foreign Language Teaching Assistant.
Ia menjadi Asisten Dosen di Johns Hopkins University, SAIS, salah satu universitas terkemuka di dunia. Selain itu saya juga mengambil kuliah 2 semester tentang Language Studies dan American Studies.
Kepada Tribun Timur, Fitrah mengungkapkan, program yang diikutinya ini mengirim 10 orang lulus seleksi dari Indonesia untuk ditempatkan sebagai tenaga pengajar atau asisten dosen di 10 perguruan tinggi bergengsi di Amerika.
Ke-10 perguruan tinggi tersebut adalah Harvard University, Yale University, Johns Hopkins University, SAIS, University of Georgia, University of Hawaii, Columbia University, The University of Wisconsin, University of Michigan, Northern Illinois University dan Indiana University.
"Sebagai asisten dosen tugas saya adalah mengembangkan materi pengajaran Bahasa Indonesia untuk mahasiswa, memberikan kelas tutorial dan mengadakan Language Table atau meja bercakap di Kampus," kata pria yang juga menjadi guru di SMPS Metro School Makassar, Minggu (10/3/2019).
"Saya mengajar di kampus ini karena program beasiswa yang saya ikuti memang menugaskan saya untuk menjadi asisten di sini. Yang saya ajarkan adalah Bahasa Indonesia untuk Penutur Asing," tepatnya.
Tak sekadar jadi asisten dosen dan mengajar, Fitrah juga mempromosikan budaya Sulawesi Selatan di negeri Paman Sam.
"Saya pernah menampilkan Tari Pa'bite Passapu kreasi di acara International Dinner di Kampus dan memperkenalkan tentang pembuatan perahu Phinisi di kelas Rumah Indonesia di Arlington. Ini adalah sebuah sekolah akhir pekan untuk Anak SD yang memiliki latar belakang Indonesia," jelas dia.
Menurutnya, berbicara kebudayaan, bangsa Indonesia patut berbangga karena keragaman dan keunikan budaya yang dimiliki selalu menjadi daya tarik bagi mahasiswa Amerika.
"Saya mengajarkan budaya dan juga memperkenalkan kuliner Indonesia untuk menarik minat mahasiswa Amerika belajar bahasa Indonesia," kata dia.
Terkait kehidupan di Amerika, Fitrah mengaku sangat nyaman berada di Amerika meskipun kadang rindu dengan Indonesia.
Kemajuan teknologi dan budaya masyarakatnya yang menyukai kebersihan, disiplin dan saling menghargai privasi membuatnya betah di sana.
"Sebelum ke Amerika ada banyak informasi negatif yang mengganggu saya. Namun ketika tiba di sini tepatnya di Washington D.C, semua informasi itu bisa diluruskan. Masalah ibadah contohnya, banyak orang yang berpikir bahwa sangat sulit untuk beribadah di Amerika, mungkin karena pengaruh film atau drama yang ditonton. Tapi pada kenyataannya saya pribadi tidak mengalami hal tersebut," ungkap dia.
"Di tempat saya tinggal yaitu di negara bagian Maryland, ada sebuah mesjid yang dibangun dan diresmikan langsung oleh Presiden RI ke-4, Bapak Susilo Bambang Yudhoyono. Mesjid itu bernama mesji IMAAM centre. Setiap Jumat saya salat di sana. Selain itu ada kegiatan keagamaan seperti kegiatan belajar agama dan membaca Alquran yang dilaksanakan oleh pengurus mesjid setiap sore," sambung dia.
Sementara kehidupan di kampus, lanjut Fitrah, jika Ia ada kuliah hari Jumat, terkadang meminta izin untuk meninggalkan kelas lebih awal untuk ke mesjid.
"Dosen yang mengajarpun Alhamdulillah sangat pengertian dan menghargai saya sebagai Muslim yang harus beribadah di hari Jumat. Sekitar 2 dua kilometer dari kampus saya ada sebuah mesjid yang dibangun oleh komunitas Muslim African-American. Mesjid tersebut berdiri tidak lepas dari peran legenda tinju dunia yaitu Muhammad Ali. Yang mendirikan mesjid itu bernama Elijah Muhammad yang juga merupakan mentor dari Muhammad Ali," imbuhnya.
Pun demikian dengan makanan, Fitrah mengaku tidak pernah mengalami masalah karena selain banyaknya restauran atau food truck yang menjual makanan halal, di Washington DC sendiri banyak Asian Store atau toko yang menjual bahan makanan khas Asia, dan tak jarang saya mendapatkan sayur, ikan hingga bumbu dapur dari Indonesia.
"Budaya juga saya terkesan dengan sikap masyarakat yang selalu menghargai privasi kita. Saya tidak tahu di negara bagian lain di Amerika tapi di Washington DC masyarakat selalu meminta maaf terlebih dahulu jika melewati kita atau sedikit saja menyentuh kita di bus ataupun di kereta, hal yang bertolak belakang dari apa yang saya dengar dan yang biasa kita lihat di film-film," ucapnya.
"Selama 8 bulan hidup di Washington DC, Alhamdulillah saya belum pernah mendapat perlakuan yang tidak pantas dari warga malah saya yang justru belajar banyak dari kebudayaan Amerika. Terutama budaya menjadi relawan, ini yang membuat saya jatuh hati dan berharap bisa menanamkannya ke para siswa saya kelak ketika kembali ke Indonesia," harapnya.
Menurut Fitrah, meskipun Amerika sering dilanda isu tentang rasisme, tapi sejauh ini di lingkungan kampusnya belum pernah menemukan isu rasis tersebut.
"Menurut pantauan saya, para dosen sangat berhati-hati dengan hal ini dan semua mahasiswa diperlakukan sama. Justru mahasiswa Asia termasuk dari Indonesia mereka terkenal dengan kejeniusannya makanya tak jarang yang menjadi asisten dosen biasanya orang Asia," pungkas Fitrah. (tribun-timur.com)
Last Updated: Jun 18, 2020 @ 11:31 pm