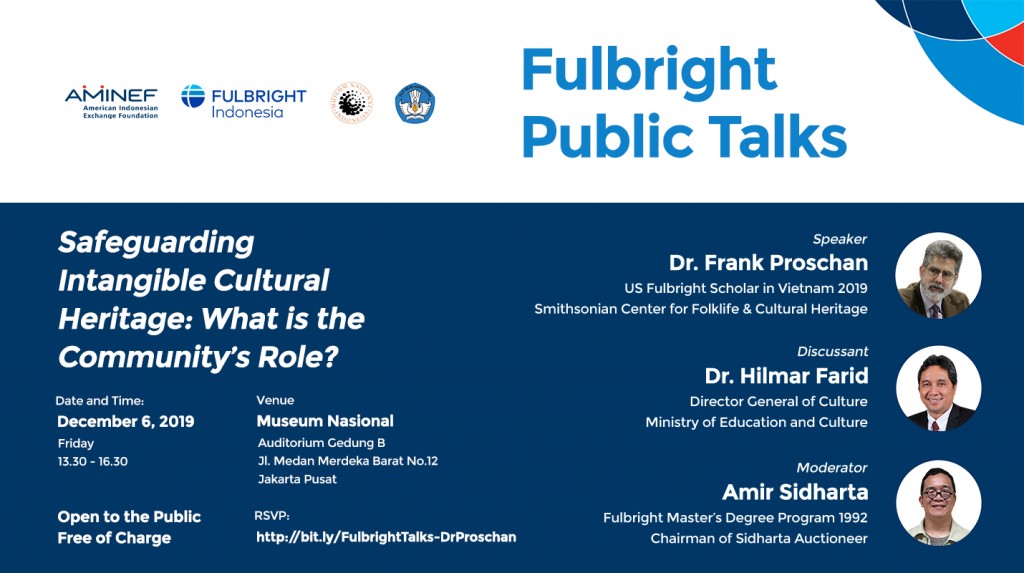 AMINEF invites you to a Public Talk by Dr. Frank Proschan, currently a US Fulbright Scholar to Vietnam, on "Safeguarding Intangible Cultural Heritage: What is the Community's role?" on Friday, December 6, 2019 from 13:30 to 16:30 at Museum Nasional, Auditorium Gedung B, Jalan Medan Merdeka Selatan, Jakarta. Serving as discussant will be Dr. Hilmar Farid, Director General of Culture, and as moderator, Mr. Amir Sidharta.
Dr. Frank Proschan was formerly the chief of the Program Implementation Unit, Intangible Cultural Heritage Section, UNESCO, Paris, where he worked for a decade. He is currently an independent scholar and Research Associate, Smithsonian Institution, Center for Folklife and Cultural Heritage. At the Smithsonian he did research for the world-famous Smithsonian Folklife Festival on the Mall for many years. He has also been a professor of folklore and anthropology at the University of Indiana. He has written on the cultures of mainland Southeast Asia including a PhD dissertation for the University of Texas, Austin, on the oral literature of the Kmhmu, an ethnic minority of northern Laos, Vietnam, and southern China. He has long-term links to anthropologists and folklorists in Vietnam, having taught and done research there for most of the 2000s. In 2019, he was awarded a US Fulbright Scholar award to carry out a project to strengthen training in anthropology and cultural heritage at Vietnam National University, Hanoi. In Jakarta he is the guest of AMINEF, the Oral Literature Association, or ATL, and the University of Indonesia.
Dr. Hilmar Farid is the Director General of Culture, Ministry of Education and Culture. He is a historian with a bachelor's degree from UI and a PhD from the National University of Singapore, where he wrote a dissertation entitled "Rewriting the Nation: Pramoedya and the Politics of Decolonization." For many years he was also active in non-governmental organizations, such as the Indonesian Institute for Social History, the Praxis Group, the Asian Regional Exchange for New Alternatives (ARENA), and the Inter-Asia Cultural Studies Society.
Mr. Amir Sidharta is a well-known museologist and art auctioneer. He was a 1992 Fulbright grantee at George Washington University where he studied for a master's in museology. His recent curatorial work includes the Indonesia Art Exhibition at the IMF – World Bank Group's Annual Meeting 2018 in Nusa Dua, Bali, and "Indonesia Semangat Dunia," a painting exhibition from the collection of the Indonesian Presidential Palace held at the Galeri Nasional Indonesia, among many others. He also serves on the AMINEF Board of Managers.
Fill in the online registration at http://bit.ly/FulbrightTalks-DrProschan
All Fulbright events are open to the public and free of charge.
Last Updated: Dec 3, 2019 @ 10:08 am