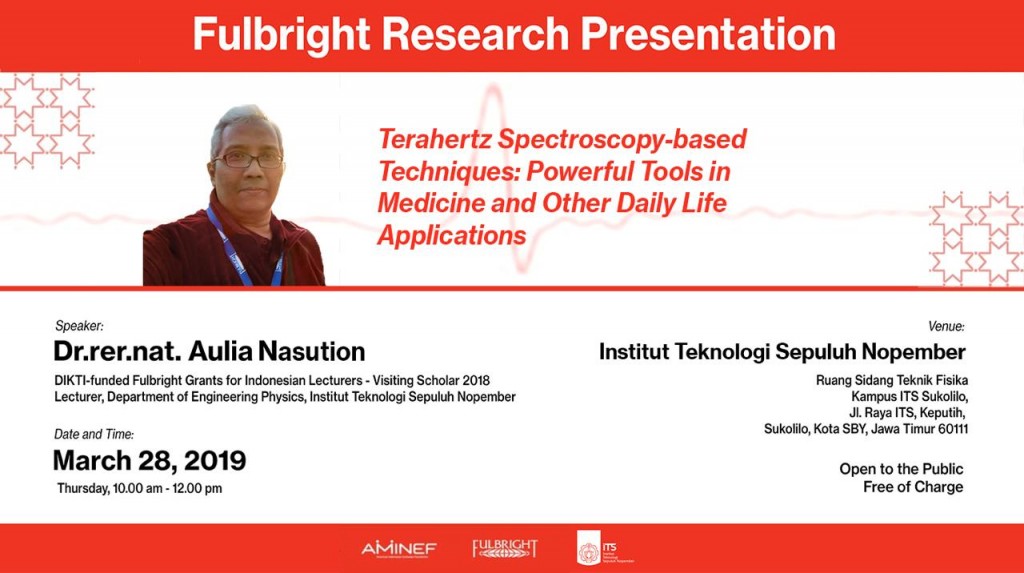 AMINEF and Institut Teknologi Sepuluh Nopember (ITS) invite you to a Fulbright Research Presentation on Biomedical Optics entitled 'Terahertz Spectroscopy-based Techniques : Powerful Tools in Medicine and Other Daily Life Applications' by 2018 DIKTI-funded Fulbright Grants for Indonesian Lecturers – Visiting Scholar Dr.rer.nat. Aulia Nasution on March 28, 2019, at 10.00 – 12.00 at Institut Teknologi Sepuluh Nopember (ITS), Surabaya, East Java.
Aulia Nasution is a lecturer and also serving as the head of Postgraduate Program in engineering physics at the Department of Engineering Physics, ITS, Surabaya, Indonesia. He received two Fulbright grants: DIKTI-funded Fulbright Grants for Indonesian Lecturers – Visiting Scholar Program to conduct research at the Terahertz  and Ultrafast Spectroscopy Laboratory, Rensselaer Polytechnic Institute, Troy NY in 2018 and Fulbright Senior Research Scholarship (now Fulbright Visiting Scholar Program) to conduct research at the Biophotonics Lab of Center for Biomedical Engineering (CBME), the University of Kentucky at Lexington (KY) in 2011-2012.
He pursued his doctoral degree in experimental physics (optical diagnostics) at the Laser Laboratorium Goettingen, and being promoted  for his doctor rerum naturalium  (Dr.rer.nat – doctor in natural sciences)  from the Fakultaet fur Physik – the Geogia-Augusta Universitaet Goettingen, Goettingen – Germany, mster's degree in medical physics from the School of Physics – the University of Science Malaysia (USM) Penang – Malaysia, and bachelor degree in engineering physics from Institut Teknologi Bandung (ITB), Indonesia. He devotes his research interest in the field of biomedical optics/biophotonics field for development customized optical system for bio and medical diagnostics applications.
This event is open to the public and free of charge.
A short summary of the research:
The THz spectrum, a.k.a. Terahertz gap, is the last portion of the electromagnetic spectrum which has not been fully researched and utilized.  The technology for generation and manipulation of Terahertz radiation is now a fast-growing field with application in various fields such as industrial, biology and medicine, food and agriculture, as well as security applications. In the presentation, fundamental advantageous properties of Terahertz radiation (among other electromagnetic radiations) will be described together with its potential applications in daily life.