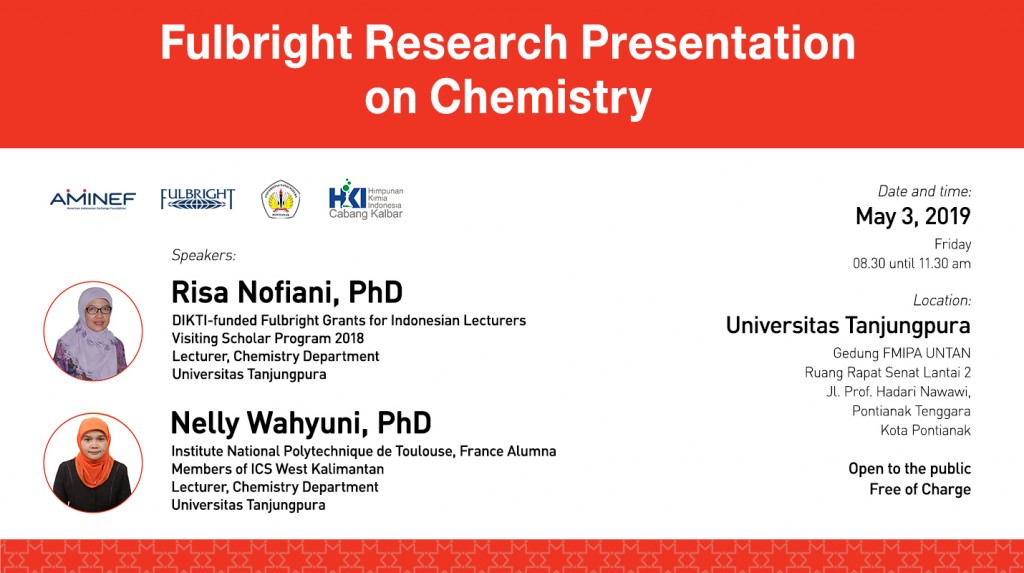 AMINEF, Universitas Tanjungpura, and Himpunan Kimia Indonesia Cabang Kalimantan Barat invite you to a Fulbright Research Presentation on chemistry by Risa Nofiani, PhD on May 3, 2019, at 08.30 – 11.30 at  Tanjungpura University, Pontianak.
Dr. Risa is a recipient of the DIKTI-funded Fulbright Grants for Indonesian Lecturers – Visiting Scholar Program in 2018 to conduct postdoctoral research in the College of Pharmacy, Oregon State University. She is a lecturer at the Chemistry Department, Tanjungpura University, Pontianak. She holds a bachelor and master's degrees in chemistry and chemistry/biochemistry from Riau University and Bandung Institute of Technology, respectively. She obtained her doctoral degree in chemistry from the University of Bristol, UK. Her research interest is focused on microbial natural product discovery and biosynthesis and has published some peer-reviewed research articles on that topic.
A brief summary of her research entitled "Genome Mining Based Natural Products Discovery":
Microorganisms are a prolific source of drug leads, such as antibiotics, anti-cancer agents, immunomodulators, anthelmintic, etc. However, in recent years, the number of new compounds discovered from these organisms has decreased significantly. This is due to the re-discovery of previously identified compounds, low throughput, and lack of relevant new technologies to quickly detect drug-like natural products. In this study, we employed a genome mining strategy to optimize drug discovery from bacterial isolates obtained from Indonesian mangroves. We sequenced the whole genome of these bacteria, identified the putative natural product biosynthetic gene clusters, and isolated the compounds of interests.
Dr. Risa will be joined by Dr. Nelly Wahyuni, also from Tanjungpura University who will present her research entitled: "Composite Natural Pigment-Clay, a New Perspective of West Kalimantan's Kaolin Application" which will explain about composite material using kaolin clay, which is abundant in West Kalimantan, and natural pigment, and their potential applications for cosmetic and energy resources.
This event is open to the public and free of charge.
Last Updated: Apr 30, 2019 @ 1:54 pm