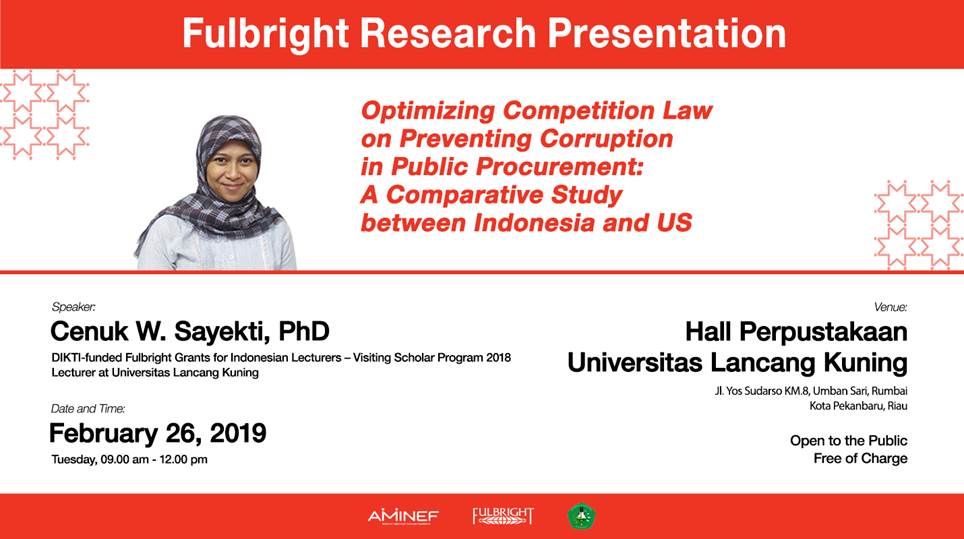 AMINEF and Universitas Lancang Kuning invite you to a research presentation by Indonesian Fulbright Visiting Scholar Dr. Cenuk Sayekti on February 26, 2019, at 09.00 – noon, at Universitas Lancang Kuning.
Dr. Cenuk is a lecturer at Universitas Lancang Kuning. She was awarded DIKTI-funded Fulbright Grants for Indonesian Lecturers Visiting Scholar Program to conduct postdoctoral research in Law at Duke University, School of Law in 2018.
Her research is related to the intersection of competition law and corruption prevention. Previously, she earned her Doctoral degree in Competition Law with focus on ASEAN Competition Law and Policy at Macquarie University, Australia (2015), while Bachelor and Master's degree in Law fromUniversitas Islam Indonesia respectively in 2005 and 2008.
This event is open to the public and free of charge.
A short summary of the research:
The aim of this research is to examine the intersection of competition law and corruption prevention. Anti-competitive business conducts frequently occur in tandem with corruption, which can also facilitate firms' collusive behaviors. This intersection between anti-competitive practices and corruption is particularly evident in the field of public procurement. Marking the lines between collusive behavior and corruption is important to optimize the enforcement of competition law to deter bid rigging.