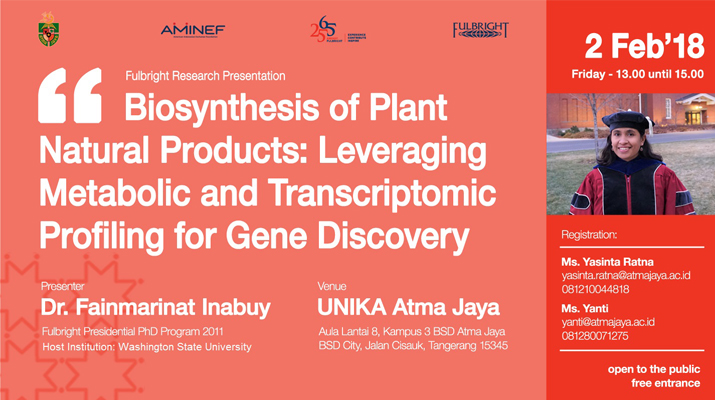 A short summary of the research:
Plants produce a large number of natural products that serve both physiological and ecological roles for the plants but are also valued as medicines, fragrances, flavors, and in many other applications. One of the largest groups of natural products consist of specialized diterpenoids, some of which are known for their prominent therapeutic properties, and there are thus increased demands for clinical trials and the pharmaceutical market. The search for sustainable production methods of structurally complex diterpenoids, for example using biotechnological approaches, requires an in-depth understanding of diterpenoid biosynthesis. This study is aimed at elucidating the biosynthesis of abietane diterpenoids in Tripterygium regelii and of paclitaxel in Taxus media. An integrative transcriptomic and metabolic approach was utilized to discover the key genes relevant to the biosynthesis pathways.
Presenter: Dr. Fainmarinat Inabuy (Fulbright Presidential PhD Program 2011)
Host institution: Washington State University, Pullman
To register:
– Ms. Yasinta Ratna
(yasinta.ratna@atmajaya.ac.id ; HP 081210044818)
– Ms. Yanti
(yanti@atmajaya.ac.id ; HP 081280071275)
This event is free and open to the public.
Last Updated: Mar 9, 2018 @ 1:36 pm