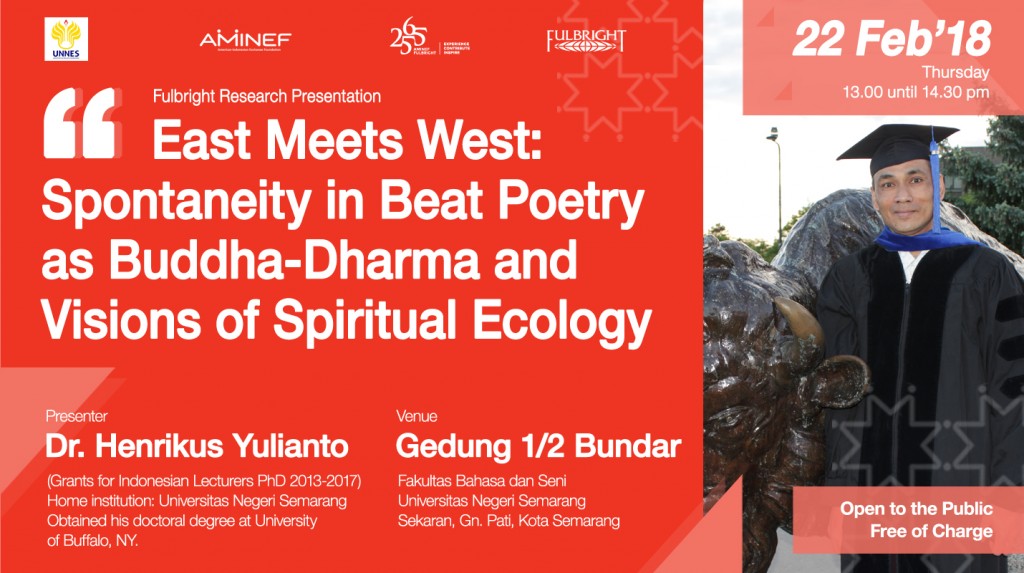 Universitas Negeri Semarang will hold a Fulbright Research Presentation to hear Dr Henrikus' dissertation on 'East Meets West: Spontaneity in Beat Poetry as Buddha-Dharma and Visions of Spiritual Ecology.
The research is focused on spontaneity in Beat poetry as Buddha-Dharma and visions of spiritual ecology. It highlights spontaneous poetics of Beat poets from the East and West Coast, both male and female ones. The Beat poets include Jack Kerouac, Allen Ginsberg, Diane di Prima, Anne Waldman, Philip Whalen, Gary Snyder, Lenore Kandel and Joanne Kyger. Their poetics of spontaneity are influenced by bebop jazz and Mahayana Buddhist teachings, the music they relished and the religion they embraced in that the amalgamation between the West and the East in their poetry typify Beat aesthetics. Jazz spontaneity emphasizes an entreaty to renounce an objectification of material phenomena. In like manner, the Buddhist teachings privilege on spontaneity as an intuitive thought in responding to emptiness as the true essence of phenomena. Their poetics of spontaneity and emptiness then serve as a vision to evoke one's ecological awareness of not objectifying material goods but of cherishing the natural environment in terms of the recent environmental issues such as global warming and depletion of biodiversity.
This is a public event and there is no admission fee. Register now.
Last Updated: Mar 9, 2018 @ 1:37 pm