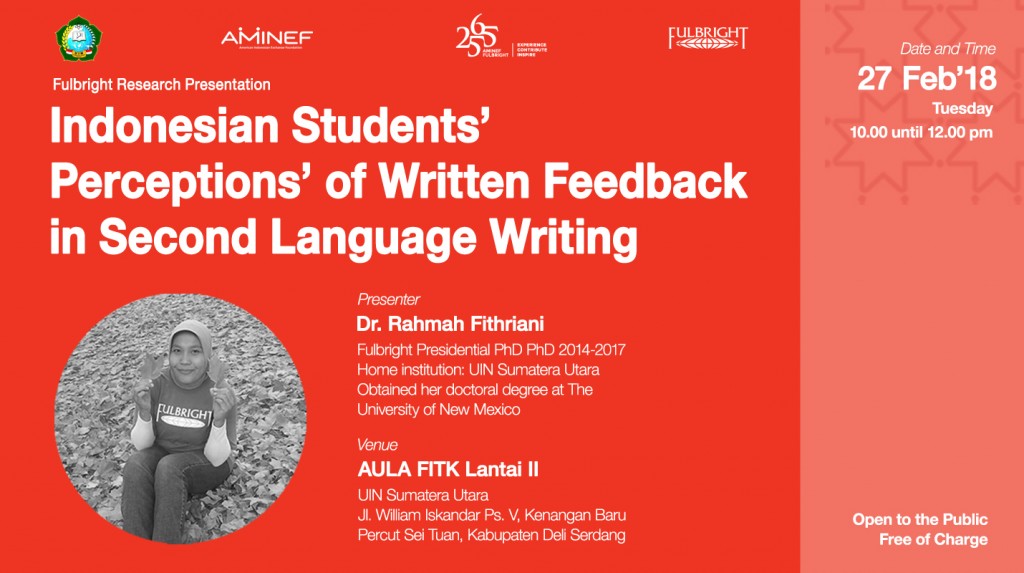 AMINEF in cooperation with UIN Sumatera Utara is pleased to invite you to attend the Fulbright Research Presentation on February 27, 2018, which will take place at UIN Sumatera Utara.
Dr. Rahmah Fithriani will share highlights of her dissertation on TESOL. Below is the short summary of her research:
Grounded in the Vygotskian sociocultural theory, this study focused on Indonesian university students' perceptions of written feedback in second language writing. Particularly this study sought to understand students' preferences of the form and the focus of written feedback they received from peers and teacher, its benefits as they perceived, and how they incorporated feedback in their writing. Since written feedback in Indonesian EFL context has not much been explored, this study also investigated whether culture played a role in influencing students' perceptions.
This event is free of charge. Register soon as seats for public audience are limited.
Last Updated: Mar 9, 2018 @ 1:37 pm