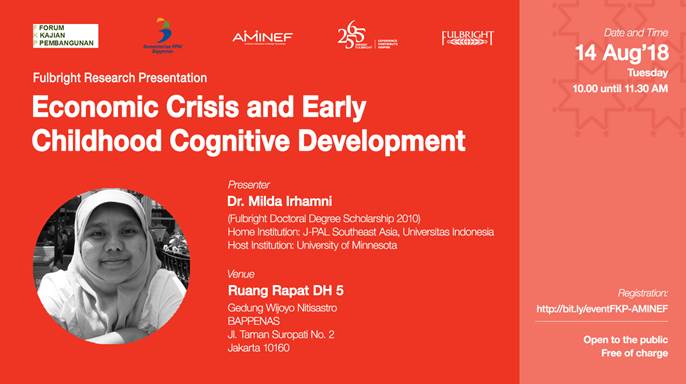 AMINEF, Forum Kajian Pembangunan, and BAPPENAS invite you to a Fulbright Research Presentation entitled Economic Crisis and Early Childhood Cognitive Development on August 14, 2018 at 10.00 – 11.30 AM.
 A short summary of the research:
This study estimates the impact of the 1997 East Asian Financial Crisis on the cognitive skills of children in Indonesia. Due to the paucity of data, there have been few studies focusing on child cognitive skills in Indonesia. This essay tries to address this by using the rich data from the Indonesian Family Life Survey (IFLS). Consistent with previous research, the negative impacts of the crisis on early childhood cognitive development are mostly felt by children in urban areas. If one differentiates between the stages of early childhood development, the impacts of the crisis appear to be most detrimental when the children are exposed to the crisis in utero.
Presenter: Dr. Milda Irhamni (Fulbright Doctoral Degree Scholarship 2010)
Home institution: J‑PAL Southeast Asia, Universitas Indonesia
Host institution: University of Minnesota
This presentation will be held at:
Ruang Rapat DH 5
Gedung Wijoyo Nitisastro
BAPPENAS
Jl. Taman Suropati No. 2
Jakarta 10160
Registration: http://bit.ly/eventFKP-AMINEF
This event is open to the public and free of charge.
Last Updated: Aug 10, 2018 @ 3:39 pm