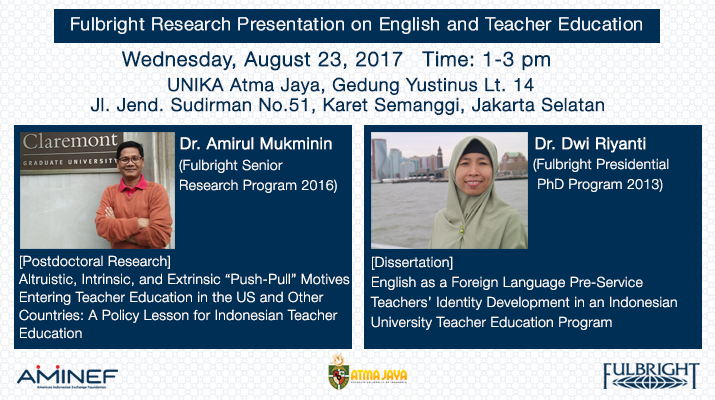 [Postdoctoral Research] Altruistic, Intrinsic, and Extrinsic "Push-Pull" Motives Entering Teacher Education in the US and Other Countries: A Policy Lesson for Indonesian Teacher Education
Presenter: Dr. Amirul Mukminin (Fulbright Senior Research Program 2016)
Home Institution: Universitas Jambi
Host Institution: Claremont Graduate University, California
A short summary of the research: The purpose of this research was to document the student teachers' motives to become a teacher by choosing teacher education programs in the US and other countries as a policy lesson for Indonesian Teacher Education. Data were collected through doing meta-analysis of previous studies from the US (1928-2016) and other countries (1934-2016) consisting 32 studies from the US and 83 studies from other countries. The findings of this study revealed that student teachers' interpretations of their motives for embarking on a journey to become a teacher were various and unique. Although, altruistic motives seemed to be predominant, the kinds of motives on their career choice were likely to involve an interaction among altruistic, intrinsic, and extrinsic motives across participants quantitatively and qualitatively. Implications for doing such studies in Indonesia are potential in order to provide policy inputs for recruiting potential teachers candidates.
[Dissertation] English as a Foreign Language Pre-Service Teachers' Identity Development in an Indonesian University Teacher Education Program
Presenter: Dr. Dwi Riyanti (Fulbright Presidential PhD Program 2013)
Home Institution: Universitas Tanjungpura, Pontianak
Host Institution: University of Nebraska-Lincoln, Nebraska
A short summary of the study: The purpose of the study was to examine how English as a foreign language pre-service teachers develop their identities through the process of learning to teach in a university microteaching class and a student teaching within an Indonesian teacher education context. Utilizing a qualitative multi-case study methodology, data were obtained from several sources including classroom observations of both practice; individual in-depth interviews with six focal participants, six cooperating teachers, and three university instructors; a focus group discussion with four focal participants; and an analysis of classroom artifacts and pedagogical documents. Study findings indicate mismatches between university and school expectations in regard to English language teaching and learning. An examination of data across all six cases reveals that EFL pre-service teachers' identities evolved from regimented into more flexible teachers as they completed practice in two settings. Based on these findings, the study recommends that Indonesian policymakers narrow the gap between university and school teaching practice through consistency of communication in order to nurture pre-service teachers' identity development.
This event is open to the public. Register soon in this link as  seats are limited.