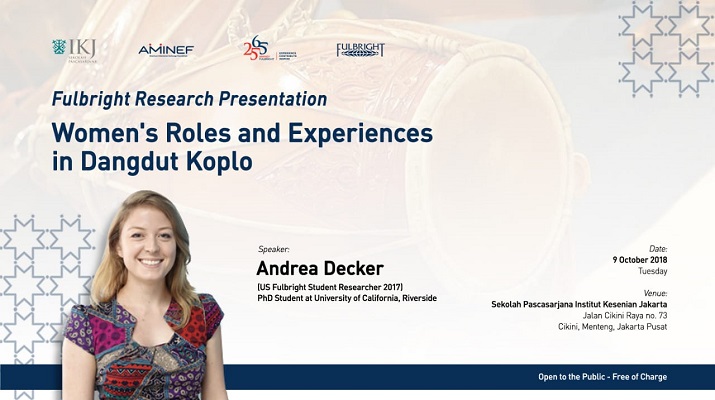 AMINEF and Institut Kesenian Jakarta invite you to a research presentation by US Fulbright Student Researcher Andrea Decker on October 9, 2018 at 10.30 – noon, on Ruang Serbaguna, Lantai 4, Sekolah Pascasarjana Institut Kesenian Jakarta, Cikini, Menteng.
Andrea is a doctoral student in the department of Ethnomusicology at University of California, Riverside. Andrea's research investigates the experiences and perspectives of bothdangdut fans, the lower socio-economic class in Indonesia and women. This research is supported through an affiliation with the Anthropology department at Universitas Airlangga.
All are welcome as this event is open to the public and free of charge.
A short summary of the research:
Dangdut is the most popular music in Indonesia. It appears on television, in taxi cabs, at weddings, at traditional music performances, and in clubs associated with eroticism. Much stigmatized by Indonesia's upper classes, dangdut music is tied to the everyday lives of Indonesians. Scholars have attempted to outline the history of dangdut. However, because of the stereotype that dangdut is violent and erotic, the voices of dangdut fans as well as women involved in the industry are often overlooked.
Andrea's project investigates the experiences and perspectives of both dangdut fans, who as the lower socio-economic class in Indonesia are often denied visibility by both foreign scholars and middle class Indonesians themselves, and women, who are some of the most visible actors of dangdut (most often as singers) but whose contributions are also minimized by lack of scholarly access and sexist attitudes. By conducting ethnography and interviews among fans and women (as singers, producers, broadcasters, MCs, musicians, etc.), she corrects the imbalance and reveal some of the reasons behind dangdut's sustained power and popularity.
This research both elucidates how dangdut functions in the lives of ordinary Indonesians and clarifies some of the larger socio-political issues related to dangdut music, including issues of social class, gender, and nationalism. The research was conducted in a few different fields: on dangdut television, especially Indosiar and JTV, in the Pantura region, and dangdut clubs in East Java.
Last Updated: Oct 4, 2018 @ 9:48 am