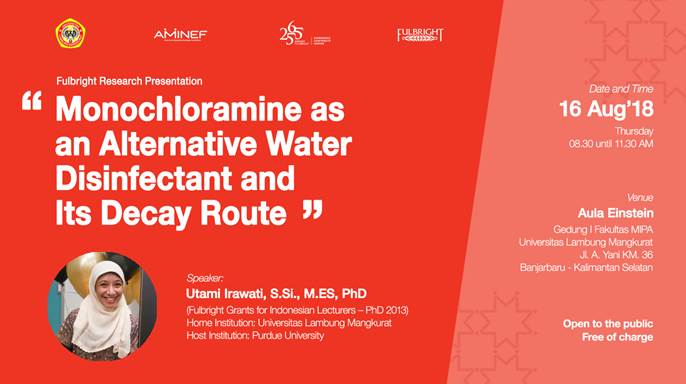 AMINEF and Universitas Lambung Mangkurat invite you to a Fulbright Research Presentation entitled Monochloramine as an Alternative Water Disinfectant and Its Decay Route on August 16, 2018 at 08.30 – 11.30 AM.
A short summary of the research:
Despite its popularity as a disinfectant in water treatment, the use of chlorine can lead to the formation of some disinfection byproducts. Chloramine is one of the alternatives to replace chlorine as water disinfectant. To use it effectively, a better understanding of the mechanisms of monochloramine decay in water is needed. This research has investigated two main pathways of monochloramine decay, i.e. disproportionation and hydrolysis reactions. The result of this research provides a better insight of the fate of monochloramine in water, and thus, provide a helpful information of its usage.
Presenter: Dr. Utami Irawati (Fulbright Grants for Indonesian Lecturers – PhD 2013)
Home institution: Universitas Lambung Mangkurat
Host institution: Purdue University
This presentation will be held at:
Aula Einstein
Gedung I Fakultas MIPA
Universitas Lambung Mangkurat
Jl. A. Yani KM. 36
Banjarbaru – Kalimantan Selatan
This event is open to the public and free of charge.