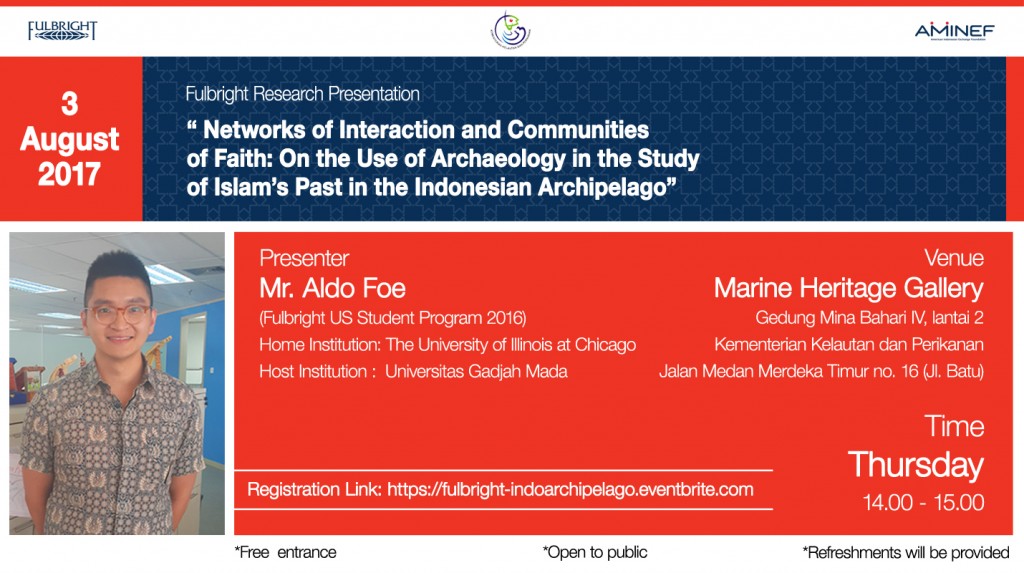 Join us at a Fulbright Research Presentation about finding the history of Islam in Indonesian Archipelago through an Archeological research and study by an American junior researcher.
Presenter: Mr. Aldo Foe (Fulbright US Student Program 2016)
Home Institution:  The University of Illinois at Chicago
Host Institution:  Universitas Gadjah Mada
Summary of the Research: The focus in Indonesian archaeology is shifting towards a more formal study of interaction accompanying the country's renewed interest in their maritime past. For Islamic archaeologists, this meant moving the research inquiries from descriptions of Islamic antiquities into investigations of the complex processes accompanying Islamization – a discussion that has been mainly propelled by historians studying the intellectual history of Indonesian Islam in the recent decade. In this talk, the presenter will attempt to locate archaeology's place within the discourse and argue for the use of formal network methods and a multi-scalar approach in the study of Islamic history in the Indonesian archipelago.
This free event is open to the public.
This event is open to the public. Register soon in this link as  seats are limited.