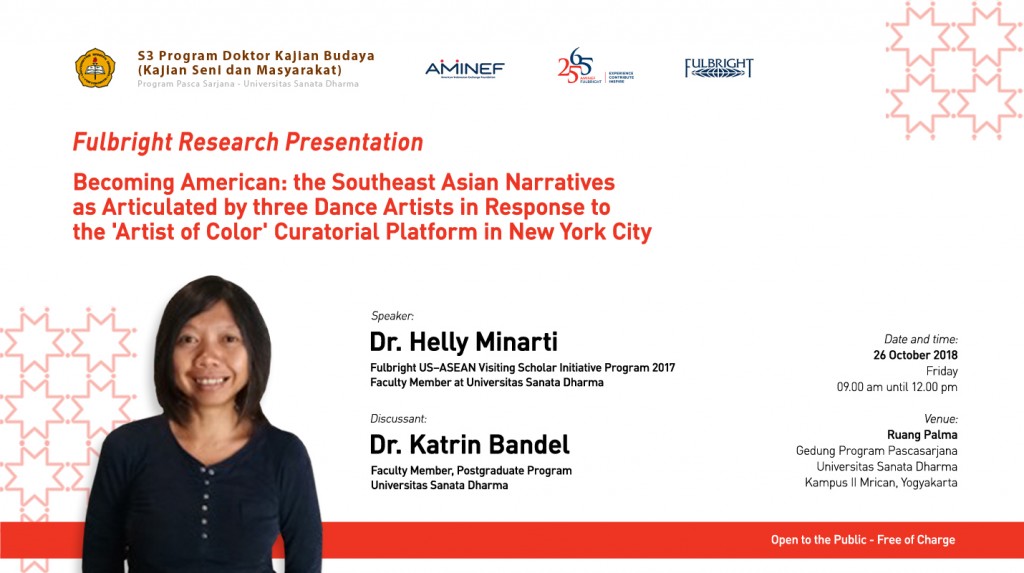 AMINEF and Program S3 Kajian Budaya (Kajian Seni dan Masyarakat) Universitas Sanata Dharma invite you to a research presentation by Indonesian Fulbright Researcher Dr. Helly Minarti on October 26, 2018 at 09.00 – noon, at Ruang Palma, Gd. Program Pascasarjana, Universitas Sanata Dharma, Yogyakarta with Dr. Katrin Bandel, lecturer at Program Pascasarjana as a discussant.
Dr. Minarti is an independent dance curator/scholar, and recipient of several research awards, including Fulbright US-ASEAN Visiting Scholar Initiative Program to conduct research at The City University of New York. Her research interest intersects between the discourses of corporeality, choreography and modernity. She recently joined the faculty of University of Sanata Dharma on its new postgraduate program alongside setting up her own collaborative research platform that focuses on choreography as critical practice.
This event is open to the public and free of charge. All are welcome.
A short summary of the research:
In the field of contemporary dance, New York City (NYC) is historically canonized for its artist/curator figure and practice that goes back to its postmodern dance movement in the 1960s. This artistic movement was spearheaded by predominantly white and middle class dance-makers whose artistic provocation has been marked by minimalist forms and analytic procedures, forging certain choreographic language that questions dance movement, not often by contrasting it with the pedestrian and daily gestures.
Two leading institutions emerged in the early 1970s out of this artistic movement: both of which uniquely are linked with two different progressive churches located in downtown NYC, e.g. Danspace with the St Mark Church and Movement Research with the Judson Church. Later coined as the 'downtown dance', the two dominant centres/sites are now reconsidered as to shaping the artistic hegemony that has somehow alienated other artistic articulations by the colored artists (first and foremost of the black choreographers; and later the so-called Asian-American dance makers).
Although her research has covered the Spring season of both Danspace and Movement Research curatorial programs, she will only focus on Movement Research's Spring season of the newly launched Artist of Color Council's curatorial platform, which appointed a (Southeast) Asian curator who selected three (Southeast) Asian-American dance artists to present their work.
She share critical observation of the curatorial process of this particular platform as well as of the artistic process of the three selected dance-makers in response to it, thus contextualizing it up and against what was being discussed in NY dance scene of the time (Spring 2018) as part of the public discourse of decolonization, citizenship and American (cultural) identities.
For more on Fulbright US-ASEAN Visiting Scholar Initiative Program, please visit AMINEF website. See our previous scholars at http://bit.ly/2Ap3EwV