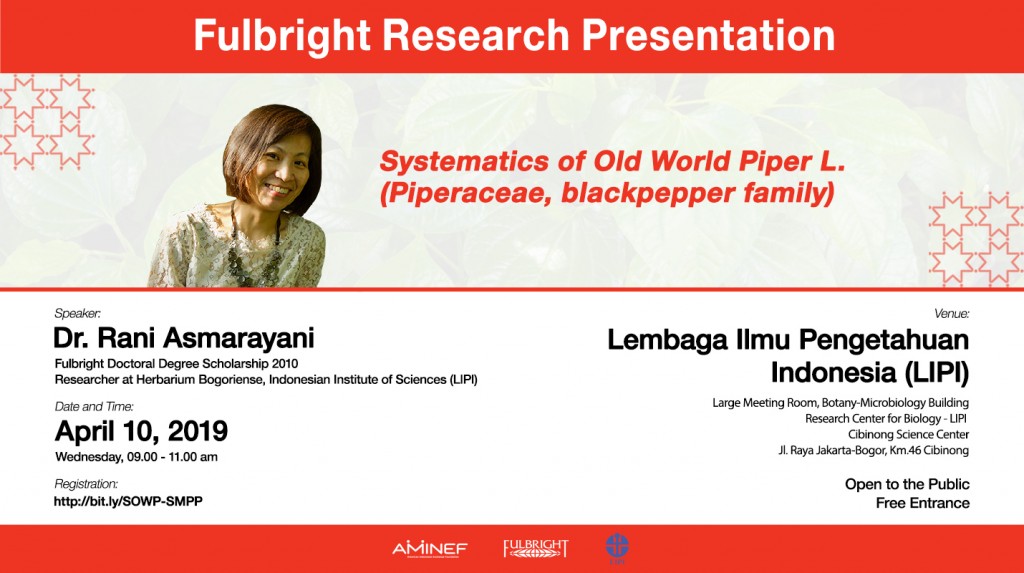 AMINEF and Lembaga Ilmu Pengetahuan Indonesia (LIPI) invite you to a Fulbright Research Presentation on Biology entitled 'Systematics of Old World Piper L. (Piperaceae, blackpepper family)' by 2010 Fulbright Doctoral Degree Scholarship Dr. Rani Asmarayani on April 10, 2019, at 09.00 – 11.00 at LIPI Cibinong.
Rani Asmarayani is a researcher at Herbarium Bogoriense LIPI. She earned her doctoral degree in Biology with focus on Plant Systematics at University of Missouri, St. Louis under Fulbright sponsorship. She investigates evolutionary relationships, morphological and anatomical characters, and species limits of Piper species, a major group in flowering plants which include betel leaf and black pepper.
Previously, she earned a master's degree in Biotechnology from Institut Teknologi Bandung and bachelor degree in Biology from Universitas Gadjah Mada.
This event is open to the public and free of charge.
A short summary of the research:
Comprised of more than 2400 species, Piper is a major group in tropical flowering plants. Three major subdivisions are recognized in Piper, i.e., a New World and two Old World groups, Asian and South Pacific. Unlike New World Piper, relationships in the Old World Piper remain enigmatic. This study focused on the Old World Piper with emphasize on the Malesian-Pacific Piper, Malesia being the center of diversity of the genus in the Old World.
Last Updated: Apr 15, 2019 @ 12:07 pm