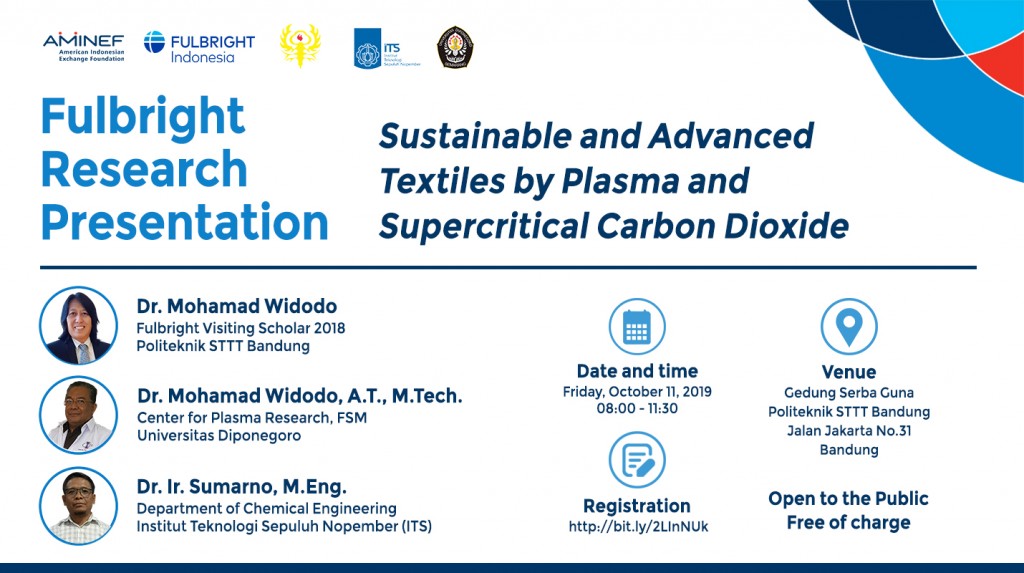 AMINEF and Politeknik STTT Bandung invite you to a Fulbright Research Presentation (FRP) "Sustainable and Advanced Textiles by Plasma and Supercritical Carbon Dioxide" October 11, 2019, at 08.00 – 11.30 at Politeknik STTT Bandung.
The presentation will be presented by Dr. Mohamad Widodo, who conducted postdoctoral research on the textile chemistry field at North Carolina State University (NCSU) supported by the 2018 Fulbright Visiting Scholar Program. Previously, he earned his doctorate in polymer science at the same university in 2010, supported by the Fulbright PhD Program.
Dr. Widodo is a senior lecturer at the Department of Textile Chemistry and Postgraduate Study Program of Textile Engineering and Apparel Technology at Politeknik STTT Bandung (formerly known as School Textile Technology). His research interests include plasma technology for alternative sustainable processing of textiles, surface modification of textiles and polymers, and development of smart systems based on textiles and polymer.
He will be joined by his two colleagues: Prof. Dr. Muhammad Nur, DEA. from Center for Plasma Research, Faculty of Science and Mathematics, Diponegoro University and Dr. Ir. Sumarno, M.Eng. from Laboratory of Material Technology, Department of Chemical Engineering, Faculty of Industrial Engineering, Sepuluh Nopember Institute of Technology (ITS).
Summary of the presentation:
Plasma is an ionized gas that consists of a mixed form of electrons, positive ions, and neutral atoms or molecules. It is a form of media full of high energy that can be used for many different processes and purposes. Supercritical carbon dioxide, on the other hand, is a form of single-phase mixture of liquid and gaseous carbon dioxide obtained under temperature and pressure beyond its critical point. It has the properties of liquid and gas making it an efficient solvent and medium for many different chemical reactions and processes. Both of them have been proposed to replace or reduce the use of water in textile dyeing and finishing potentially making the processes sustainable. Commercial dyeing with supercritical carbon dioxide, in particular, has been operating since 2004. Further studies are in progress to expand its application to other processes in textile finishing. In addition to being sustainable, these media have the potential for the fabrication of advanced textiles. Plasma, for example, has been widely used for surface physical and chemical modification to create interestingly new and functional properties on the textile surface. In this presentation, plasma and spray-coating were used to create a one-sided hydrophobic cotton fabric with one-way transport of water, which are useful properties for moisture management, comfort, and protection.
All Fulbright Research Presentations are open to the public and free of charge.