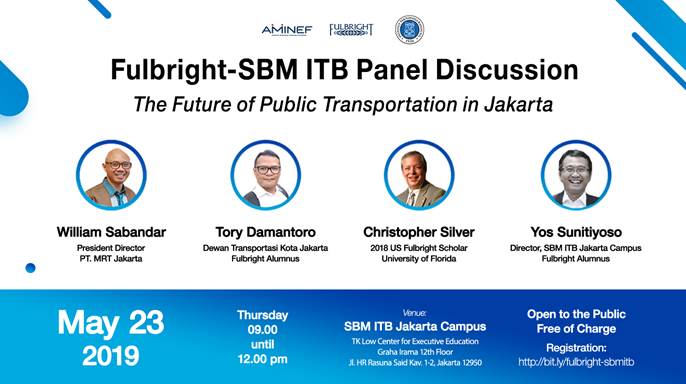 You are invited to a Fulbright-SBM ITB panel discussion on "The Future of Public Transportation in Jakarta" on Thursday, May 23, 2019 from 09.00 to 12:00 at SBM ITB Jakarta Campus.
This event is part of a series of public events that AMINEF regularly organizes to share the work, ideas, and research results of Fulbright grantees and alumni and other scholars. AMINEF is pleased to be collaborating with School of Business and Management Institut Teknologi Bandung (SBM ITB) in putting on this event.
After waiting for decades, Jakartans have finally enjoyed MRT. MRT has long been anticipated as one of the means to alleviate the capital city's dire traffic congestion. It is estimated that currently there are almost 20 million private vehicles in Jakarta. MRT is expected to lure people to leave their vehicles home and shift to public transportation. Since it was launched commercially on April 1, 2019, MRT has transported around 60,000 – 70,000 during weekdays. In the long run, MRT plans to transport up to 130,000 per day. However, this leads to another question: is MRT enough to solve the traffic problem in Jakarta?
MRT plans to develop Transit Oriented Development (TOD) at several stations as the next steps. In fact, PT. MRT Jakarta has been officially appointed by Jakarta City Administration to develop TOD areas in their stations. It is expected that by developing TOD, people will have easier access to public transportation and therefore, ease Jakarta's traffic.
The panel discussion participants are as follows:
Dr. William Sabandar, President of PT. MRT Jakarta
Mr. Tory Damantoro, Board of Transportation in Jakarta and a Fulbright alumnus (MA, Transportation Planning, University of Southern California)
Prof. Christopher Silver, Ph.D., 2018 US Fulbright Scholar, University of Florida
The event will be moderated by Yos Sunitiyoso, Ph.D., Director of SBM ITB Jakarta Campus and a Fulbright alumnus.
Please RSVP by filling in the form at https://bit.ly/fulbright-sbmitb as seats may be limited.