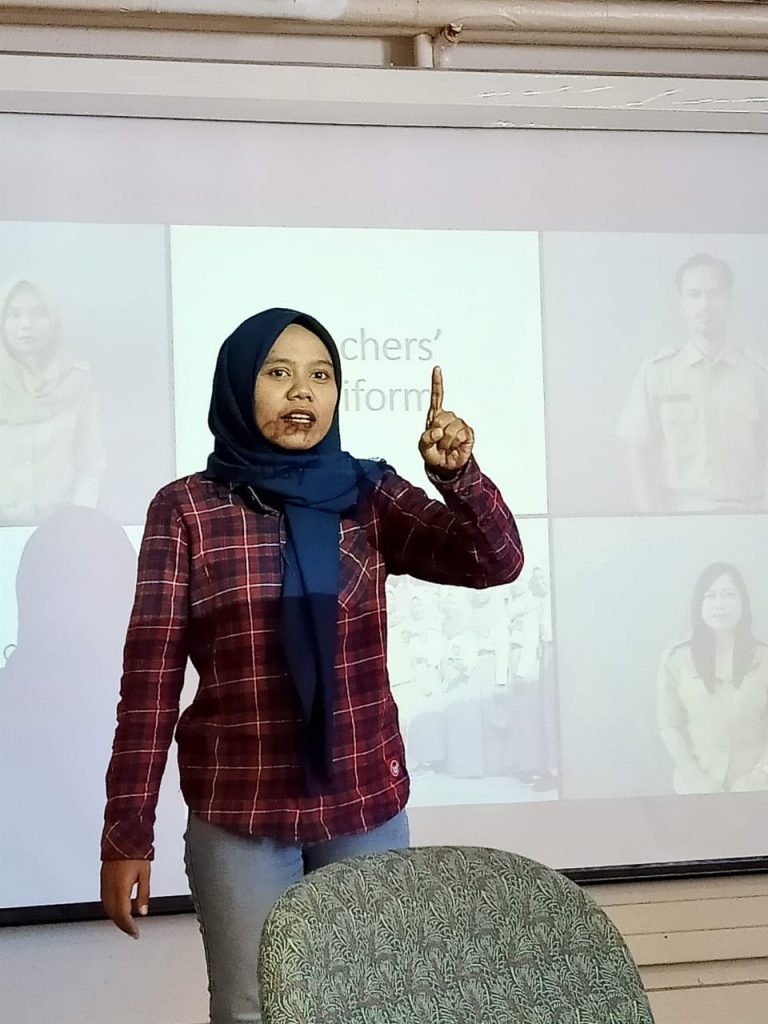 For Yuli Yani, an English teacher at a vocational high school in Indonesia, learning about new computer apps in a Syracuse area middle school class has reinforced the importance of digital literacy as well as having a command of the English language.
In her field placement at Jamesville-DeWitt Middle School, Yani has observed how easily students understand the workings of new apps.
"I found the students could easily follow directions and explore the apps on their own," says Yani, one of the 16 recipients of the Fulbright Distinguished Awards in International (DAI) Teaching Program, who came to spend the spring 2020 semester in the School of Education.
"It was amazing. They are fifth and sixth graders, but it was easier for them to learn a new app because all the tools in those apps are in English. They can just use their language ability to logically understand the function of each," Yani says.
"This made me realize how important English is."
For her inquiry project, Yani will prepare a handbook on strategies for using technology and engineering as a topic of conversation and communication in English. With a bachelor's degree in English education from the State University of Malang, she has taught for eight years at SMKN 3 Tanjung Selor, an engineering vocational high school in Tanjung Selor, the capital of North Kalimantan province. Since the province's education and culture department recently implemented an integrated curriculum for vocational high schools, Yani says the handbook will help vocational high school English teachers shift to the integrated curriculum.
Differences between the Indonesian and American educational systems range from the dress code to length of the school day and week to school funding, she says.
Almost every Indonesian school, public and private, requires students to wear uniforms. After graduating from junior high school or middle school, students can choose to continue their education at a senior high school or vocational high school. This is the last year that seniors will take the national examination, since the minister of education and culture is changing the national examination to a minimum competency assessment and character survey.
"The school days in America are pretty long for middle schoolers," Yani says, noting that classes start at 7:45 a.m. and end at 3:05 p.m. "In Indonesia, school hours are gradually increased on each level."
At her high school, students are in class from 7:30 a.m. to 3 p.m. Monday to Saturday, except for a half day on Fridays, since students in the world's largest Muslim country have Friday prayers. The junior high school day ends at 2 p.m., at lower-level schools even earlier.
"Students in America only have school from Monday to Friday," she adds. "Now even some schools in Indonesia have adopted that system, but most of the schools still have classes from Monday to Saturday."
American schools have far more and longer breaks than do Indonesian schools.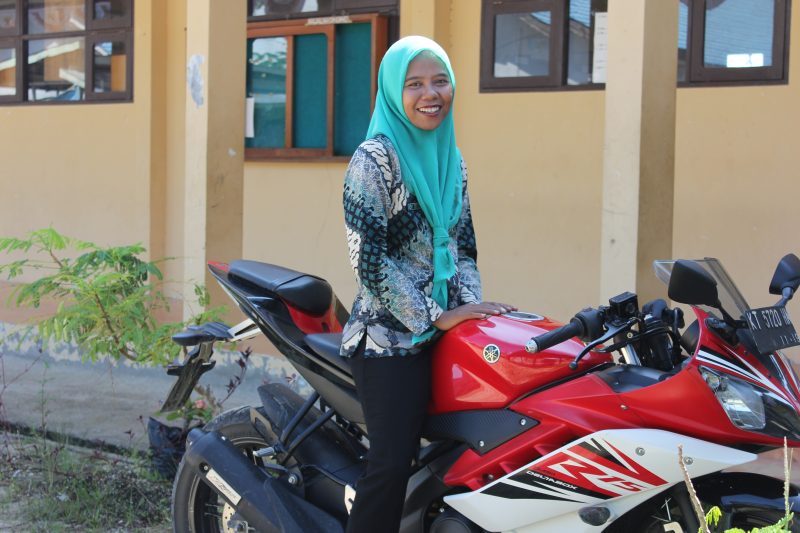 "Obviously, we are not a four-season country, but they do have break at the end of every semester," Yani says. It's usually a two-week break after each six-month semester and one longer break during the holy month of Ramadan.
Funding for Indonesian schools is based on the number of students enrolled in each school: the larger the number of students, the greater the government funding. Vocational schools compete to attract more students, unlike senior high schools, where enrollment is based on place of residence. Vocational high schools have open enrollment, as not all majors are available at all schools and students select a school based on their preferred major.
Inclusive classes at Jamesville-DeWitt impressed Yani. "My school is not an inclusive school, so that's very interesting to see an inclusive class, and I find it fascinating to see all students blend together."
And the efficiency of the school bus system stood out.
"The school bus is so well organized. The district provides all the buses so that every student can go to school without worrying about transportation. That's not the case in Indonesia," Yani says. SMKN 3 Tanjung Selor students need to find their own transportation, as the government has allowed the school only two buses, neither in good condition.
Yani says that having to leave Syracuse to return home mid-semester due to COVID-19 was disappointing, especially as she missed out on her dream to visit New York City over spring break.
"I had the bus tickets, the hotel room booked, everything," she says.
Still, Yani remains grateful for her experience and continues to connect with the cohort of Fulbright DAI Teachers through WhatsApp, and participates in weekly seminar, technology workshops, and her 2 audit classes online. She says the 12-hour time difference between Syracuse and Indonesia makes it challenging to keep up with discussion boards and to participate live, but staying connected with the program is important to her.
"I can't stay away from my laptop and cell phone," she says.
Last Updated: Jun 18, 2020 @ 10:47 pm