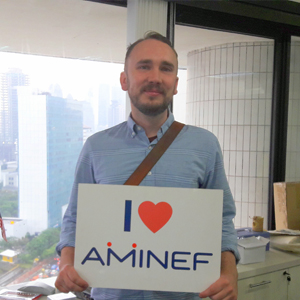 Gavin Ryan received his master's degree in Music Performance from University of Illinois Urbana-Champaign in 2013. He received the Fulbright Student Research grant to complete a project on "Ethical Performance Practice of Sacred Gamelan Music." He was working with Indonesian Institute of the Arts (ISI) Denpasar. He was also under the tutelage of Balinese artist Made Lasmawan.
Throughout this project, Gavin studied two types of gamelan – gamelan selonding and gamelan angklung – which are used in various Balinese rituals such as cremation rites, tooth filling ceremonies and religious holidays. He hoped to popularize the two types of gamelan in the US with "Gamelan Madu Kencana," a community gamelan ensemble that he founded in Utah, US. He hopes that more Americans will become more aware and gain a greater appreciation of Balinese gamelan music.
Gavin is a percussionist with years of experience. In addition to being the founder of "Gamelan Madu Kencana," he also co-founded the "Gamelan Bintang Wahyu" group at Brigham Young University.
Last Updated: Sep 20, 2018 @ 12:11 pm