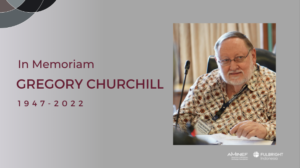 AMINEF is saddened to announce the death of Gregory "Greg" Churchill, one of the original founders of AMINEF as the Fulbright Commission in Indonesia and an Emeritus Trustee, on February 19, 2022, in Jakarta. He was 74 years old.
Greg had a long career spanning four and half decades in Indonesia as a practicing attorney and as a lecturer in law at the University of Indonesia; after years of legal practice and teaching, he focused as a researcher on legal and judicial reform in Indonesia, and finally as a consultant to various non-governmental organizations, international development agencies, and private foundations.
AMINEF mourns the loss of a dedicated friend who generously devoted his time to the Fulbright Program, whether as legal adviser, member of the Board or as a member over the years of selection committees choosing grant applicants. Even in his retirement and as an Emeritus Trustee, he continued to provide input based on his deep knowledge of Indonesian foundation law to AMINEF, the U.S. Embassy, and various Indonesian ministries. He also sat as a trustee on the boards of several foundations and gave pro bono advice to organizations engaged in poverty research, performing arts management, protection of human rights, environmental protection, and legal education.
Born in 1947 in Niagara Falls, New York, Greg grew up in Kenmore, New York, and Hamden, Connecticut, graduating from Hamden High School as valedictorian in 1965 and from Cornell University in 1969 with a B.A. magna cum laude in economics. From 1969 to 1971, he served as a Peace Corps volunteer in Malaysia assigned to the National Farmers Association HQ in Kuala Lumpur and then spent a year hiking in Indonesia in mountainous regions of Sumatra and Sulawesi.
He returned to the U.S. in 1972 to study law at Harvard Law School. After graduating in 1975, he became a member of the California State Bar and worked briefly in California, splitting his time between an international law firm in San Francisco and a research project at Boalt Hall School of Law, UC Berkeley.
In 1976, he began teaching at the University of Indonesia where he assisted the Legal Documentation Center at the Faculty of Law in collecting, cataloging and indexing Indonesian laws and regulations and the National Law Development Agency (BPHN) in developing the tools used by the National Legal Documentation and Information Network (JDIHN).
In 1981, he joined the law firm of Ali Budiardjo, Nugroho, Reksodiputro (ABNR), where he practiced for 26 years, while continuing to teach at the University of Indonesia.
In 1987, he assisted the establishment of AMINEF as a foundation to manage the Fulbright program in Indonesia and later served as a trustee from 1992 to 1996 and an Emeritus Trustee from 2017 until his death.
Beginning in 1995, he became involved in programs for the reform of legal institutions, which became prominent in newly democratic Indonesia from 1998 onwards.
In early 2007, he retired from teaching and law practice to concentrate on reform work, serving as a Senior Advisor to Dutch, American, Australian, and IMF programs of assistance for legal and judicial reform activities in Indonesia.
He served as a consultant to the International Monetary Fund for the Netherlands-Indonesia Legal and Judicial Reform Program, including bankruptcy reform, court reform, and the establishment of the Commercial Court and the Anti-Corruption Court (1998-2005); and was several times a consultant to the World Bank (2000-2006) and the Australian Agency for International Development (2001-2003) on legal and judicial reform programs in Indonesia.
An avid connoisseur of Indonesian traditional puppetry, he published a book in 2009 of legends and photos of Indonesian puppets called Semar, Ever So Smartly: Images of Semar in Indonesian Folk Arts. His collection of Indonesian puppets is among the largest assembled in this country and comprises hundreds of complete sets, many of them on display on the grounds of his home in Ciputat, south of Jakarta.
The sad news of his passing was observed with a deep sense of loss, but also a profound gratitude for his contributions to legal and judicial reform, to legal education, and to the educational, cultural, environmental, and advocacy organizations that he was associated with, such as the Lontar Foundation, Coral Triangle Center, Human Rights Watch, Human Rights Resource Center, SMERU Research Institute, Hukum Online, the Center for Law and Policy Studies, and, of course, AMINEF / Fulbright Indonesia.
Indonesian Ambassador to Norway Todung Mulya Lubis, a respected Indonesian lawyer and human rights activist, said in an online obituary that Greg " … will continue to be remembered for his kindness, and for his unwavering dedication to establishing law in Indonesia. He chose to live in Indonesia as an Indonesian. He came from America, but his heart was in Indonesia."
Greg is survived by his two sisters, Martha Bohn and Barbara Churchill, and three nieces, who live in the U.S., and by his Indonesian family of Kamdan bin Kaswi (Dani), Dani's wife Eli, and Dani's children and grandchildren in Ciputat.
Last Updated: Feb 23, 2022 @ 4:14 pm