I was in the Peace Corps in the Philippines before I came to Indonesia in the 1970s. One thing about the Philippines is that when you went there as a young, inexperienced American in those days, it was easy to think you understood it because of all the similarities: the Coca-Cola signs and the Catholic church and so forth. It took a long time to realize you had no real idea what was really going on. But the moment I arrived in Jakarta I knew I had no idea what was going on. It was just so different. Indonesia was more opaque, and to me it was more interesting to try to figure it out. People were very different. Here they are much more formal, and eventually I came to like that; I think perhaps because I am a formal person myself.
The Fulbright experience was a real turning point for me. I went to Bandung in 1977 to do dissertation research for a history PhD at Cornell University, but at the end of that year I realized I liked Indonesia better than I liked studying history and I decided to stay. To support myself, I started freelance reporting, and this eventually led to my entry into the world of business because there was more demand for articles on business than on politics or culture. It was ironic. I had come out of America's 1960s counterculture; I had the beard, the long hair, and I was anti-business, pro-George McGovern, all that. But after I started freelancing and interviewing business people, much to my surprise I found that I really liked and respected them. They seemed to be the only foreigners here who really had a good idea of what was going on. They really had to operate and succeed within the society, hiring people and training people, and they faced real labor and regulatory problems. These people gave me information about Indonesia at a level that I had never heard before.
I was kind of an oddity. Not so many foreigners spoke Indonesian in those days. The Asian Wall Street Journal had just started. The legendary Far Eastern Economic Review was in its heyday. One of my better-paying gigs was Time magazine. They would send eccentric requests, like "We're doing an Indonesian cookbook, what's a kenari?" And of course it was fun being a young reporter, a card-carrying foreign correspondent. The first Jakarta Foreign Correspondents Club was just being formed and some great journalists like David Jenkins, Hamish McDonald, and Rocky Pura were in their prime.
In 1979 I took my first and only full-time job. It was for an American company called Business International and it lasted one year. After that I started my first business here doing industrial research, and, with a very good friend, the late David Sparkes, I began publishing The Indonesian Consumer, a profile of the local consumer market that was revolutionary at the time. Next I was a partner in Touche Ross for two years, and then I left to co-found a consultancy, Business Advisory Indonesia, in 1983. That lasted 10 years, and I've been on my own ever since, through all the booms and busts. At the start of the Asian financial crisis in 1997 I was employing about 50 people because we did a lot of industrial research. Within two years the research business vanished and I had to reduce my staff to 15. We were able to survive and now I see it as an important lesson. But at the time I can guarantee you, it was no fun at all.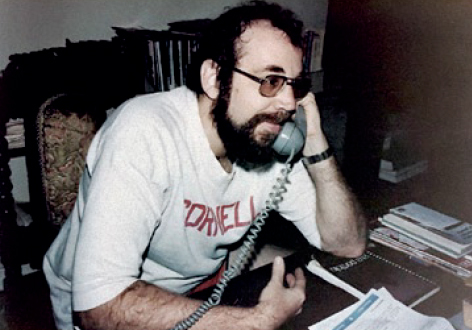 Indonesia has been my life since I came here with Fulbright in 1977. In addition to my work in business, I helped start the local branch of The Nature Conservancy and helped with the restructuring of the Indonesian American Friendship Association (PPIA), where I served as vice chairman. I was the first president of the International Business Chamber of Indonesia when we founded it in 2000. And I have served a total of nine one-year terms as president of the American Chamber of Commerce in Indonesia, so I have tried to be very active in the community.
I have been in Indonesia 35 years now, and in a way I see myself as living the Fulbright ideal. I am totally immersed in another culture and still very connected to America, and in a way that's what Fulbright is all about. So I like to think that Fulbright would put me in the plus column when they do the math.
Last Updated: Jun 3, 2019 @ 3:26 pm