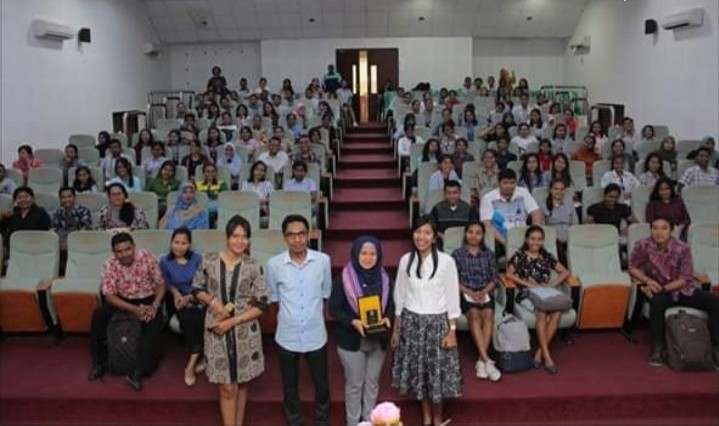 Perwakilan AMINEF Jakarta berfoto bersama peserta sosialisasi beasiswa Fulbright di Universitas Nusa Cendana. Foto: Dok. Undana
Beverly Rambu
Masyarakat Kota Kupang dan Nusa Tenggara Timur terutama orang muda diminta untuk tidak takut belajar ke Amerika. Jika ada kesempatan untuk mendapatkan beasiswa, berusahalah melalui semua tahapan dengan baik dan bila terpilih gunakanlah kesempatan tersebut sebaik mungkin agar hasilnya maksimal.
"Jangan takut belajar ke Amerika. Kadang kita orang NTT merasa takut sebelum mencoba. Tapi kalau kita sudah terpilih dan belajar di sana kita bisa berupaya untuk menyesuaikan diri dengan kurikulum dan bacaan saat sekolah di universitas yang ada di Amerika," tegas Reni Bani Bili, perwakilan International Relation Office (IRO), Universitas Nusa Cendana (Undana) Kupang dalam kegiatan sosialisasi beasiswa Fulbright oleh American Indonesia Exchange Foundation (AMINEF) di aula Undana, Selasa (8/10).
Ia mengatakan beasiswa Fulbright untuk sekolah ke Amerika merupakan program yang menarik. Belajar ke luar negri akan menambah pengetahuan, pengalaman, dan relasi internasional kita.
"Jangan takut untuk memulai. Coba saja dulu. Jika nilai TOEFL atau tes bahasa Inggris masih jauh dari standar, maka belajar dan berjuang. Lakukan yang terbaik and you will make it," ujar Reni memotivasi peserta yang hadir dalam sosialisasi tersebut.
Sementara perwakilan AMINEF Rianti Hastuti menjelaskan, beasiswa yang ditawarkan terdiri dari beasiswa bergelar yakni program master dan doktoral juga beberapa fellowship untuk beasiswa nongelar.
"Untuk master nilai TOEFL minimal 550 dan sudah memiliki pengalaman kerja minimal lima tahun dan nilai IPK minimal 3,0. Sementara untuk doktoral nilai TOEFL minimal 575 dan menyiapkan research proposal. Deadline untuk dua beasiswa ini 15 Februari 2020 setiap tahunnya. Selain itu, butuh dua surat rekomendasi, pelamar juga wajib mengisi formulir aplikasi yang bisa didownload di www.aminef.or.id. Info di link ini sangat lengkap juga bisa lewat twitter, instagram, dan facebook milik AMINEF. Ada pula beasiswa atas kerjasama DIKTI dan Fulbright untuk master dan doktoral khusus bagi para dosen di universitas Indonesia," jelasnya.
Ia mengatakan selain beasiswa master dan doktoral adapula beasiswa bagi lulusan doktor yang ingin melakukan research di Amerika atau lebih dikenal dengan nama Fulbright Visiting Scholar Program. Sementara untuk program nongelar, ada beberapa beasisa yang diberikan lewat Community College Initiative Program (CCIP), Global Undergraduate Exchange Program (beasiswa satu semester untuk mahasiswa semester 1-5), Foreign Language Teaching Assistant (FLTA) Program (bagi para guru untuk mengajar bahasa Indonesia di universitas di Amerika), Hubert Humprey Fellowship Program (bagi peningkatan profesionalisme), Teaching Program for International Teachers (bagi para guru SD atau SMP untuk menambah wawasan lewat kursus di universitas di Amerika), serta US-ASEAn Visting Scholar (beasiswa untuk melakukan research di Amerika terkait isu-isu di ASEAN.
Rianti mengatakan selain seleksi administrasi, akan ada seleksi wawancara, kemudian pembekalan tes kemampuan bahasa Inggris lain GRA/GMAT/IBT khusus untuk program master dan doktoral, wawancara via bila lolos, serta pre orientation departure (DPO) sebelum keberangkatan ke Amerika.
"Jangan khawatir, semua biasa akan ditanggung oleh program baik transportasi, biaya tes, serta akomodasi saat wawancara di luar NTT. Begitu pula saat berangkat ke Amerika, AMINEF akan membantu mendaftar di beberapa universitas dan mencari penempatan bagi pelamar," jelasnya.
Ia mengajak semua peserta bahkan seluruh masyarakat NTT untuk bisa mempersiapkan diri dengan baik agar bisa belajar di Amerika melalui berbagai program beasiswa Fulbright.
"Sejauh ini ada puluhan alumni berbagai program di NTT namun kami berharap akan ada banyak lagi anak NTT yang bisa belajar di Amerika melalui program ini," harapnya.
Salah satu peserta sosialisasi Jessy Hayon mengaku senang mengikuti kegiatan ini karena menambah informasi referensi beasiswa.
"Selama ini yang kita tahu beasiswa Australia. Sekarang ada beasiswa Fulbright ke Amerika," jelasnya.
Ia mengaku termotivasi untuk melanjutkan studi di Amerika namun ia tetap berupaya untuk meningkatkan nilai TOEFL dan kemampuan bahasa Inggris sebelum melamar.
"Butuh proses dan kerja keras yang lebih untuk melamar beasiswa ini. Saya yakin saya bisa," ujar lulusan Fakultas Hukum Undana ini. (bev)
The article originally appeared in victorynews.id on October 8, 2019
Maria Beverly Rambu Yaku Katibi was awarded Community College Initiative to study at Northeast Wisconsin Technical College in 2014.
Last Updated: Oct 9, 2019 @ 1:55 pm