We are delighted to congratulate all of the 90 Indonesian Fulbright awardees who will start their master's and doctoral degree study, postdoctoral research, or exchange program in the US in Fall Term 2021.
These grantees hail from all over Indonesia, from Medan to Jayapura including Lombok, Sumbawa Manado, Banjarmasin and Makassar. Their varied fields of study range from artificial intelligence, environmental conservation, aviation to aerospace management, STEM education, etc.
To prepare these Fulbright grantees for their activity and life in the US, AMINEF held an Online Pre-departure Orientation (PDO) on July 7-8, 2021.
AMINEF Executive Director Alan Feinstein kicked off the opening session. Then we were honored to hear remarks from three distinguished keynote speakers: Acting Deputy Chief of Mission, US Embassy Jakarta, Rachel Cooke, Head of Foreign Education Section, Qualification Sub-Directorate, Directorate General of Science and Technology Resources and Higher Education, Ministry of Education, Culture, Research, and Technology, Ibu Anis Apriliawati on behalf of Director-General of Higher Education Indonesian Ministry of Education, Culture, Research, and Technology Prof. Ir Nizam, and Dr. Sandra Hamid, 1999 Fulbright awardee, AMINEF Trustee, and The Asia Foundation's Country Representative to Indonesia.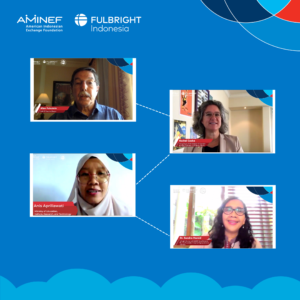 We are also grateful to all speakers, the Fulbright alumni, and our international partners, IIE, and IREX representatives, who gave presentations and answered questions at the various enrichment sessions to prepare the grantees embarking on their Fulbright journey.
These are the ninety grantees and their profiles on the AMINEF website:
• thirty-one Fulbright Visiting Student grantees (Masters)
• thirty-four Fulbright Visiting Student grantees (PhD)
• ten Fulbright Visiting Scholars
• one Humphrey Program fellow
• four teachers in the Fulbright DAI
• ten Fulbright Foreign Language Teaching Assistant (FLTA)
To all Fulbright grantees, our best wishes, keep safe & stay healthy during your exciting Fulbright program.