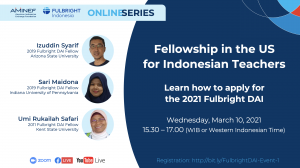 Join AMINEF and three Fulbright DAI Fellows on March 10, 2021, at 15.30 – 17.00 (WIB or Western Indonesia Time) on our free online information session to learn more on how SD/SMP/SMA or equivalent teachers can have an opportunity to do a professional development program in the US as a Fulbright DAI Fellow.
Get tips & insights from Fulbrighter Izuddin Syarif from Balangan, South Kalimantan and Sari Maidona from Padang, West Sumatra and Umi Rukailah Safari from Jember, East Java. Plus, they will discuss application requirements and how Fulbright DAI has enhanced their teaching careers.
Register now at bit.ly/FulbrightDAI-Event-1
Everyone is welcome, particularly Indonesian teachers.
If you're ready to apply before the deadline of April 15, 2021, the links are here. 
Last Updated: Aug 4, 2021 @ 5:22 pm