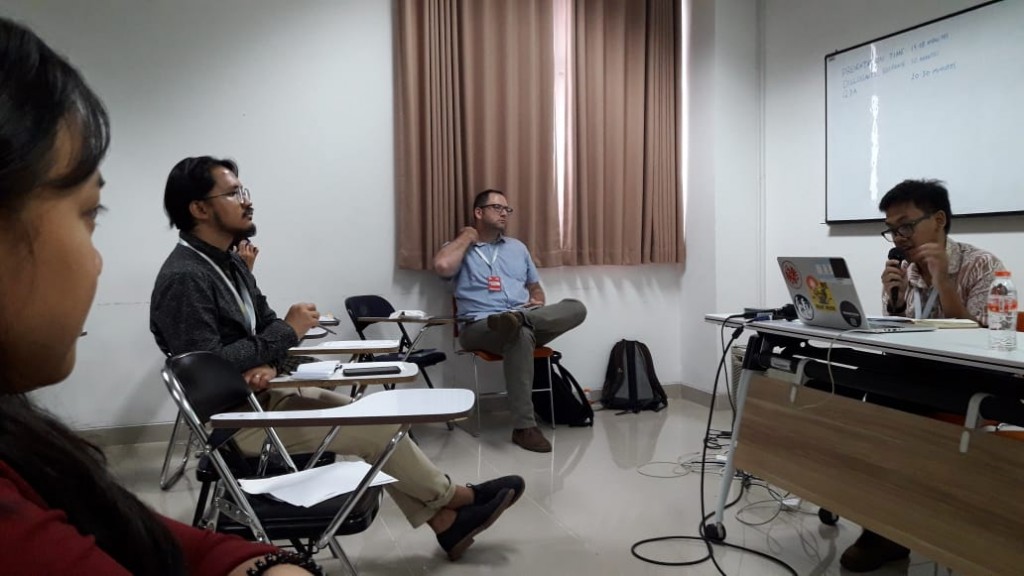 My participation in the 7th International Symposium of the Jurnal Antropologi Indonesia (ISJAI) has allowed me to receive critical feedback on my ongoing field research as well as strengthen my collaborations with anthropologists conducting research in Indonesia. With over 400 presenters and 21 panels, the symposium demonstrated the continuously expanding breadth of anthropological research in Indonesia.
In my panel, "Governmental Practices in Indonesia: Non-Calculative Modality, State Power, and the (Im)possibility of Politics," I presented together with current graduate students and faculty members who specialize in anthropology and development studies. As a linguistic anthropologist who analyzes the same social processes as political anthropologists and policymakers, my paper gives an additional insight into how the routine processes of governance are discursively perfomed. These discourses of governance often cut across institutions – the role of gendered notions of public speaking in West Timorese meetings, for instance, are deeply tied to the gendered notions of public speaking in the contemporary Timorese Protestant churches.
Together with presenters who study the formal aspects of policymaking and governance, I discussed how we can complicate the subjective stances that characterize relations of governance in contemporary Indonesian democracy. Unexpectedly, the panel also provided an opportunity for four anthropologists (including myself) who conduct research in East Nusa Tenggara to share our experiences in critically analyzing governance relations in a locale that is often evaluated by Indonesian policymakers as a "frontier" for development projects.
This symposium is also a trademark event of my host institution in Indonesia, Universitas Indonesia's Department of Anthropology, and it marks a relatively rare opportunity for networking across national boundaries that comes once every three years.
Aside from the panel presentations, the symposium allowed to learn about the institutional characteristics that define anthropology's position in Indonesian universities: (1) an emphasis on applying ethnographic research for the purposes of policy making; (2) intensive faculty involvement on issues of ethnographic methodology specific to a field site in Indonesia; (3) a strong encouragement to seek further training abroad, particularly at the doctoral level; and (4) the need to publish within a relatively short time frame in order to fulfill the metrics of faculty recruitment in Indonesian universities.
In contrast, my doctoral training at a US- based university emphasizes the following aspects: (1) an emphasis on applying ethnographic research for the purposes of conceptual innovations that are relevant for anthropologists conducting research anywhere in the world; (2) faculty involvement that mainly revolves around conceptual development; (3) a strong emphasis on seeking funding for international research; and (4) an academic publication culture emphasizes quality over quantity.
While the institutional characteristics of Indonesian and American universities are admittedly quite different, these differences also show how academic exchanges play a crucial role in spurring innovation in both Indonesian and American anthropological research.
I would like to thank the following institutions in facilitating my ongoing field research in Indonesia and my participation in the ISJAI symposium: the University of Chicago, Universitas Indonesia, Universitas Gadjah Mada, Fulbright-Hays DDRA at the US Department of Education, the Wenner-Gren Foundation, and AMINEF.
Rafadi Hakim is a 2018 US Fulbright-Hays DDRA grantee in Indonesia