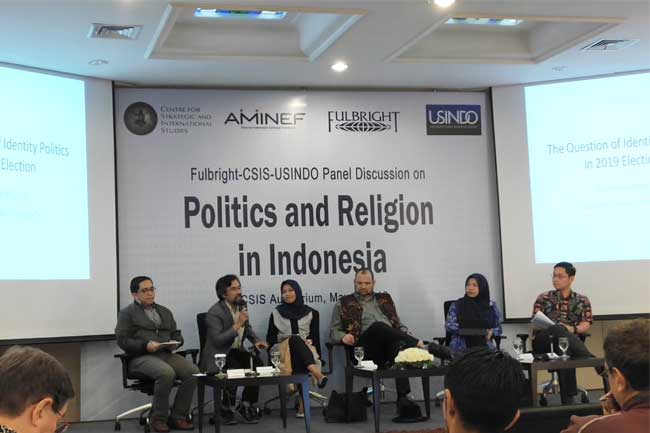 Diskusi dengan tema "Politics and Religions in Indonesia" dihadiri oleh Direktur CSIS Philip J. Vermonte, Dosen dan peneliti Dr. Achmad Munjid, Analis dari Institute for Policy Analysis of Conflict (IPAC) Nava Nuraniyah, professor dari University of North Florida Prof. Ronald Lukens-Bull, Executive Director Perkumpulan untuk Pemilu dan Demokrasi (PERLUDEM) Titi Anggraini, dan peneliti CSIS Noory Okthariza. Di auditorium CSIS, Tanah Abang, Jakarta, Kamis (2/5). (GATRA/Muhammad Guruh Nuary/tss)
Jakarta, Gatra.com – Pemilihan Umum (pemilu) untuk capres dan cawapres serta caleg telah usai bulan lalu. Situasi politik masih juga belum mereda, ada klaim menang di masing-masing kubu, ditambah politik identitas juga bertambah kencang seiring proses saling klaim. Akan tetapi, proses demokrasi kemarin terbilang berhasil dengan capaian prosentase pemilih yang tinggi.
"Secara general, Pemilu kita berhasil secara aman dan damai. Karena memang tingkat pemilih mencapai 81%. Ini sebetulnya cukup tinggi," ujar dosen sekaligus peneliti UGM Achmad Munjid acara diskusi dengan tema Politics and Religion in Indonesia, di auditorium CSIS, Tanah Abang, Jakarta, Kamis (2/5).
Bagi Achmad itu merupakan proses yang sukses dilaksakan oleh penyelenggara. Namun terlepas dari itu, ada sisa pasca politik yang belum padam yaitu bercampurnya pandangan politik dengan agama.
"Pasca pemilu masalah lebih serius terjadi. Adanya campur aduk antara politik dan agama, ini sudah seperti api dan oli yang kalau dicampur akan membesar apinya, bukan cahayanya," ungkapnya.
Senada dengan Achmad, Executive Director Perkumpulan untuk Pemilu dan Demokrasi (Perludem) Titi Anggraini menambahkan jika kejadian tersebut akibat terjadinya polarisasi yang disebabkan oleh ambang batas pencalonan Presiden.
"2024 tidak bisa kita melanjutkan ambang batas pencalonan presiden, karena dampaknya bagi masyarakat itu bukan hanya melelahkan, tapi karena kita terpolarisasi, justru mengurangi esensi demokrasi itu sendiri," tutur Titi.
Masih menurut Titi, meskipun gelaran pemilu sudah selesai dan tinggal menunggu hasil pada tanggal 22 Mei ini, ia tetap merasa masih akan ada pihak yang tetap menggunakan politik identitas sebagai sebuah investasi.
"Saya kira akan ada tetap pihak-pihak yang berusaha untuk memelihara polarisasi itu, karena itu bisa dianggap sebagai investasi politik jangka panjang," pungkasnya.
Last Updated: Jun 18, 2020 @ 11:27 pm