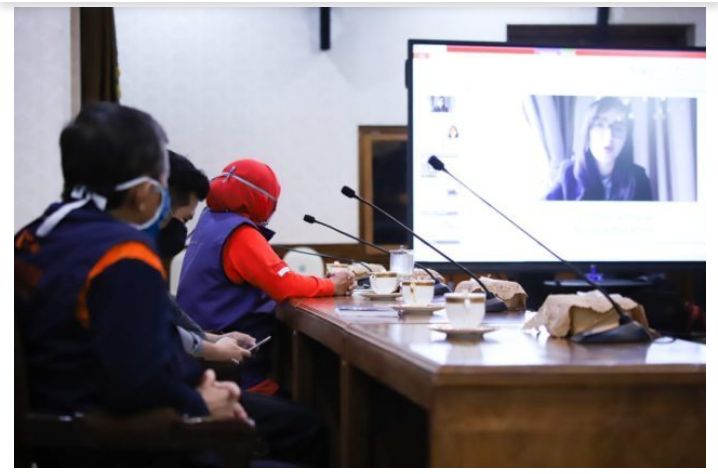 KABAR BESUKI – Pemerintah Provinsi Jawa Timur meluncurkan game edukasi berjudul "Dawn of Civilization: Solve Corona" bertepatan dengan Hari Pendidikan Nasional, Sabtu (2/5).
Dengan game ini diharapkan siswa sekolah dapat memahami seluk beluk Covid-19, namun dengan cara yang lebih menyenangkan. Game tersebut merupakan hasil kolaborasi Pemprov Jatim bersama para relawan pelajar  Indonesia di luar negeri yang tergabung dalam Nusantara Innovation Forum yang berpusat di Inggris dan Solve Education yang berpusat di Singapura.
Berbeda dari game kebanyakan, game ini mengajak para pemainnya untuk belajar tentang Covid-19 secara interaktif, menangkal hoaks, dan gotong royong membantu masyarakat dan tenaga medis dari rumah.
Tidak Cuma itu, perolehan skor pemain nantinya akan dikonversi menjadi sembako atau alat pelindung diri (APD), yang selanjutnya disumbangkan menjadi shodaqoh kepada keluarga dan tenaga medis yang membutuhkan.
"Jadi, semakin besar skor yang diperoleh, semakin banyak sumbangan yang akan di distribusikan. Sumbangan tersebut juga merupakan hasil gotong royong dari berbagai organisasi masyarakat dan donatur yang tergabung dalam program ini," ungkap Gubernur, Khofifah Indar Parawansa di Gedung Negara Grahadi, Surabaya, Sabtu (2/5).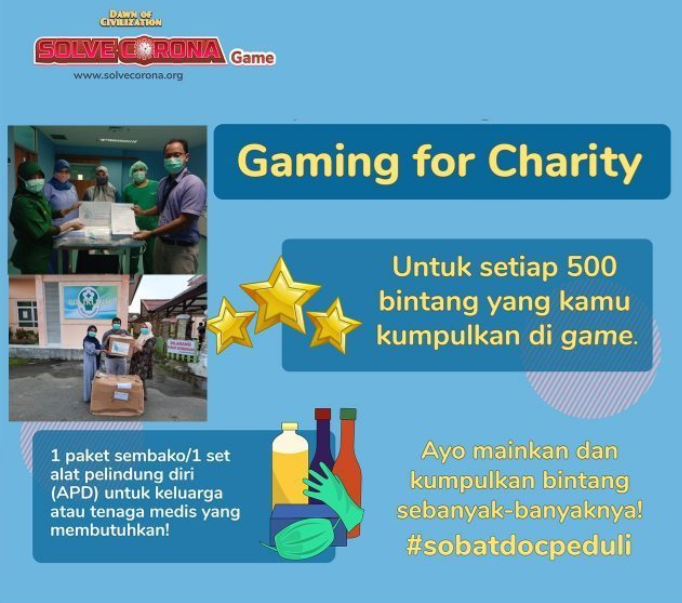 Khofifah mengatakan, game tersebut dirancang untuk siswa sekolah, namun juga dapat dimainkan oleh orang dewasa. Khofifah berharap kemunculan game ini mampu mengurangi rasa bosan siswa sekolah selama masa belajar di rumah.
Apalagi, lanjut Khofifah, berdasarkan survey yang digelar Student Research Center PW IPNU Jatim didapati fakta bahwa sebanyak 88 persen siswa mengalami kebosanan selama dirumah akibat Covid-19.
"Di masa PSBB ini, tentunya game ini akan membantu siswa untuk belajar dengan lebih menyenangkan dan terbebas dari kebosanan. Siswa dapat belajar memahami pandemi  COVID-19, menangkal penyebaran hoaks, maupun belajar Bahasa Inggris sambil tetap berada di rumah," papar Khofifah.
"Game ini juga tidak menguras kuota internet karena bisa dimainkan secara offline. Justru dengan bermain game ini, siswa juga terbantu karena berkesempatan memenangkan pulsa," tambah dia.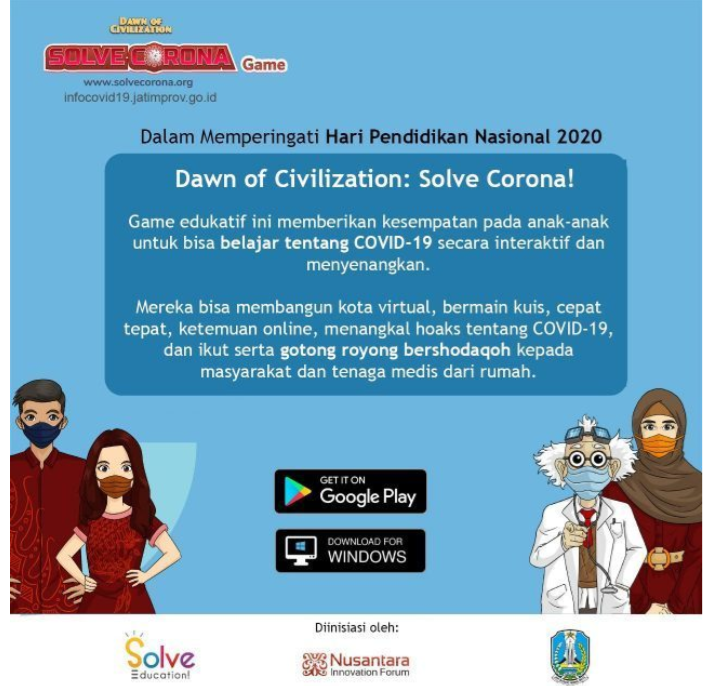 Khofifah mengatakan, game tersebut tersedia dalam versi windows maupun versi Android. Game ini dapat dengan mudah diunduh melalui sub menu Game Edukasi COVID-19 di website PemprovJatim https://infocovid19.jatimprov.go.id atau melalui Google Playstore dengan kata kunci Dawn of Civilization.
Last Updated: Jun 18, 2020 @ 10:44 pm