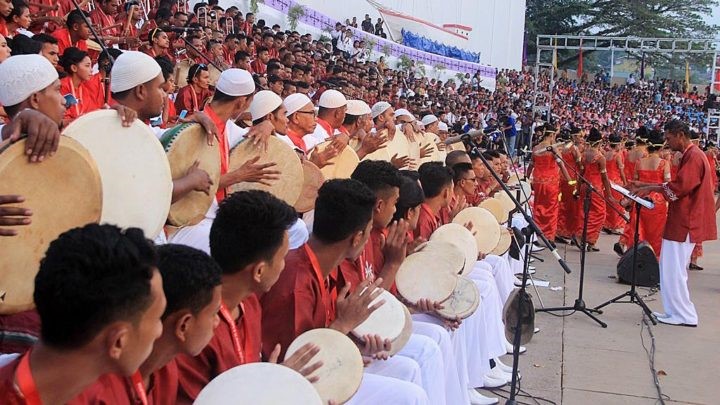 Pemain rebana dari umat Islam turut mengiringi lagu dalam Ibadah Agung Pesta Paduan Suara Grejawi (Pesparawi) Nasional ke XI di Kota Ambon, Maluku, Selasa (7/10/2017). Keterlibatan umat Islam dalam ritual keagamaan Kristen Protestan itu menunjukkan eratnya persaudaraan di Maluku kendati pernah dilanda konflik sosial bernuansa agama belasan tahun silam. Pesparawi yang diikuti 34 provinsi di Indonesia itu dibuka Presiden Joko Widodo dan dihadiri antara lain ibu negara Iriana Joko Widodo dan Menteri Agama Lukman Hakim Saifuddin.
JAKARTA, KOMPAS – Polarisasi masyarakat yang belakangan ini terjadi di Indonesia akibat politik identitas diyakini hanya akan berlangsung sementara. Meski demikian, kini masyarakat terlihat cenderung makin kaku saat berhadapan dengan kelompok yang berbeda.
Untuk mengatasi hal itu, dibutuhkan ruang-ruang interaksi di antara kelompok masyarakat yang berbeda latar belakang. Ruang itu bisa dihasilkan melalui rekayasa sosial yang dilakukan institusi negara.
"Dalam pertemuan-pertemuan dengan siswa Indonesia di kelas saya suka iseng bertanya, siapa yang dalam satu minggu ini pernah makan bersama orang beda agama, rata-rata hanya 30 persen yang angkat tangan," kata Ronald Lukens-Bull, Guru Besar Antropologi dan Studi Agama di Universitas North Florida, AS, yang sedang meneliti nasionalisme multikultur bersama UIN Sunan Kalijaga, Yogyakarta, dalam diskusi yang diadakan Fulbright-CSIS-USINDO dengan tema "Politics and Religion in Indonesia", di Jakarta, Kamis (2/5/2019).
Menurut Ronald, untuk membangun kepercayaan di antara kelompok masyarakat dengan identitas berbeda, perlu ada ruang-ruang yang dapat meningkatkan interaksi antarkalangan. Dia menilai, bertahan menggunakan modal toleransi yang selama ini ada tidaklah cukup. Guna mengatasi polarisasi, perlu ada upaya aktif.
Terkait hal itu, dia mencontohkan, Kementerian Pemuda dan Olahraga sebagai institusi negara bisa menghadirkan ruang perjumpaan identitas itu lewat olahraga bersama dan acara-acara anak muda lintas latar belakang.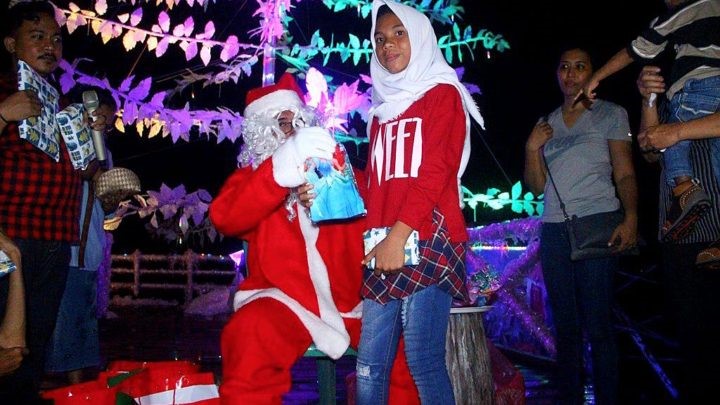 KOMPAS/FRANSISKUS PATI HERIN
Sinterklas membagikan hadiah kepada seorang anak dari komunitas muslim dalam acara Natal bersama yang digelar Ambon Sailing Community dan Pemuda Negeri Amahusu di Negeri (Desa) Amahusu, Kecamatan Nusaniwe, Kota Ambon, Maluku, Jumat (16/12). Kegiatan itu bertujuan untuk menumbuhkan rasa persaudaaran bagi anak-anak di daerah yang pernah dilanda konflik sosial bernuansa agama itu.
Perubahan sistem
Selain menghadirkan Ronald, diskusi yang dipandu Direktur Eksekutif Centre for Strategic and International Studies (CSIS) Jakarta Philip Vermonte itu juga menghadirkan empat pembicara lain. Mereka adalah pengajar pada Universitas Gadjah Mada, Achmad Munjid; peneliti Institute for Policy Analysis of Conflict, Nava Nuraniyah; peneliti CSIS, Noory Okthariza; dan Direktur Eksekutif Perkumpulan untuk Pemilu dan Demokrasi Titi Anggraini.
Ronald meyakini, polarisasi di masyarakat dapat dikurangi jika pasangan calon presiden-calon wakil presiden yang berkontestasi pada pemilu lebih dari dua pasang.
Dalam Undang-Undang Nomor 7 Tahun 2017 tentang Pemilu disebutkan bahwa parpol atau gabungan parpol harus mengantongi 20 persen kursi DPR atau 25 persen suara sah nasional untuk bisa mengusung pasangan capres-cawapres dalam pemilihan presiden.
"Ambang batas yang terlalu tinggi ini harus diubah karena sistem ini yang membatasi jumlah kandidat capres sehingga menimbulkan polarisasi," kata Titi Anggraini.
Selain itu, Munjib menilai terjadi eksploitasi identitas untuk mobilisasi politik pada Pemilu 2019. Hal ini dinilainya cukup efektif karena salah satu efek dari globalisasi adalah pemisahan masyarakat yang lebih dalam. Menurut dia, pascareformasi terjadi penggunaan simbol agama yang sangat nyata. Identitas agama sangat ingin diekspresikan.
Secara terpisah, dalam dialog lintas agama yang digelar Kantor Utusan Khusus Presiden untuk Dialog dan Kerja Sama Agama dan Peradaban, pemuka agama menyerukan pentingnya persatuan dan kesatuan bangsa di atas segala-galanya. Seruan ini sekaligus ajakan kepada semua elemen bangsa untuk menyudahi dikotomi karena perbedaan pilihan politik.
Perwakilan Persatuan Umat Buddha Indonesia, Philip Wijaya, menuturkan, perpecahan akan menghambat upaya Indonesia mengejar perkembangan dan kemajuan dunia. Segenap elemen bangsa harus bekerja sama agar upaya tersebut dapat terwujud. Sementara itu, Wakil Sekretaris Jenderal Pengurus Besar Nahdlatul Ulama Imam Pituduh menyebutkan, kondisi yang kondusif harus dihadirkan juga ke dalam sosial media. Caranya dengan memperbanyak konten positif.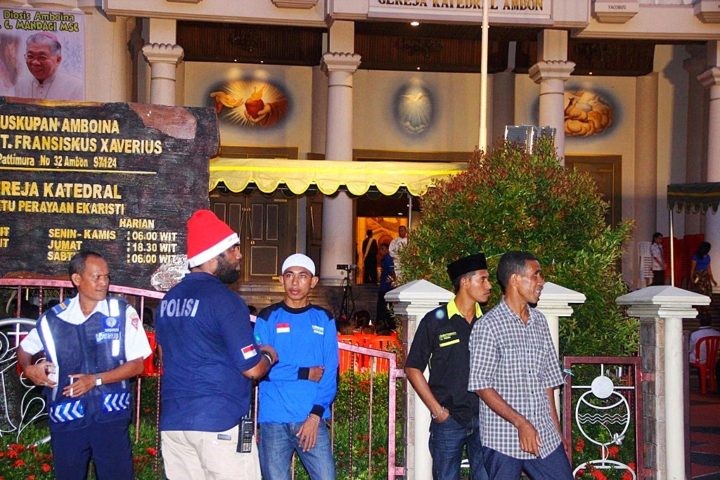 KOMPAS/FRANSISKUS PATI HERIN
Pemuda Islam ikut menjaga keamanan saat perayaan malam Natal di depan Katedral St Fransiskus Xaverius, Kota Ambon, Maluku, pada Sabtu (24/12). Begini potret kebersamaan antarumat beragama di daerah yang pernah dilanda konflik sosial bernuansa agama itu.
The article originally appeared in Kompas on May 3, 2019
Achmad Munjid was awarded Fulbright Master's Degree program to study Religion at Temple University in 2003.
Philips J. Vermonte is a 2005 Fulbright Doctoral Degree scholarship awardee. He earned his doctorate degree in political science from Northern Illinois University 
Fulbright US Senior Researcher to Indonesia Ronald A. Lukens-Bull is a professor of anthropology and religious studies at the University of North Florida. Ronald's research project is on "Multicultural Nationalism as Piety: Nahdatul Ulama Youth and the Value of a Diverse State" and it is affiliated with State Islamic University Sunan Kalijaga.
Last Updated: May 6, 2019 @ 1:05 pm