Foto: Ayu Kartika Dewi – Perumus Gerakan Sabang Merauke (Screenshot instagram @ayukartikadewi)
Jakarta, CNBC Indonesia – Presiden Joko Widodo (Jokowi) sudah mengumumkan nama-nama staf khusus dalam masa pemerintahan 2019-2024 mendatang. Sebanyak 7 orang yang menjabat sebagai stafsus masih berusia muda atau masuk dalam kategori millennial.
Salah satunya adalah Ayu Kartika Dewi, seorang pegiat toleransi berprestasi. Perempuan kelahiran Banjarmasin 36 tahun silam ini memiliki segudang prestasi saat masih kuliah hingga bekerja. Ayu kerap berpindah-pindah karena mengikuti ayahnya yang pindah dinas, sehingga ia pernah bersekolah di SMPN 1 Balikpapan dan SMAN 5 Surabaya.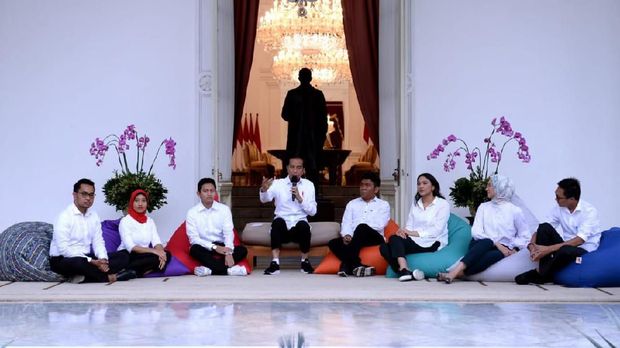 Foto: Pengumuman staf khusus Presiden. (Biro Pers Sekretariat Presiden/Kris)
Saat memasuki dunia perguruan tinggi, Ayu berkuliah di jurusan Manajemen Fakultas Ekonomi Universitas Airlangga (Unair). Semasa kuliah, dikutip dari laman resmi Indonesia Mengajar, Ayu pernah meraih banyak prestasi. Bahkan tugas akhir skripsinya terpilih untuk mendapatkan Student Grant dari Asian Development Bank.
Ia juga pernah meraih penghargaan sebagai presenter terbaik Student Grant seluruh Indonesia, Mahasiswa Berprestasi Peringkat Pertama FE Unair selama 2 tahun berturut-turut, dan peringkat ke-4 se-Unair pada 2003.
Dikutip dari laman LinkedIn miliknya, setelah lulus kuliah, Ayu memutuskan bekerja di P&G di Singapura sebagai Consumer Insights Manager dari 2007 hingga 2010. Melihat karir yang naik di dunia korporat, Ayu justru keluar dari zona nyaman.
Ia malah bergabung bersama Gerakan Indonesia Mengajar yang diprakarsai Anies Baswedan. Ayu merupakan angkatan pertama Indonesia Mengajar dan saat itu dia ditugaskan mengajar di SD di Maluku Utara.
Tidak hanya sampai situ, pada 2013 Ayu mendirikan SabangMerauke, yaitu sebuah program pertukaran pelajar antar-daerah di Indonesia untuk menanamkan nilai toleransi, pendidikan, dan keindonesiaan.
Dengan segudang hal yang dilakukan demi pendidikan anak-anak di Indonesia, Ayu mendapatkan beasiswa Keller Scholarship dan Fulbright Scholarship untuk melanjutkan kuliah di Duke University – Fuqua School of Business, Amerika Serikat. Lulus dengan gelar MBA, Ayu sempat bekerja sebagai konsultan di McKinsey selama tiga bulan pada 2014.
Setelahnya ia bekerja sebagai Staf Gubernur DKI Jakarta Basuki Tjahaja Purnama (Ahok) pada 2015, dan sempat bekerja sebagai staf di Unit Kerja Presiden (UKP4). Kini Ayu menjadi salah satu stafsus Jokowi dalam bidang sosial.
Selain itu, sejalan dengan organisasi SabangMerauke yang dibangunnya, Ayu juga aktif dalam organisasi yang fokus pada pendidikan perdamaian dan pembangunan karakter, Indika Foundation sebagai Managing Director.
The article originally appeared in cnbcindonesia.com on November 22, 2019
Ayu Kartika Dewi was awarded Fulbright Master's Degree program to study Business Administration at Duke University in 2013.
Last Updated: Dec 2, 2019 @ 10:47 am