AMINEF is delighted to share articles on Indonesian CCI alumni, as posted on the global Community College Initiative Program Facebook Page.
CCI Alumna Reni Boediarti Secures a New Job within Days of Returning to Home Country
CCI alumna Reni Boediarti (Indonesia, Scottsdale Community College, Media, 2017-18) has only been back in her home country for a few days and has already secured a new job. While Reni was finishing her CCI exchange year, she was searching for jobs in Indonesia that were interested in her newfound skills and experiences in her field of study, media. Now she's a producer of a prime time program called "Wake Up Call" at Merdeka FM Radio Surabaya. Prior to her CCI year, Reni was employed at a different radio station, but in a lower paying and ranking position. Reni's initiative demonstrates that with increased technical and vocational skills, exchange programs and community college education can enhance participants' employability. The CCI Program posted a photo of Reni at her new job on Facebook and Twitter.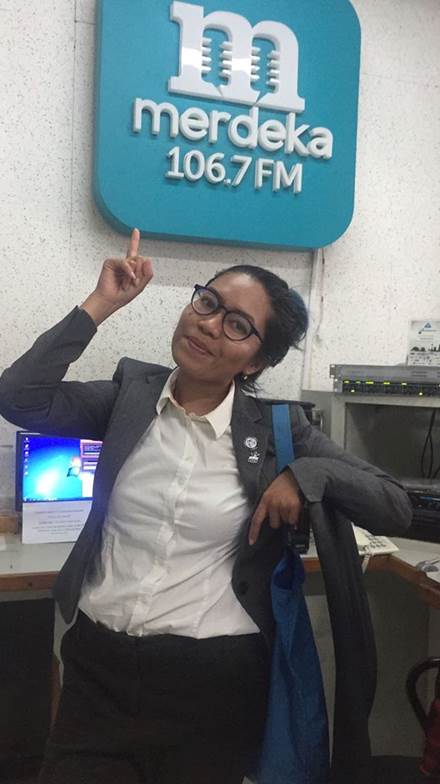 CCI Alumnus Ridwan Damang Muda Uses Exchange Experience to Advance Career in Hotel Management
CCI alumnus Ridwan Damang Muda (Indonesia, Kapi'olani Community College, Tourism and Hospitality, 2010-11) is working as an assistant manager at the Amaris Hotel Kupang in Nusa Tenggara, Indonesia. During the CCI Program, Ridwan interned in the housekeeping department at the Moana Surfrider Resort and earned a certificate from in Front Office and Housekeeping from the American Hotel & Lodging Association. Those achievements, he said, gave him the confidence to apply to managerial positions when he returned to Indonesia. In the years following his international exchange, Ridwan has moved from a duty manager to training manager to human resource manager to his current role as assistant hotel manager. "In my hometown, everyone who had a chance to study abroad will gain more respect from family, friends, employer," Ridwan said. "The (CCI) Program has truly boosted my career."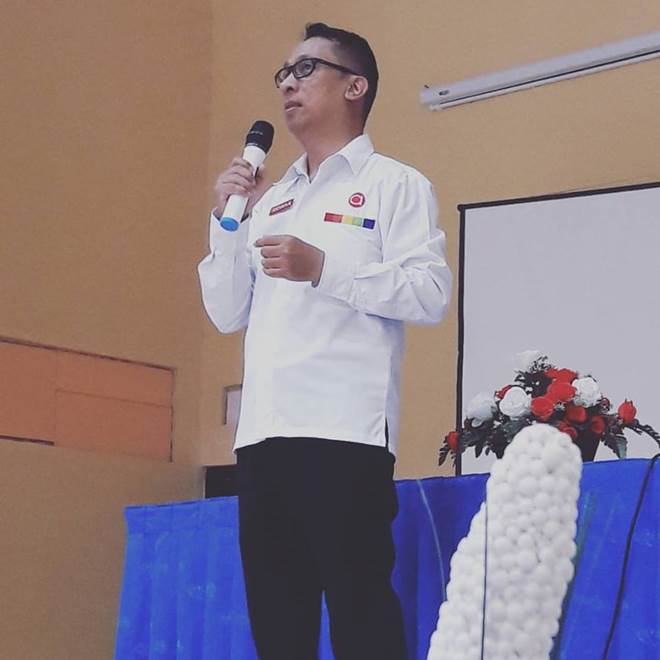 CCI Alumnus Danar Handoko Introduces Indonesian Children to 3-D Animation Careers
CCI alumnus Danar Handoko (Indonesia, College of DuPage, Media, 2016-2017) gave elementary school students a glimpse at the life of a 3-D artist during Kelas Inspirasi Yogyakarta on March 23. The annual event, which translates to "Inspiration Class" aims to introduce children to the ins and outs of a variety of professions. Danar spoke to three classes and a total of 30 children. He showed the students one of the computer programs he uses and allowed them to create digital paintings with a pen tablet. "Since my occupation is quite unfamiliar to them, they were not expecting that this job can be really fun and exciting," Danar said. "I hope that this activity would inspire them to choose what they really want to do as a career in the future." During the CCI Program, Danar took classes in 3-D animation and film, interned at the College of DuPage's multimedia studio, and attended industry workshops and conferences. After returning to Indonesia, he successfully leveraged those experiences to obtain a job as a 3-D graphic artist at a game developer studio, PT Limitless CG. His time in the United States also influenced his desire to give back through activities like Kelas Inspirasi Yogykarta: "After completing the public services required by the CCI Program in USA, it really encouraged me to do more volunteering activity in my society." The CCI Program posted a photo of Danar on Facebook and Twitter.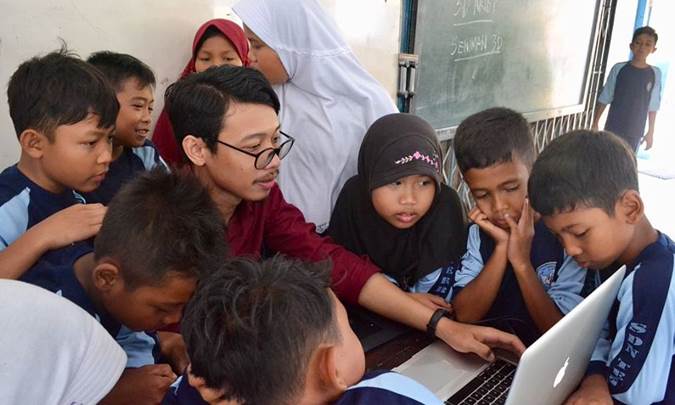 CCI Alumna Picessylia Anakay Organizes English Conversation Groups for Young People in Kupang
CCI alumna Picessylia Anakay (Indonesia, Northern Virginia Community College, Tourism and Hospitality, 2016-17) is creating opportunities for students and young professionals in her hometown of Kupang to practice English. As the volunteer event coordinator for a group called Let's Talk, Picessylia plans meetings where young people converse in English about fun, relatable subjects. She also leads ice-breaker activities at the start of the meetings to create a comfortable setting. For instance, at a recent meeting at a café, attendees took turns describing objects placed in their hand while they were blindfolded. Picessylia hopes that participation in Let's Talk will enable others in her community to access the types of career and cultural experiences that she gained in the CCI Program. "I'm passionate about helping to provide opportunity for young people here to practice English because I believe it will open more doors for them to improve themselves and to have a better job and future," she said. Picessylia's love of cultural exchange has also inspired her to be a host to travelers visiting Indonesia. Through the CouchSurfing website, she has hosted 11 visitors from a variety of countries, including Ukraine, Portugal, Denmark, and the United States. The CCI Program posted a photo of Cessy on Facebook and Twitter.
CCI Participants Lenny Zilfa, Tri Rudiyanto, and Robertho Monim Participate in Model United Nations
From April 20-24, 2018, 10 of the 15 CCI participants at Mesa Community College attended the 68th Annual Session of the Model United Nations of the Far West (MUNFW) in San Francisco, California. Lenny Zilfa (Early Childhood Education, 2017-18), Tri Rudiyanto (Business, 2017-18), and Robertho Monim (Business, 2017-18) were three of the participants. For 9 months, Lenny, Rudy, Robertho, and their CCI colleagues worked with other Model UN participants at their host college to develop policy statements in preparation for the conference. At the conference, CCI participants role-played as delegates from France, Republic of Korea, Israel, and Jamaica. While representing their assigned countries, they gave speeches, engaged in debates and negotiations, and created mock resolution work. Through this competitive event, which is designed to imitate the work of the United Nations, CCI participants gained hands-on experience in leadership development and conflict resolution skills. These skills—along with greater global awareness—will play a large role for those hoping to make an impact in their home communities. The CCI Program posted a photo of the Mesa Community College MUNFW delegation that included CCI and other MCC students, on Facebook and Twitter.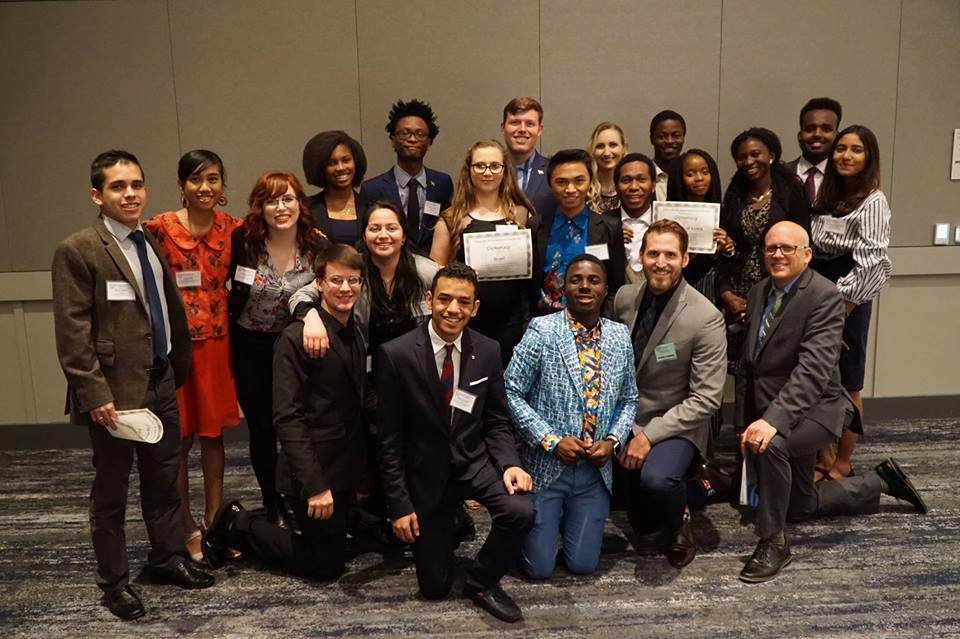 Last Updated: Dec 4, 2018 @ 5:37 pm