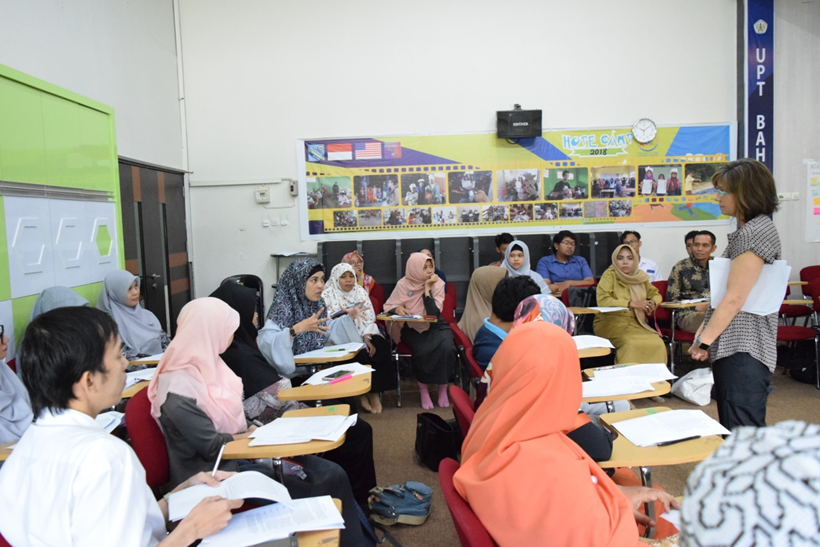 A Workshop with English Teachers from Pontianak
From March 4 to 15, 2019, Dr. Lori Assaf, Professor of Texas State University, had the opportunity to work with faculty and students from UPT Bahasa (Language Center) at Tanjungpura University and local in-service and pre-service teachers in Pontianak, Indonesia.
Lori states that her Fulbright Specialist assignment was one of the highlights of her career and provided her with multiple opportunities to grow personally and professionally.
The goals of her collaboration with Tanjungpura University included: identifying and implementing online tools for English learners; providing instructional strategies to improve TOEFL test scores; facilitating academic writing workshops focused on developing research proposals and research manuscripts, and; presenting tips to enhance reading engagement and motivation for primary and secondary level students.
The benefits and reported impact of the collaboration were overwhelmingly positive. For example, 100% of UPT Bahasa Lecturers implemented two or more online tools in their language and TOEFL courses; 30 local language teachers attended the workshop on Encouraging Reading Engagement that she facilitated and reported the workshop to be useful and applicable to their unique classroom situations; and, 80 UNTAN faculty members attended another workshop that she facilitated on academic writing.
The learning was mutual. She said that she gained a deeper appreciation for the challenges of teaching English in Indonesia both in primary and secondary schools as well as in the university. She also learned how passionate and committed language teachers are and how they strive to provide authentic and engaging opportunities for their students to participate in English language activities outside of the school setting.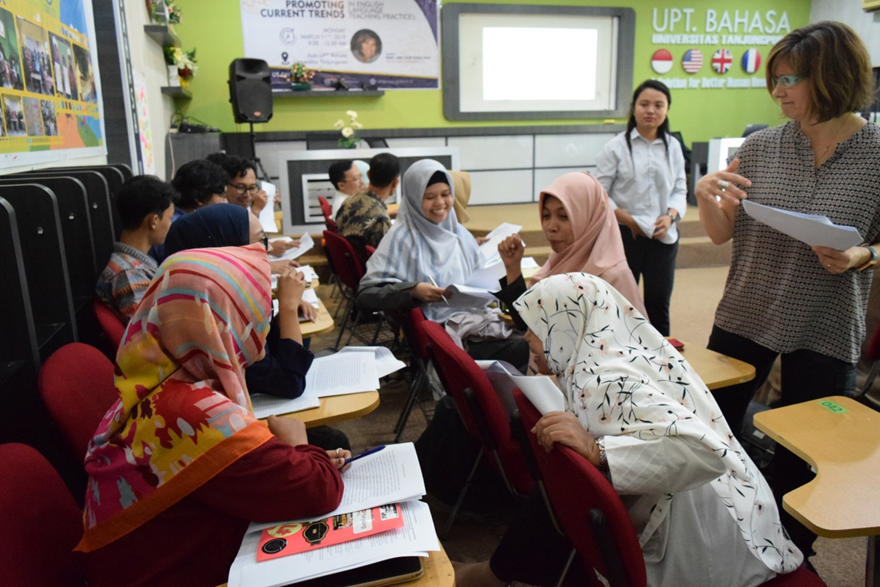 Activities with English Language Teachers
Digital literacy is also an important instructional focus because it builds on Indonesian students' growing use of social media and digital tools.
Furthermore, she and Tanjungpura University also discussed potential future collaborations, such as seeking opportunities for a formal partnership between Texas State University and Tanjungpura University specifically around language, science, innovation, and research as well as working on a community-based writing workshop to develop local, bilingual texts on family stories and cultural traditions.

Farewell with the Head of UPT Bahasa Tanjungpura University
Last Updated: May 2, 2019 @ 4:12 pm