Dr. Karen "Karie" Huchting, Associate Professor of Loyola Marymount University, was thrilled to be accepted as a Fulbright Specialist to work with the English Language Education Department faculty from the Universitas Muhammadiyah Yogakarta (UMY) from July 15 to August 5, 2018, facilitating a workshop on research methods and writing for publication. The faculty of UMY are bright and dedicated to producing quality work and that they worked hard every day to maximize their time together developing research proposals to advance the field of English Language Education.
To provide an overview of the grant, the English Language Education Department faculty held a workshop that was open both to its faculty and to international scholars studying in the local region. This enriching experience meant that over nine countries were represented in the workshop. During this portion of the grant, workshops were structured Monday through Friday from 8:30 am to 4:30 pm, which meant participants were there from 8 am-5 pm most days, engaging in a combination of group discussions, direct instruction, and hands-on activities. During their time, they covered the history of educational research, including the ontology, epistemology, and axiology of various paradigms and approaches to research. They then discussed the role of theory in research and various research designs and data collection techniques aligned to our research questions and worldviews. They concluded this portion of the workshop with a review of how to analyze data. The workshop participants read numerous manuscripts as examples of the various research designs and analytical techniques and they were asked to give in-class presentations to enhance their learning. At the end of the workshop, they received a beautiful certificate to recognize their completion in the course.
During the second half of the grant, Karen worked directly with the UMY faculty to enhance knowledge of the publication process. Similar to the first week, she led many hands-on writing workshops, from 8 am-5 pm. Examples included a story-board exercise to develop the writing a literature review and a journal evaluation exercise. Together, they searched for and found Scopus-indexed, peer-reviewed academic journals and evaluated them using a rubric for authors. This left the faculty with a co-constructed list of potential journals for future publications. After these group sessions, Karen met with each faculty member for 2-hour individual consultation meetings. In these meetings, they went through the faculty research projects in detail, discussing how the study design connected to their worldview, involved an appropriate theoretical perspective, utilized appropriate data collection and analysis techniques, and discussed potential final steps for publication. These consultations meetings were the most rewarding as most faculty left with not just one research study but sometimes two studies. They attempted to develop a sense of a "program of research" that connected to broader questions the faculty have about their field of study. At the end of the grant, faculty were asked to give a formal, timed presentation detailing their research and fielding questions asked by Karen and their colleagues. Faculty received critical friend feedback to improve their ideas. It was a rewarding and fun experience!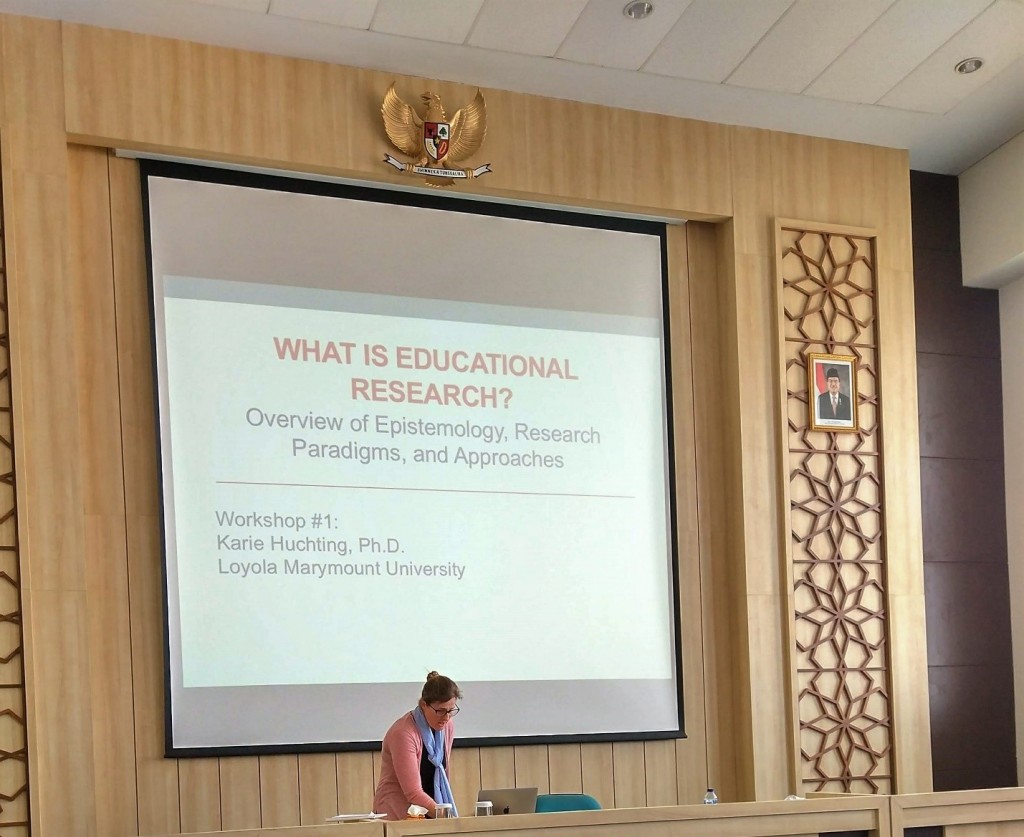 The most immediate benefit of the grant was seen in the increased confidence and excitement felt by the faculty. Their projects had a sense of becoming possible and their belief and motivation in publishing their work also increased. "This was the most rewarding experience for me as well in that I ended each consultation meeting exhausted but invigorated by the great work the faculty are committed to completing", Karen said. "I felt truly inspired by their motivation, dedication, hard-work, and energy!" she added. Karen further stated that she could not wait to share this experience with her colleagues and students at her home institution. The value placed on publishing high-quality work was a wonderful reminder to her of why we all engage in this profession. Karen left feeling renewed, inspired, and grateful. She sincerely hope to continue to collaborate with this wonderful department of faculty.