Prof. Alex Nibley was a Fulbright Specialist at the Indonesia Film Board (Badan Perfilman Indonesia) to enhance film education in Yogyakarta.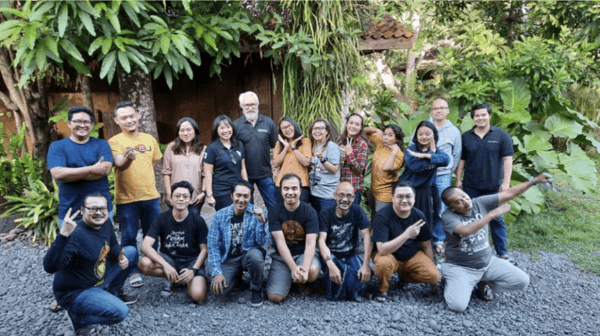 In a world where cinema is a powerful medium of storytelling, film education plays a pivotal role in nurturing the next generation of filmmakers and storytellers. For Indonesia, a country with a burgeoning film industry, ensuring that film education meets international standards is crucial. Enter Prof. Alex Nibley, assistant professor and digital cinema program coordinator at Utah Valley University, known for his academic expertise and active role as a film actor. He collaborated with the Indonesia Film Board (Badan Perfilman Indonesia, BPI) to enhance film education in the country through a Fulbright Specialist project that takes place from July 8 – 29, 2023, in Yogyakarta.
The students/teachers represented Indonesian film schools from many different areas of the country, including Eastern, Central, and Western Java, as well as schools in Sumatra.
A Comprehensive Training Program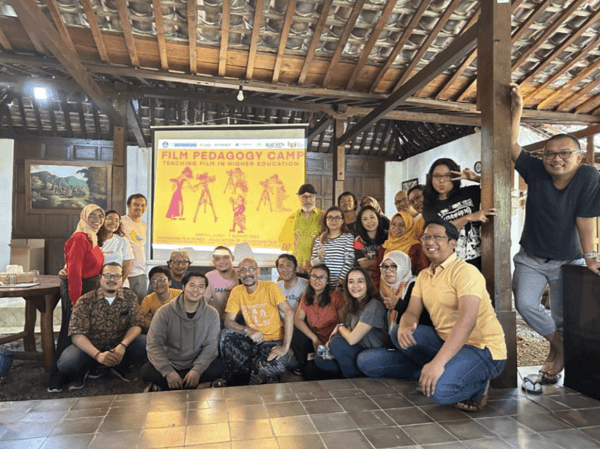 The Fulbright Specialist project brought together film lecturers from various Indonesian institutions for a three-week comprehensive training program. The objective was clear: to elevate the quality of film education by enhancing lecturers' understanding of film and cinema and equipping them with effective teaching methodologies.
The workshop was structured into three distinct weeks, each focusing on a crucial aspect of filmmaking and education, such as scriptwriting and character-driven stories, the role of the creative producer, and the art of directing. At the end of each weeklong workshop, the Indonesian teachers created a strategic plan for improving their schools' curriculum design and pedagogical approaches.
Much of the focus in the workshops was on how Indonesian teachers can adopt an "experiential learning" approach to teaching filmmaking.
According to Prof. Nibley, "Indonesian film programs tend to be based on a critical analysis approach. For teaching the craft and artistic aspects of filmmaking, hands-on training is more effective. It's the difference between reading cookbooks and actually getting into the kitchen. In our workshops, we were able to introduce Indonesian filmmaking faculty to experiential teaching approaches they can use in the classroom immediately."
The final week of the workshop provided participants with the opportunity to experience various aspects of directing through actual shooting sessions. The practical skills the participants gained enriched their ability to guide action, narrative, and visuals in a film.
Immediate Impact and Future Prospects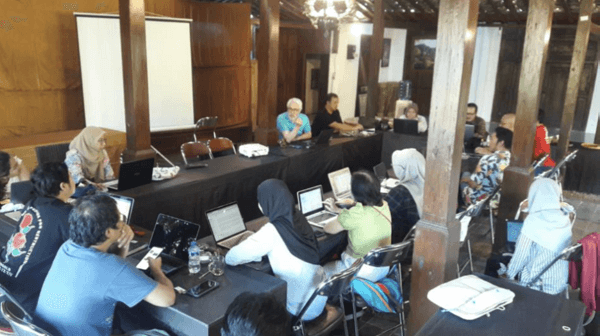 The immediate impact of this Fulbright Specialist collaboration was evident. Lecturers gained new insights, skills, and knowledge about film and cinema.
"Lecturers adopted the Socratic approach to teaching and fostering critical thinking among students and expressed their intention to implement this teaching method," Tito Imanda from Badan Perfilman Indonesia said.
The participants engaged in discussions and shared strategies on film teaching, tailoring them to their unique teaching situations. This ongoing collaboration aims to refine and implement the film and cinema study curriculum developed during the training.
"The goal is to align Indonesian film education with international standards, ensuring that students are well-prepared for careers in the ever-evolving film industry," Tito further said.
There remain substantial challenges to building more effective filmmaking education and a more robust filmmaking industry in Indonesia. The mere size and diversity of the archipelago and ingrained administrative systems built on an educational model more amenable to scientific or academic research can be barriers to rapid change.
"Growth doesn't always happen quickly, especially in academic institutions. However, I see a strong desire to improve the film industry and create a vibrant Indonesian film industry that attracts the international community's attention. The teachers I worked with are intelligent, talented, and determined, and I expect to see exciting things happening in Indonesian filmmaking in the future," Prof. Nibley said.
In addition to the training workshops, there was also a discussion of potential future cooperative ventures between Indonesian and American filmmaking education and professional production.
Prof. Nibley said, "We are already discussing working together in the future. We have some very interesting projects, both educational and professional, that could put the spotlight on filmmaking in Indonesia in a way it has never experienced before. We are also open to hearing about other potential projects, such as American-Indonesian coproductions that could gain an international audience."
A Fulbright Success Story
We recognize that transforming an entire film curriculum and pedagogy in Indonesia is a monumental task, especially in just three weeks and with limited participants. However, Prof. Nibley has undeniably delivered outcomes that will resonate in the years to come. Film lecturers who participated in the program now have a renewed and more precise orientation toward teaching film classes, ensuring that each film moment packs information and emotional impact for the audience.
Moreover, the fact that participants continued discussing film teaching strategies long after each session concluded is a testament to their active engagement and commitment to finding solutions to their challenges.
"In a world where storytelling through film holds immense power, Indonesia is taking steps to ensure that its film education stands at the forefront, thanks to the collaborative efforts of Fulbright Specialist Alex Nibley and dedicated film educators," Tito said.
Last Updated: Sep 15, 2023 @ 8:23 am