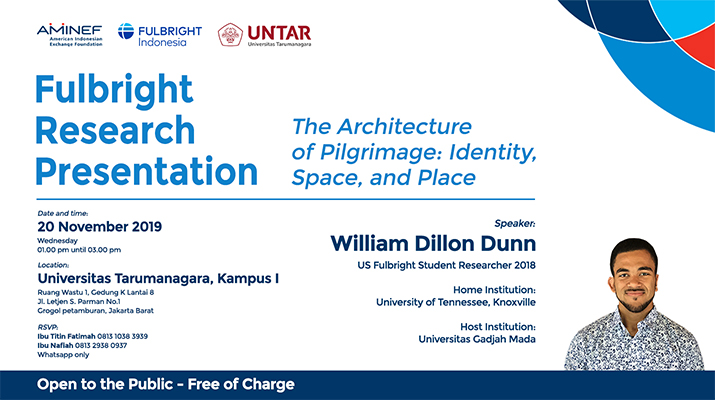 AMINEF and Universitas Tarumanagara invite you to a Fulbright Research Presentation (FRP) "The Architecture of Pilgrimage: Identity, Space, and Place" that will be held on November 20, 2019, at 13.00 – 15.00 at Universitas Tarumanagara, Kampus I, Jakarta Barat.
The presentation will be presented by William Dillon Dunn, 2018 Fulbright US Student Researcher who conducted his research in Indonesia supported by Universitas Gadjah Mada in Yogyakarta.
Here is William's profile on the AMINEF website.
All Fulbright Research Presentations are open to the public and free of charge.
Abstract of the presentation:
Religious identity resonates throughout history as a formidable impetus for change and resides at the core of many modern issues, and few other countries demonstrate the significance of religious identity formation better than Indonesia. While religious identity manifests in various ways, it is most clearly observable in religious architecture and ritual pilgrimage. No other physical artifact in Indonesia embodies this complex narrative of identity formation like architecture – the physical record of an evolving religious history. This is especially true in South Central Java. From now-famous structures that once displayed the might of 8th and 9th-century Hindu-Buddhist empires to contemporary sites of pilgrimage that spatially manifest the enculturation of Islam and Catholicism, architecture is at the heart of religious identity in South Central Java. Within this region's religious communities, pilgrimage also has an intimate connection with identity and sanctity. Both a highly personal and deeply collective endeavor, pilgrimage allows its participants to navigate the intricacies of their own identities and personal histories while interacting with the architecture of sacred sites.
How does architecture help cultivate this religious identity while also sustaining sacred experiences in South Central Javanese pilgrim communities? Understanding this question is crucial to maintaining these communities while also preserving the significant religious and cultural qualities of architecture and space. Using pilgrimage as an analytical motif, this study includes an analysis of two primary sites – Goa Maria Sendangsono (Catholic) and Makam Sunan Pandanaran (Muslim). Interviews with pilgrims, architects, and academics along with on-site documentation of rituals led to the conclusion that architecture is not sacred; sanctity lies in identity.
Reserve your seat to Ibu Titin Fatimah at 0813 1038 3939 or Ibu Nafiah at 0813 2938 0937 (WhatsApp only)