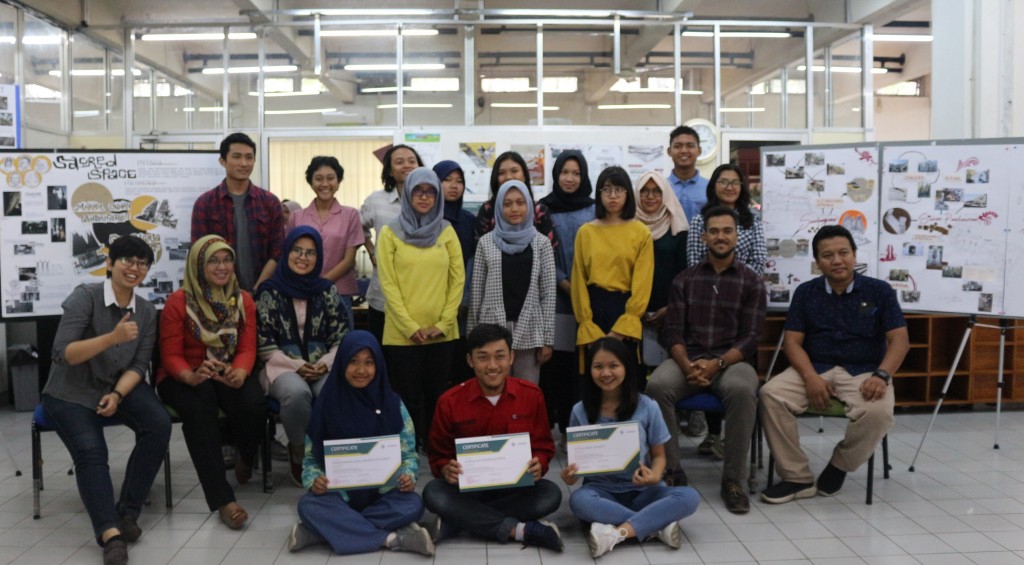 Created as a collaboration between AMINEF and the Gadjah Mada University (UGM), the "Architecture & Identity Workshop: How Does Architecture Create Sacred Spaces?" compelled students to consider the relationship between architecture, sanctity, and identity. This multi-day workshop held at UGM's School of Architecture, Yogyakarta, in August included lectures from professionals and educators, semi-guided site visits, and skill-building exercises that helped students sharpen their analytical abilities while questioning the role of architecture in contemporary religious communities. The workshop culminated in student presentations that demonstrated the ways in which architecture contributes to sanctity and identity.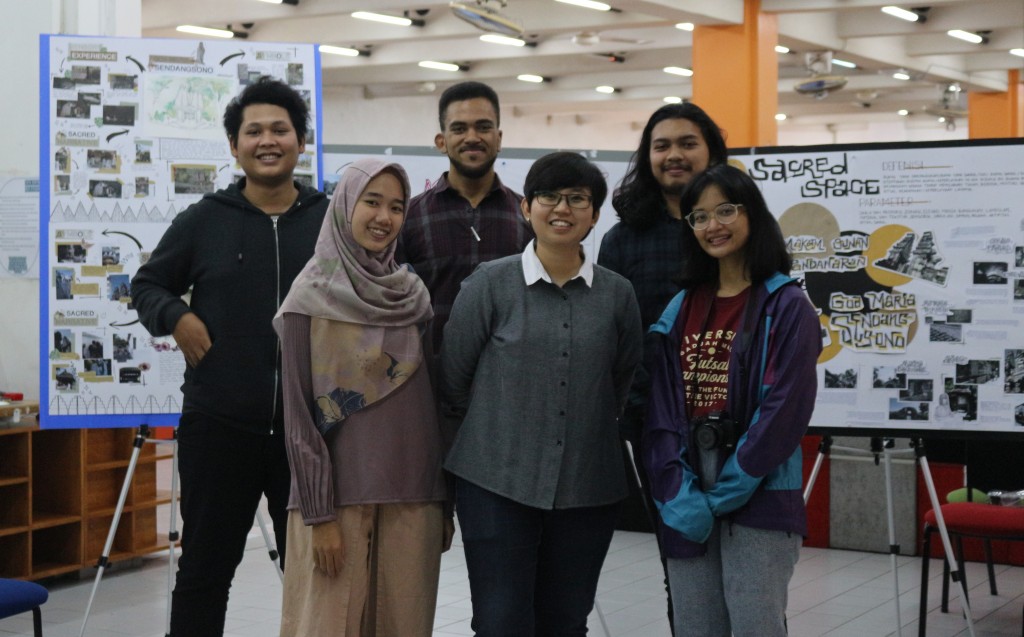 To help prepare students for visiting the two sites of pilgrimage that were the focus of this project, the first day of the workshop included a series of lectures that addressed the role of sanctity and memory in contemporary society as well as strategies for creating compelling visual arguments.  Among the lecturers was famed Indonesian architect Eko Prawoto. In his presentation titled "Touching the Soul", Pak Prawoto worked from his extensive experience designing sacred spaces in Central Java to challenge students with complex questions. How can architecture "evoke the soul"? Within the fast-paced culture of modern society, "Is there still room for the soul"? What is the role of "collective memory" in sacred architecture? These are just a few of the compelling ideas posited by Pak Prawoto, whose career has been devoted to exploring these concepts through architecture. 
In addition to Eko Prawoto, Pak Ikaputra of UGM's School of Architecture encouraged students to consider the role of identity and memory in creating sacred experiences. In his lecture titled "Identifying Sacred Space", Pak Ikaputra touched on the important experiential aspects of sanctity, such as darkness, history, and the relationship between humankind and nature. Pak Ikaputra explored these concepts through sites of disaster, highlighting shared experiences as an important aspect of both sanctity and identity. Finally, a presentation by American Fulbright Student Researcher Dillon Dunn helped connect these themes to Makam Sunan Pandanaran and Goa Maria Sendangsono, the primary sites of his own research and the workshop itself. The first day concluded with a photography activity that encouraged students to create visually compelling arguments while considering the ethical ramifications of documenting sacred experiences. 
Equipped with these foundational lectures, students visited Makam Sunan Pandanaran and Goa Maria Sendangsono, two sacred sites of pilgrimage in Central Java, to investigate the relationship between architecture, identity, and sanctity. Makam Sunan Pandanaran is the 16th-century site of Muslim pilgrimage with strong connections to foundational Javanese-Islamic saints. Goa Maria Sendangsono is a 20th-century Catholic pilgrimage destination associated with the founding moments of Catholicism in Central Java. Both sites host some of the richest pilgrimage traditions in the region and represent more than 400 years of architectural development. Students photographed ritual moments, sketched architectural details, and asked informed questions in preparation for the remainder of the workshop. 
After two days of teamwork in UGM's architecture studios, the students presented their findings for each site in the form of "Mind Maps". Photographs, sketches, and diagrams came together to illustrate the students' thought processes and create visually compelling narratives of sanctity and identity at each site, satisfying the core goal of the workshop. 
The responses from the various participants in the workshop were overwhelmingly positive. "For me, this workshop exceeded my expectations. The freer style of the workshop encouraged us to openly talk about what was on our minds" said Disa, a workshop participant from UGM. 
Another applauded the workshop for opening her mind so that she can observe her surroundings more critically. 
"This workshop has also stimulated me to ask more questions about the spaces that surround me. I hope that activities like this will be held more often in the future" said Sasa, also from UGM. 
From the compelling "Mind Maps" created by the students to the fruitful on-site discussions, this successful collaboration between UGM and AMINEF helped students gain a greater understanding of architecture's relationship to sanctity and identity in Central Java. For further insight into the experience of the workshop, please see the highlights video available on AMINEF-Fulbright Indonesia youtube channel.
Under the 2018 Fulbright US Student Research Program, Dillon is in Yogyakarta to undertake his research project "The Architecture of Pilgrimage." Dillon is affiliated with the Department of Architecture and Planning at  Gadjah Mada University.
Last Updated: Sep 19, 2019 @ 12:00 pm