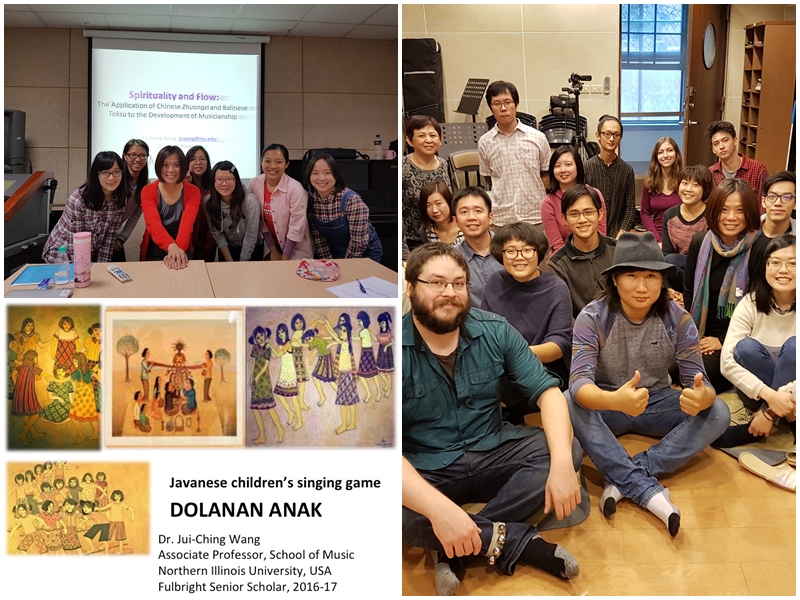 Dr. Jui-Ching Wang successfully gave two lectures on Indonesian music and performing arts to young musicology scholars and music educators at Taiwan Normal University and National Taiwan University (NTU) on December 8 and 14, 2016, respectively. At Taiwan Normal University, Dr. Wang (in red shirt on the picture below) shared with the graduate music education students her cross-cultural study in comparing Ancient Chinese philosophy (Zhuangzi), Indonesian Spiritual Practice (Taksu), and Míhály Csíkzsentmihályi's concept of flow and their application in developing musicality.
While in the lecture at the Graduate Institute of Musicology at National Taiwan University, Dr. Wang talked about her research project on Javanese Dolanan Anak, the traditional Javanese children's singing games, sharing with the graduate students her previous research about dolanan anak and her recent fieldwork about the implementation of it as a part of the curriculum offered at Taman Siswa, the first school for Javanese children established by Ki Hajar Dawantara, in Yogyakarta.
The interaction that she had with students interested in studying more about Indonesian music was positive. Even some decided to visit her in Yogyakarta during their winter break in February to gain more knowledge about Javanese culture in general, and her field research in particular. She is looking forward to working with these students in Taiwan, because she believes that with a more comprehensive view about Indonesian culture, they will be able to promote a better mutual understanding between two countries in the future.
These guest appearances in Taiwan led to several invitations from other institutions, such as Taiwan University of the Arts and Zhungli Library, for lectures scheduled in May, 2017. She was also invited by the Director of Zhungli Library to give a talk to a local community with a high population of Indonesian immigrants (workers and spouses) about Indonesian music and performing arts in May, hoping to improve local Taiwanese's mutual understanding for their new Indonesian "neighbors" by increasing their knowledge about the rich cultural resources of Indonesia.
During her visits, she also shared her experience as a Fulbright scholar with the students and encouraged them to consider applying for a Fulbright scholarship.
Dr. Jui-Ching Wang, who is affiliated with Northern Illinois University, is hosted by Universitas Gadjah Mada in Indonesia. Her travel to Taiwan was made possible with the support of Regional Travel Program that can be applied separately by the US Fulbright scholars as an enrichment opportunity while undertaking their Fulbright grants in the East Asia and Pacific Region