October 2023 Edition
October marks the changing seasons as Fall begins, and the trees turn orange in most of the United States. Still, here in Indonesia, October marks the change of a different season, the much-needed rainy season. In this collection of the Monthly Highlights, you'll find ETAs getting involved in local celebrations and sharing their own Halloween festivities in their classes, too. Click through to read some unique and exciting stories from the 2023-2024 ETA cohort!
AMINEF American Program and Communications Teams
We'd love to get your feedback.
Please share with us your favorite stories: which stories struck you as interesting, which teaching method is most fun, or you'd like to apply, or which activity you'd like to hear more about. Email us at communications@aminef.or.id, and we'll post your feedback in the following newsletter, and you may win a special thank-you gift from us.

---

What Our Readers Say
We want to thank our readers for sharing their comments and thoughts on from the September 2023 edition.
Martini – Indonesia
Thank you for the update. It's awesome to know the activities done by ETA from other schools. We can learn from them too. It's exciting having ETA in our school though we still adapt among others, the ETA with the English teachers, with the students, with school cultures, and many things. We believe we can many things from these programs.
---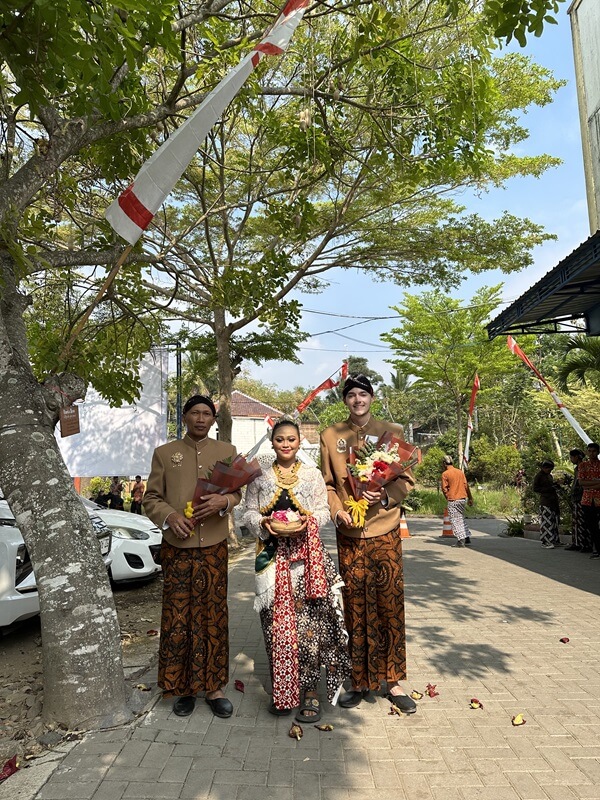 Milestone Moments: Celebrating Two Decades at SMKN 1 Cangkringan
The week of October 2 marked the twentieth anniversary of the founding of SMKN 1 Cangkringan. While school anniversaries are customarily celebrated throughout Indonesia, SMKN 1 Cangkringan's twentieth called for a celebration of unparalleled scale. The week-long celebration commenced with three days of competition and fun in athletics, culinary expression, performance arts, fashion, and more… Read More.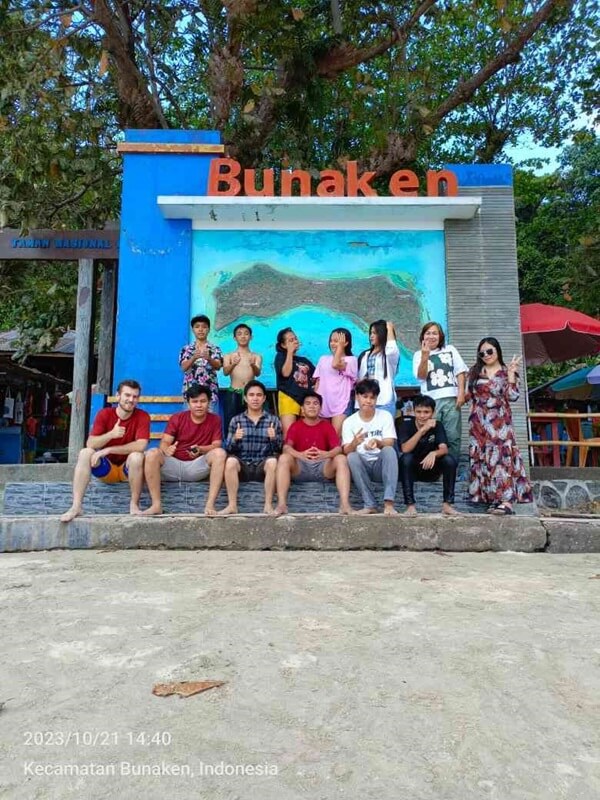 ETA Harrison Crawford was invited to help chaperone a class trip to Bunaken Island, a world-famous tourism and diving destination near his grant site. On Saturday, Harrison helped supervise a group of 10th-grade hospitality students, many of whom had never visited Bunaken and were very excited to see the exceptional coral reefs. Unfortunately, upon arriving.. Read More.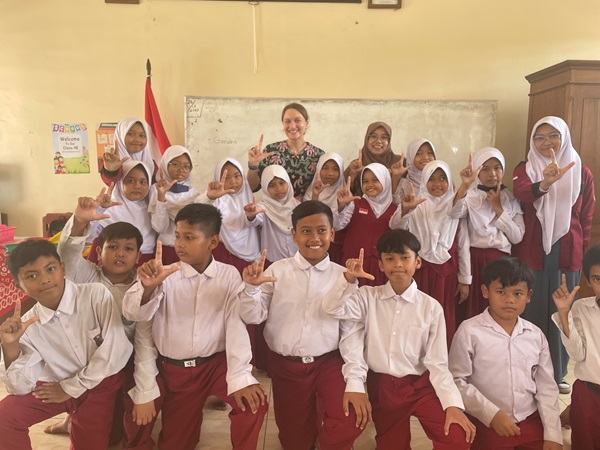 A Love for the English Language with Elementary Schoolers
ETA Allison Gross, an advocate for English literacy in young learners, embarked on a "library tour" campaign to foster reading and storytelling at SDN Panggang, the local elementary school. Joined by four seniors from SMAN 1 Sedayu, Allison and the senior students set out to kindle a love for English literature and conversation among 3rd.. Read More.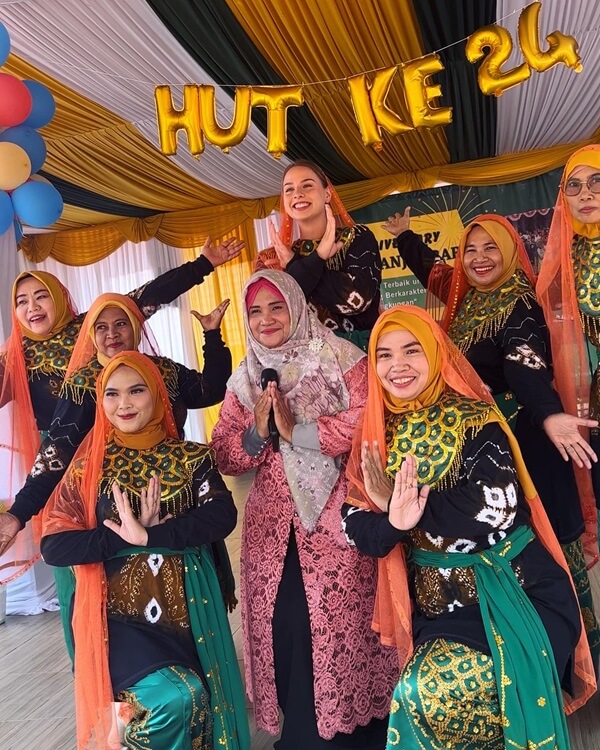 Learning Culture Through Dance
October highlights a major celebration for SMAN 4 Banjarbaru, as this is their school anniversary. This year marks the 24th year of ETA Lillian Rhinehart's school. For the celebration, her school had a week full of volleyball competitions for students, a fishing competition in the school pond, students showcasing their talents through dance, song, fashion,.. Read More.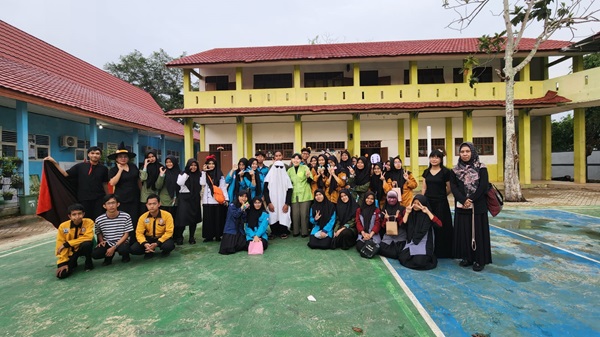 English Club: Halloween Edition
On 18 October 2023, ETA Natalie Suh told SMKN 3 Banjarmasin English Club students about Halloween. English Club students were excited to learn about the different Halloween traditions, such as carving pumpkins, dressing up in costume, and, of course, trick-or-treating. Students also listened to popular songs Americans like to listen to around this time of.. Read More.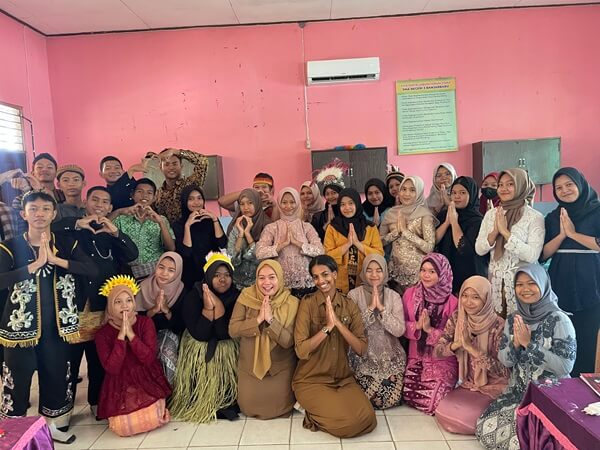 Students Celebrate the Spirit of Halloween and Sumpah Pemuda Day
The students in SMAN 3 were waiting for the week of cultural immersion using costumes. First, 11th-grade students dressed in their traditional attire to represent their culture to commemorate Hari Sumpah Pemuda (Youth Pledge Day). In 1928, the Indonesian Youth Congress created this declaration to unite the power of all young Indonesians. Now, October 28.. Read More.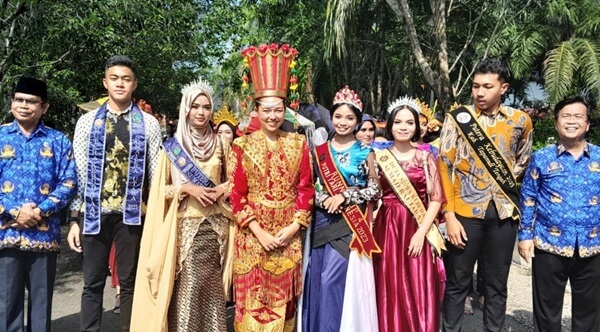 October 28 marked the annual Youth Pledge Day, aka Hari Sumpah Pemuda, in Indonesia. Students of SMAN 1 Matauli Pandan initiated the celebration with a festive parade around the school's campus, highlighting the traditional fashion from twelve unique Indonesian communities. Before the day's events, all students were divided into twelve groups representing different provinces and.. Read More.
Exploring Tourist Destinations Across Indonesia
At ETA Avery Erickson's school, SMKN 4 Surakarta, there are three primary student tracks: the culinary arts program, the hotel reception program, and the beauty and spa program. This month, she co-taught a vibrant and dynamic lesson for the tenth-grade students in the hotel reception program called "Describing Tourist Attractions." The beginning of class began.. Read More.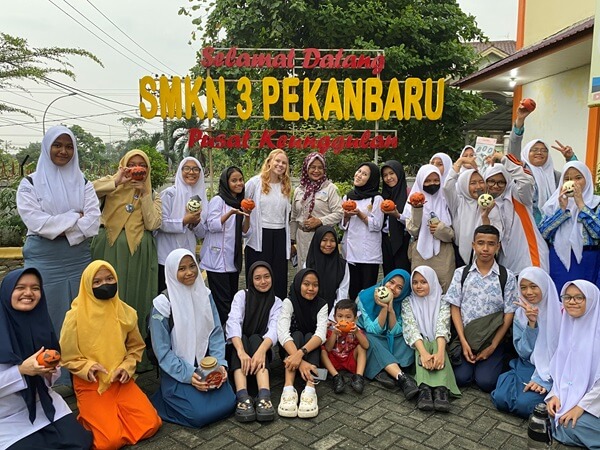 Nightmare on Dr. Sutomo Street
To conclude a busy month, ETA Molly Gleason held a Halloween-themed party on October 31 for SMKN 3 Pekanbaru's English Club. To celebrate the spooky holiday, students participated in various activities, including making jack-o'-lanterns, enjoying Halloween treats, playing Halloween trivia, and listening to Halloween music. The first activity involved making educated guesses about how many.. Read More.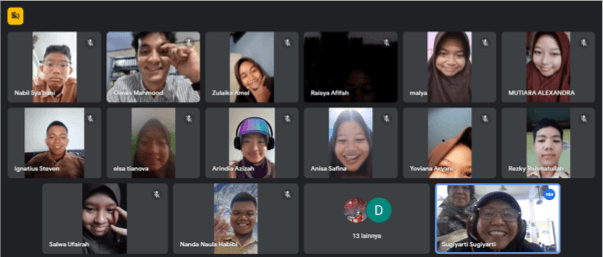 No one likes online classes (not even students)
The month of October brought its own set of challenges to ETA Owais Mahmood. Haze and smog spread to Jambi City, making it difficult for students to attend class in person, forcing instruction online with reduced time. Classes were live online for two weeks, bringing memories of what things were like during the pandemic. One.. Read More.