Fulbright Specialist Program Year 2019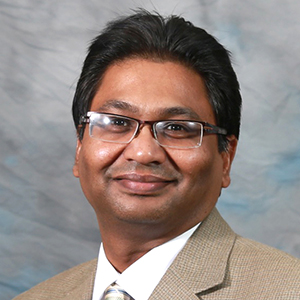 Dr Rajender Aparasu is visiting Atma Jaya Catholic University from August 18 to September 18, 2019, under the Fulbright Specialist Program. He is invited by the Department of Pharmacy, Faculty of Medicine to assist administrators and faculty members on a variety of issues related to academics, scholarship, and research development in Pharmacy. Dr Aparasu's planned activities include participating in workshops and group discussions on writing scientific and or academic research papers, mentorship and professional development of faculty researchers.
Dr. Aparasu is a professor and chair at the University of Houston – College of Pharmacy. He is an internationally renowned scholar and educational leader with over 20 years of experience in the areas of pharmaceutical outcomes research and policy. He started his academic career at South Dakota State University – College of Pharmacy in 1995 after obtaining his PhD from the University of Louisiana – Monroe.  His current federally funded research is evaluating the safety profiles of antimuscarinic agents in the elderly with dementia. He is a peer reviewer for numerous pharmacy and medical journals with over 150 national/international presentations and more than 100 peer-reviewed publications and has been recognized as an Exceptional Peer Reviewer by prestigious pharmacy and healthcare journals.
Dr Aparasu is the editor-in-chief for Drug, Healthcare and Patient Safety and serves on editorial boards of journals like Research in Social and Administrative Pharmacy and Drugs and Aging. He served as co-chair of the Research Review Committee for the Annual International Meeting of the International Society of Pharmacoeconomics and Outcomes Research (ISPOR) in 2016. He has been co-chair of the Houston Medication Safety Symposium for the past few years. He has edited two textbooks, Research Methods for Pharmaceutical Practice and Policy (by Pharmaceutical Press, UK) and Principles of Research Design and Drug Literature Evaluation (by Jones & Bartlett, US).  He has continued to serve on various national level taskforces including patient safety, medication therapy management, and graduate education. In addition, he serves as a grant reviewer for the American Heart Association (AHA), Patient-Centered Outcomes Research Institute (PCORI), and National Institutes of Health (NIH). In 2012, Dr Aparasu was recognized by his peers as a Fellow of the American Pharmacists Association (FAPhA) for his exemplary professional achievements and outstanding service and contribution to the pharmacy profession.
Last Updated: Oct 9, 2019 @ 1:27 pm