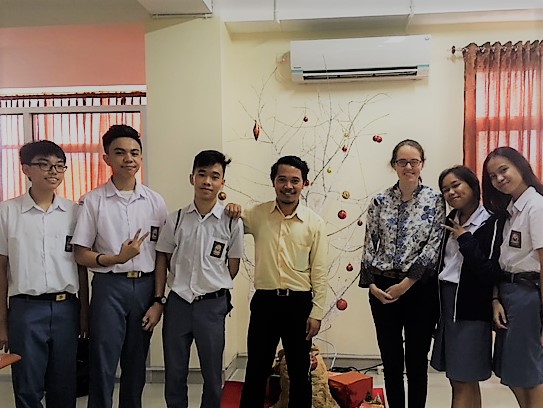 The highlight of ETA Katia Oltmann's December was her work with the English club at her school. She had worked with the club throughout the entirety of her first semester at Eben Haezar. Her participation in the club has really been the highlight of her teaching experience in Indonesia. She loved her work with the English club because it gave her a chance to help her students practice critical thinking. The club focused on preparing students for English debate competitions, so students in the club focused on improving their ability to think about difficult political and social issues. In a typical meeting, students would usually hold a mock debate. They have had debates concerning current events and human rights. Katia also really enjoyed getting to work with Sir Augustus, a staff member of Yayasan Eben Haezar who leads the debate club. Sir Augustus is great at pushing students to become their best selves, and Katia loved being able to see his passion for education.
Katia Oltmann is currently teaching at SMA Eben Haezar Manado, North Sulawesi
Last Updated: Feb 23, 2018 @ 2:12 pm
We'd love to get your feedback
Read all articles from the December 2017 edition
To read more about ETA Program & Interested to be a host to an American Fulbright ETA?