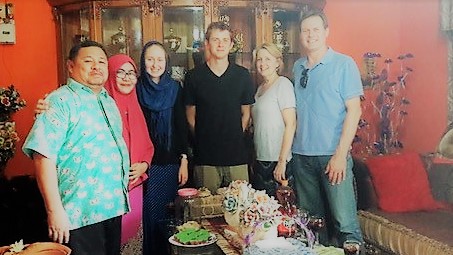 It's not often that people from ETA Ian Morse's school in Gorontalo have the chance to meet foreigners. Equally rare is an American family meeting residents of a village outside a city unheard of internationally. Ian had thus been itching to introduce his family to his school since he first arrived in July. They spent one morning at his headmistress's house, feasting at a table densely laden with plates and baskets of food. His family discovered the origin of palm sugar, and Ian's headmistress even offered that they take home a sugar ball the size of a coconut, but they opted for small fruit instead.
The afternoon was spent at the school, where everyone must have filled all the remaining storage on their phones with pictures. Ian gave them a short tour of the small school and introduced them to quite a few students. Luckily Ian's family brought oleh-oleh (souvenirs from traveling) from the US, because teachers and staff were eager to take home memories of meeting Americans and their own little piece of America. It was the least Ian's parents could do for the people who had been taking care of their son for the previous five months.
Ian Morse is currently teaching at MAN 2 Gorontalo, North Sulawesi
Last Updated: Feb 23, 2018 @ 2:11 pm
We'd love to get your feedback
Read all articles from the December 2017 edition
To read more about ETA Program & Interested to be a host to an American Fulbright ETA?