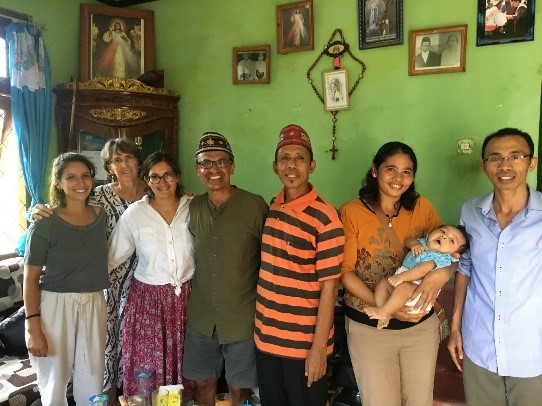 This month, ETA Kyra Ghosh was lucky enough to have her family visit her in Labuan Bajo. Apart from some beach days and a trip to the Komodo islands she was quite happy to be able to share her everyday life with her family. Although her family had planned to spend a relaxing vacation in Labuan Bajo, they were quite surprised to see just how laid back and slow-paced life here can be. Her family decided to cook dinner one night, and preparing to cook took practically the whole day as the fruit and vegetable market was so hot that they were incapacitated for the rest of the day. Part of presenting her daily life included some visits to teachers' houses as well as a welcoming ceremony at Kyra's school. The welcoming ceremony consisted of all 600 students crammed into a church while Kyra's mother and father talked about being professors in the US and Olivia (Kyra's sister) gave some advice about being a university student. Kyra was proud of her family for coming up with helpful messages for the students while successfully avoiding the often uncomfortable topic of economic disparity in terms of opportunity. On Christmas Day, Kyra and her family made a few visits to her two co-teachers' houses and were able to eat, sing karaoke, dance to Tobelo, hold babies, and take photos. Kyra is immensely grateful that her family was able to experience a small part of her life that will be impossible to fully convey to others back home.
Kyra Ghosh is currently teaching at SMAK St. Ignatius Loyola Labuan Bajo, East Nusa Tenggara
Last Updated: Feb 23, 2018 @ 2:11 pm
We'd love to get your feedback
Read all articles from the December 2017 edition
To read more about ETA Program & Interested to be a host to an American Fulbright ETA?